Amongst the fine and always growing selection of online slots games that you will no doubt come across on your journey through online casinos, you will see certain themes pop up now and again. There is a beautiful amount of diversity when it comes to casino slot themes. You will see the likes of vomiting Unicorns (yes that was a game) and zombie apocalypses turned into slot games.  However, there are certain few styles that are regularly used as inspiration. The likes of ancient Egypt, the classic fruit machine and the Luck o' the Irish are themes that commonly emerge but few are as aesthetically pleasing as the oriental themed slot. Ancient China or Chinese culture in general, is a beautiful thing and developers of online video slot games regularly used its relics and traditions as a means of focus for new games. Below we have a fine selection of slot games with an oriental theme, all of which we fully recommend having a spin on.
Double Dragons Top Slot
We start off with a visually stunning slot game with an Oriental theme. Double Dragons uses the ancient Chinese iconography to full effect, animated brilliantly by the always impressive Yggdrasil. This developer never fails to deliver the goods in terms of visuals and this slot game has over 25 pay lines and high stacking wilds that make for an amazing gameplay. And those dragons are oh so cute.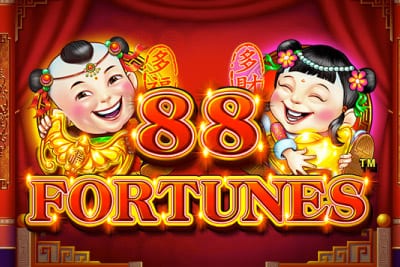 88 Fortunes Slot Game
The number 8 is a symbol of good luck in Chinese culture and we hope that you have good luck in abundance in this brightly coloured classic feeling online slot games uk. Available to play for free, this popular slot is another game that looks great and in truth, the vivid colours and detailed symbolism of Eastern-Asian-themed slot games tends to make them visually great almost always. If you are not playing for free, 88 Fortunes has the ability to make you quite the fortune with some big wins to be had by lining up certain symbols - in particular, the 88 symbols.
For an updates list of the best slot games follow this link.
Panda Pow!: Online Slot
How lucky is China to be the home of so many pandas? The loveable things that they are. Well, Panda Pow! is a game centred around that very animal, as a cute panda plays your host in this 5 reel slot game that offers 25 pay lines. Betting on this one has a huge range. You can make small bets at 25p per spin, with the highest bet being a huge £875 per spin for the brave, high rollers that may or may not be reading. There are some useful slot bonuses on offer in this game such as free spins. Panda Pow! has a classic, almost retro feel thanks to its simple layout, but is modern in the sense that it is fully optimised for use on smartphones, tablets and whatever else you might want to play it on. With a jackpot of 500x your stake, there are at least 500 reasons to play this slot game, too.