The modern online slots game is nothing short of an online sensation.
The days of the humble fruit machine are not over, you will still find some lovely retro-style slot game online, but we are truly living in the age of the online video slot machine. Great graphics, big jackpots, engaging bonus features and mini-games are now the standard for a new slot game in what is a thriving industry for online casino. So it is perhaps no surprise that we are seeing the influence of even Hollywood on the reels. That's right, the silver screen has well and truly influenced the reels of the online casino and you can now find slot game adaptions of some of your favourite movies of all time. Understandably excited for super fans of the super movies that have found their way into online casinos via the slot game, these titles in question are more often than not some of the best-produced games, too. Helped by the official licensing of big move names or even a slice of their budgets, once the talented unsung heroes that are slot game developers are given a brief of a movie-themed slot game, they never disappoint. Great motion picture graphics, narratives that work alongside the plot of the film and theme relevant bonus features are regularly integrated into movie-themed slot games, making them some of the best slot games online. Below we have a selection of some of our favourite slot games with a movie theme, working through the genres and movie eras to provide five of the best movie-themed slots. So get the popcorn ready, sit back and enjoy these cinematic slot games.
TED Slot
Seth McFarlane's part animation comedy was a big hit when hit the silver screens at the start of the decade. The Family Guy creator was always going to get a lot of attention when this film released, getting Mark Wahlberg in for one of his best comedy roles ever played. The lead role though is undoubtedly Ted, the stuffed teddy bear who is crude, rude and hilarious in this film. Ted brings that same set of traits to the slot game that bears his name. Ted the slot game is a really fun slot game to play, offering a phenomenal amount of bonus features that are all relevant to the characters and the movie itself. They are mainly related to drinking and partying, too, so Ted's slot game is not for the faint-hearted.
Rocky Online Casino Slot
Even just reading the word Rocky will make some people instantly shout 'Adrian' in Sly Stallone's famous tone, such as the legendary, iconic status of this movie. Rocky was the first in a series of films that truly captured the imagination of people across the world, an underdog story with a romantic tale and plenty of lessons learned about friendship. Rocky is also a knockout slot game, too, with all the characters from the famous film featuring on the reels. Better still, three of Rocky's most famous boxing opponents also feature in the bonus round here. Rocky has to go toe to toe with his rivals in this amazing bonus feature, where he can last up to ten rounds. The longer Rocky lasts, the more money you win. Simple. Now go on, Rocky, hit him!
Forrest Gump Slot Game
Another iconic film here and surely one of the most loved movies of all time. Tom Hanks' portrayal of Forrest Gump melted hearts across America and beyond. We all received an entertaining history lesson as we follow Forrest from a misfit kid with a special talent and a kind heart, all the way to adulthood, meeting loved ones along the way who all have their own stories. The Forrest Gump slot game is a really good example of how to translate a much-loved film into an online gambling spectacle. The graphics in this one are great with realistic depictions of characters from the film and a great soundtrack, too. Best of all, not for the first time in this list, is the main bonus feature. Not only does the game feature a box of chocolates, but it also has a Run Forrest Run feature where Forrest catches an American football and makes for a touchdown. If he gets all the way, you win money.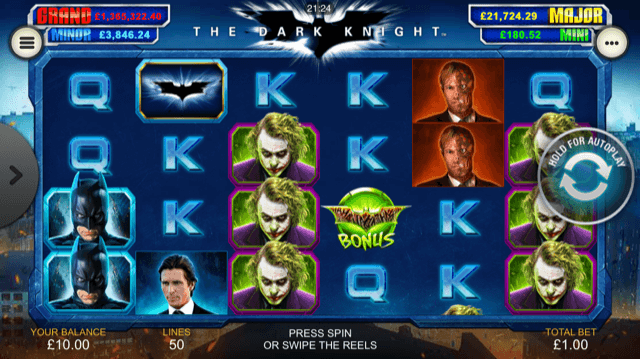 The Dark Knight: Online Slot
As far as superhero films go, few are more celebrated than the gritty Batman instalment that is The Dark Knight. Heath Ledger's depiction of The Joker is legendary, with his disturbed, creepy character chilling all who watched. The slot game is a slightly less intense experience but in terms of design and layout, it is brilliantly on brand. Batman features in this Gotham set slot game that involves many of the main characters. There are 50 pay lines to work within the game, with gamblers able to win up to 1500x their stake. The likes of free spins bonuses amongst others, make this one of the online slot games, that is worthy of representing such a great movie.
Terminator 2 Top Slot Game
One of the greatest things about this movie-themed slot game is that they do not just focus on the first Terminator movie or the movie franchise as a whole. Rather, this slot focuses on Terminator 2, a lovely serving early nineties action movie brilliance. Arnold Schwarzenegger's career never saw a film gross more at the box office and there is a good chance that you will win some decent money here as well. The five-reel slot game combines characters from the movie with classic card symbols that have been crafted in a robotic metal style. There are 1024 ways to win this slot game which has transforming character symbols that keep things interesting throughout. The movie was important for its use of special effects and although slightly dated now, they are incorporated brilliantly into this top slot games too with fiery explosions and robotic evil on the reels. 5 stars.