With so many racing slots themed games to choose from, it can be difficult which one to choose to play on when you don't have a huge amount of time. In no particular order, here are our favourites to help you to find your next favourite online slots racing game:
Racing for Pinks Online Slot
Brought to you by Microgaming, Racing for Pinks may have been on the scene since the end of 2013 but has remained popular ever since. With an RTP of 96.42% and medium level variance, this racing slot game gives players the opportunity of being in with a chance of winning up to £15,750, thanks to the 243 available pay lines.
This is a really exciting game to play and is car-based with you aiming to get your chosen car over the finish line before your competitors. With just 5 reels involved in this competition, there is every chance that you will be able to win substantial amounts of cash as you zoom around this track. Along with the enticing animations and impressive sound effects, there are some great bonus features for you to take advantage of wherever possible to test your luck at multiplying your initial wager by 175. Whats not to like about the online odds of this game? For cars, colours and creative design features, this is the slot racing game for you.
Macau Racing
Around 18 months old, the Red Tiger game of Macau Racing has been a favourite with slots gamers everywhere. The stakes for winning are not enormous but the RTP is 95.45% so there's a good chance of you being able to withdraw some cash into your bank once you have finished playing. This is a 20 pay line style slot game where players have the potential to win the £2,664 jackpot prize.
For online gamers looking for a racing game with excitement, action and the feeling of adrenaline, this is a winner. Watch your car as it flies around the track and pray that Lady Luck is driving you to the finish line. Look out for the lucky symbols too, including those of the champagne bottles and the glorious gold cups. Big wins are frequent and the best way to get your hands on the bigger cash prizes is to land as many wilds as you possibly can at any one time. Free spins can also be a great way for you to participate, win and increase your credit during this slot racing game without having to spend a single penny whilst having the time of your life.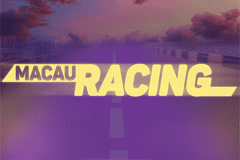 Monte Carlo Racing makes out top themed slot games
For a high end, glitzy and glamorous game, why not take a look at Monte Carlo Racing? Set in the stunning South of France, you are hosted by a gorgeous hostess who is there to show you the ropes. Don't let her beauty distract you though because there is £12,500 at stake in this game. It has 40 different pay lines and an RTP of 93.68% so you are in with a good chance of being able to take a substantial part of that racy jackpot home with you.
In to its third year since release, Cayetano Gaming have created a slot racing game filled with all of the most luxurious things you can imagine. From luxury casinos to race cars and private yachts, the best part of all is that you don't have to leave your own home to be able to experience it. This is a bright, eye-catching game with plenty of wilds, free spins and bonus game features to help you out along the way.
There's no better or more cost-effective way of discovering Europe than by playing Monte Carlo Racing, with bets starting from just 1p but with luxury you can only dream of!
Derby Day Horse Racing
If you are a fan of placing a bet on the horses, then Derby Day Horse Racing could quickly become your new favourite racing slot game. Choose which horse and jockey you wish to ride in your race and watch directly as they ride, hopefully, into poll position. Cleverly represented in the style of a racetrack, many gamers enjoy this style of slot racing game because it is different from the majority of other slots. It does not have lines, rows and symbols to draw your attention away from the actual racing itself, but instead, the scoreboard is where your attention must be drawn to.
Playtech created this racing slot game in 2016 but there are few horse racing slot games which have come anywhere near as popular with gamers. This may be due to its non-conventional approach to slots gaming, its 95% RTP or the fact that bets can be placed from as little as 1p and providing some of the biggest payouts. Secretly, we think it is the number of horseshoes knocking around that makes it lucky for everyone who decides to take part.
F1 Racing slot game
Formula One is a hugely popular form of racing around the world, so it is no surprise that the F1 Racing slot game has ranked in our top 5. Triple Profits Games developed this game just over a year ago and it hasn't left the charts since. For slot players who want a good mix of sexy cars and saucy women, this is the best slot racing game out there. Designed to look just like a real-life race track, the graphics are clever though a little Sims-like at times, but with £5,000 up for grabs, you won't mind that.
F1 Racing is a 5 reel, 25 pay line slot racing game which has many ways in which you can win the big jackpot prize. Use the wilds, free spins, scatters, and bonus games to increase your cash prize as much as you can and be in with a chance of winning big. Placing a minimum bet will set you back £2.50 per spin but with all the excitement of the potential fires, Pitt stops and the race itself, not to mention what might happen on the reels, you won't mind paying this much to place your bets. It also entitles you to a much higher return!
And the top slot racing game award goes to…?
If you liked this post then be sure to head over to our top 5 animal slot games list.