If you are looking for an online slots game based on events that have really happened in life, then take a look at the following list. Not only is this a great thing to base your gaming on but it will keep your attention for longer and you never know, you might actually learn something useful, too. Here's are our top 5 slot games based on real events:
Gonzo's Quest Online Slot
Based on the historical figure of Gonzalo Pizzaro, this slot game is set to lead you on an exciting adventure to find the hidden city of old. Gonzo, the main character in this slot game, is with you all the way and will help you throughout your quest to find the hidden treasure. Ranking Top 2 in the Slotrankings in October 2018, and having gained the Top3 Golden Badge, this game may have been released almost six years ago, but it certainly has not lost its appeal to gamers.
This is a mid to high variance level slot game with a slot RTP of 95.97%. Brought to you by NetEnt, you have the ability here of being able to win a maximum jackpot of £187,500, placing minimum bets of 20p and maximum bets of £50 per spin. This is a 5 reel, 20 payline style slot game with exciting bonus features for you to take full advantage of. We love the exploding brick feature within this game which all have funny, individual faces on them which will be guaranteed to make you smile.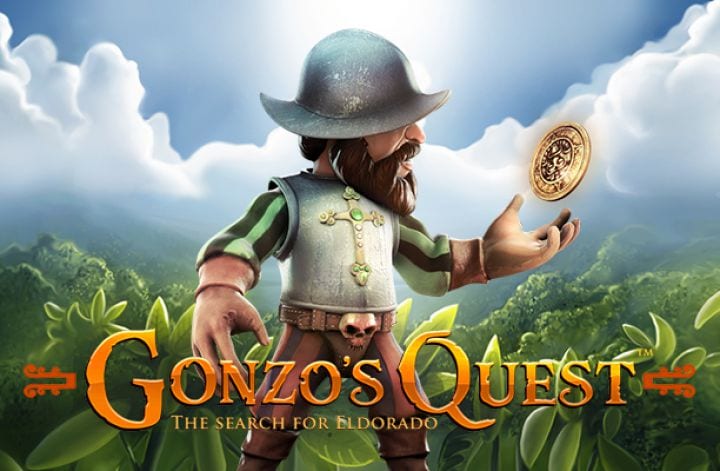 Bon Appetit makes our top 5 slots list
For lovers of anything French, this is a great slot game to play, as it immediately takes you into the centre of Paris and you feel right at home there. Immediately start drooling, as all of your favourite French cuisines begin to whiz past your eyes in a blur of deliciousness. There are waffles, crepes, pizza, ice cream, wine, champagne, and so much more for you to feast your eyes upon. This is a real-life French experience and whether you have ever been lucky enough to visit France or not, you will be sure to enjoy playing this slot game. There are multiplies, scatters and wilds to enhance your playing experience, along with a £200,000 jackpot at stake. Start your bets from just 10p up to £180 per spin to be in with a chance of winning on this NeoGames classic – C'est Tres Magnifique!
Cleopatra
Approaching eight years old, but still considered as one of the best real event slot games online, Cleopatra is based on the real-life events of Egypt and has a certain royal air about it. It is exciting to play and you can't help but want to know exactly what else is lurking around the corner. This is not a hugely fancy game with a particularly large amount of bonus features but it does make up for that in the history you will learn along the way about the Queen who lived between 69 and 30 BC and was the very last pharaoh in the whole of Ancient Egypt.
Clearly, gamers aren't always looking for lots of added extras, as this slot game remains at Slotranks Top 4 as of November 2018, and has the Top 10 Golden Badge, too, which its developers, IGT, will be very happy about. This is a mid variance level game, with an RTP of 95.7% and offer players the opportunity of winning a King-like £2.5 million. Place your bets from £1 up to £1000, using the 5 reels and 20 paylines to be in with a chance of winning the jackpot of all jackpots.
Sherlock of London 
Sherlock Holmes was said by Doyle, to be based on a true person. Believe this to be true or not, we all secretly love a detective series and want to be able to solve the crime. This is a cleverly created slot game with a sense of humour running all the way through it if you don't want a real-life murder mystery game that's too dark. Based in the streets of Victorian London, there are tricks and turns at every corner but there's a good chance you will be going home with a good wad of cash in your pocket after all that tricky detective work. Brought to you by Rabcat, this is 96.03% RTP slot game with medium variance offering players the ability to be able to win £1000. Place bets from as little as 25p or as much as £25 by using the 5 reels and 25 paylines on any mobile device. Keep a lookout for all of the most important symbols, like the Extra Watson Wild, 221B Baker Street Sign, and the Inspector Lestrade symbol, and you will be sure to earn yourself a good sum of money along the way. By the way, Sherlock Holmes himself will trigger your wilds!
Game of Gladiators Casino Slot Games
The Gladiators of Rome were once the most feared men to walk the streets – they were fierce, strong and brave – and that's exactly what you need to be when you are playing this real-life based slot game. You are thrown right into the centre of an epic arena battle, where you could be getting up close and personal with a whole host of oppositions. Different bonus features enable you to be in different parts of your battle and the more you play, the more you will progress through the stages of battle.
Play'n Go have created a clever and enticing slot game based on the Gladiators of Rome which may be a high variance slot game but it is hugely exciting. This is a 96.42% RTP game with £500,000 up for grabs should you be brave enough to conquer your demons and win. Bets start from 20p up to £100 per spin, and this is a 5 reel, 20 payline game. There are multiple bonus features, wilds and scatters for you to take notice of, where the whole idea behind this game is to get rich or to quite literally die trying! If you liked this top 5 be sure to check out our top 5 animal slots.