The last decade has seen many new trends appear and one of these is surely the rise of the superhero movie. So many massive box office movies over the past ten years and more have been modern superhero movies, with special effects and new adaptions of comic book classics aplenty. With plenty of action, usually good morale to the story and a helping of nostalgia, the superhero film is a movie for the whole family and maybe this explains their success. Meanwhile, another development in recent years is the rise of the online slot game. One of the most exciting ways to bet in what is an exciting era for online gambling, online slot is popular for many reasons. One such reason as to why, is surely thanks to the slot game's ability to shapeshift into a variety of themes - a superpower of its own. One such theme that we like to see is that of the superhero, so here are some of the best superhero-themed slot games that you can play with our slot promotions!
The Dark Knight Slot
We start with something a little gritty, as this fifty pay line slot game is an online gambling take on the iconic film The Dark Knight. The second film of the Batman trilogy that made superhero films take a darker, more realistic turn, this is a modern classic of a movie and a darn good slot too. All the characters from the film are present in a slot game that takes the dark underside of Gotham and wonderfully converts into an engaging game. There are 50 pay lines to work with The Dark Knight slot game, making for plenty of variation, too.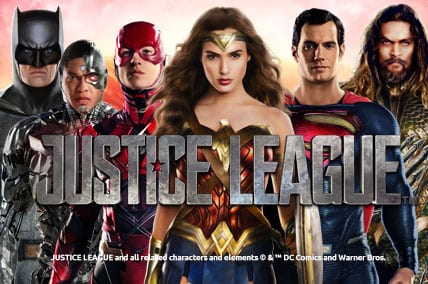 Justice League Slot
If you are a fan of classic comic books, then Justice League might just be the online slot game for you. Thus superhero slot game contains all your old favourites, with the likes of Superman and Wonder Woman starring on this retro-looking gambling game. The animations are great and the graphics are comic book style, creating a nostalgic feel for those who grew up reading comic books from a certain era. While there may not be much on offer in terms of narratives and bonus features, it is the full line-up of Justice League characters that makes this one of the best Superhero themed slots.
Read up about the best slots in casino gaming!
Super Heroes Slot
The best superhero-themed slot games of the lot though does not use any existing superheroes but rather, it invents it's own. The always creative Yggdrasil is one of the best developers that you will find in the online gambling industry and you will do well to find a developer with better graphics than them. For this mobile-friendly, 20 pay line slot game, you enter an apocalyptic setting with truly stunning animations and a fantastically detailed backdrop. Loads of bonus features are on offer here, too, free spins, multipliers and a really exciting Hero mode that is of course, relevant to the theme in question.