August "Charles" Fey was born in 1862 in Bavaria, Germany – no one knew that he was going to change the future of gambling only 33 years later. Also, learn more about how the online slots world evolved today.

Quick Links: Strangest Bets | History of Gambling | Slot Secrets | Illegal Gambling
Charles Fey - the Slot Game inventor
Charles first discovered his love of mechanics and electricals at the age of 14, when he helped his brother work at a Farm Tool Factory one summer. He wanted to get away though, partly due to his father's strict parenting, and partly due to the fact he didn't want to be enlisted in the German Army. He wanted to follow in his uncle's footsteps and immigrate to the USA. Who'd of thought we would now be trying to find ways to win on casino slots that originated from the great Charles Fey.
Anyway, he didn't have a lot of money though, so Charles moved over there in stages. First, at the age of 15, he left for France to work for a few years, before moving to England for 5 years and eventually moving to New Jersey to live with his uncle at age 23. He lived there for a while before moving to the west coast and settling in San Francisco in 1885, where he worked for the California Electric Works Company.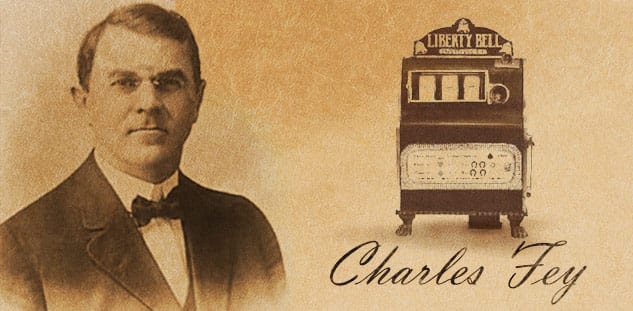 The life of a Slot Machine inventor
In 1889 he married Marie Volkmar and changed his name to Charles – people speculate as to why he chose his name, some people say it was because he didn't like the name Gus, others say it was because he wanted his name to sound more American. Marie and Charles had three daughters and one son.
He wasn't the first person to ever invent casino games and the slot machine, as there was already a short history of slot machines, but they required an attendant and sometimes they paid out in sweets, tokens, tickets, or the owners of saloons would give you alcohol if you won. Charles was the first person to invent the modern slot machine that we use today – that pays out in coins. In 1898 he invented the "Liberty Bell" machine, it had three reels, 10 symbols, and it paid 50 cents if you could match three bells on a line (there was only one bell per reel). Click the link to see slot games online today!

It was hugely popular, and Fey quit his job to focus on the invention and installation of slot machines – which he continued to create, in the form of fruit machines. He installed and managed his slot machines across the state of California. He retired in 1944.
Charles was the guy who started it all, a historical slot machine period, the guy we have to thank for all the fun times we've had on a good old casino machine – and in a way, he's even inspired the online slot machines. Without him, who knows where we'd be here at Wizard. It all comes back to the guy with a love of mechanics, who wanted to go out and do something different with his life. Charles Fey, we salute you. You can try and play the latest online UK slots today!