88 Fortunes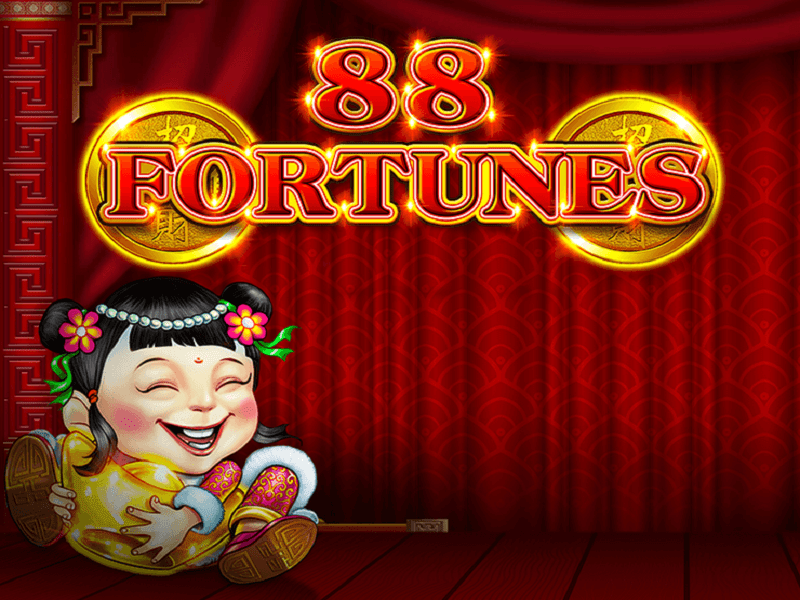 Feast your eyes on the generous glimmering slot machines of 88 Fortunes, where it is everybody's lucky day! This popular online casino slot online game will weigh down your pockets, so we recommend wearing a belt when you play. Brace yourself, the 9th-century Eastern-Asian coins are hypnotising when they pour from those lucky red reels!
There is one word that can sum up the gaming experience of 88 Fortunes, and that word is 'gold'. Golden turtles, golden ancient warships, a golden gong, golden birds and a golden fountain! This is undoubtedly the most metallic online casino slot game you will ever experience.
This game gives you the ability to win riches worthy of Eastern-Asian royalty. So, take a trip through time and space and immerse yourself in the majestic word of 88 Fortunes.
Quick Links: Lucky Leprechaun | Lucky Irish  | Shaman's Dream | Enchanted Prince | Twin Spin | Stardust | Mega Moolah
About the Developer
88 Fortunes is brought to you by SG Interaction, an exciting global provider of online casino games. The company was founded in 2011. SG Interaction routinely releases innovative and original online casino games.
They pride themselves on creating original and unique online casinos. Their creative and hardworking game design team create a bright and colourful gaming experience like no other. Their aim is simple: empower players by offering them the greatest interactive gaming experience.
SG Interaction has offices worldwide, across three continents and thirteen cities. These locations include Manchester: England, Chicago: Illinois, Las Vegas: Nevada, Stockholm: Sweden and Bangalore: India.
Well-rounded and culturally diverse, SG Interaction prides themselves on their unique working environments. They offer their workforces an exciting, creative operational atmosphere. They believe this atmosphere contributes greatly to the quality of their products.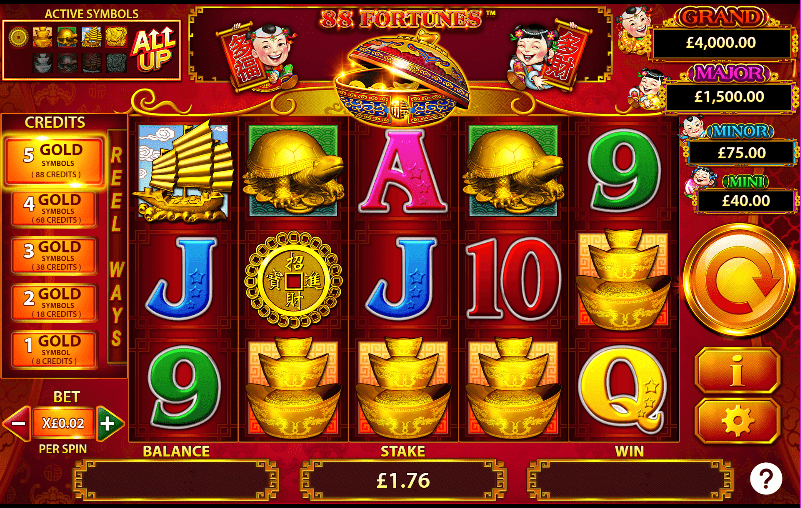 | | | | |
| --- | --- | --- | --- |
| Developer: | SG Interaction | Features: | Free Spins, Jackpots |
| RTP: | 96% | Paylines: | 243 |
| Min Bet: | 0.08 | Max Bet: | 88 |

About the Game
88 Fortunes slot game comprises of 5 reels with over 240 ways to win. I like those odds, don't you? There is plenty of wealth to be shared around in this exciting instalment by SG Interaction. 88 Fortunes have made headlines in the iGaming community, and in our opinion, it more than lives up to the hype. This fantastic game is available to play at Wizard Slots, which offers all of the best online casino games available.
One of the most exciting features of this game is the Fu Bat Jackpot, a large jackpot which will turn your face blush and be as red as the game's art style! The Fu Bat symbol represents good fortune in Chinese culture. The key to winning this oh-so lucrative jackpot is to enter your coins, pull the arm, pray to Buddha and hope the Fu Bat symbol appears on those royal red reels. Once you do this you will see the 4 x 3 window with glistening golden coins.
Once you see this, click on the coin to unveil its hidden symbol. If you're lucky, you will get three matching symbols and win an Eastern-Asian Fortune which will last as long as the Wall of China. As you have already been exposed to this amazing online casino game, it is safe to assume you already have good fortune.
The wide range between the minimum and maximum betting amounts allow you to play as you wish. The maximum bets can be increased to amounts as large as 88 credits (quite suitably). In contrast, the minimum betting amount is 0.08, allowing you to play just for fun!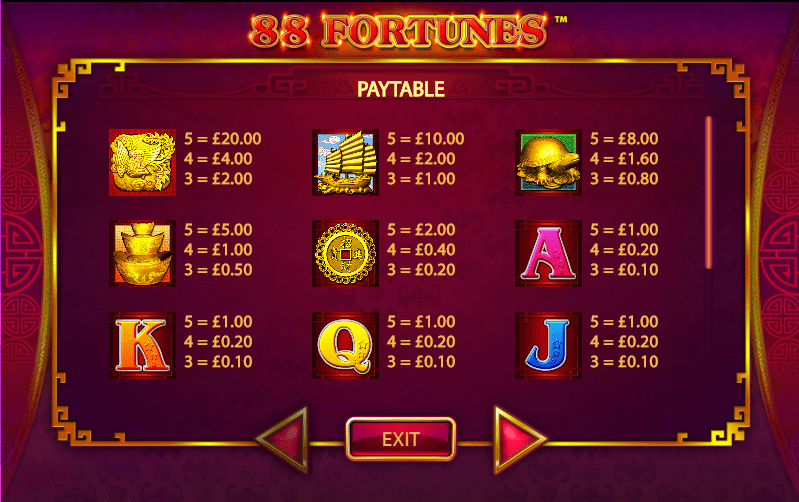 It is not just us touting the brilliance of this game. 88 Fortune was voted in the top online slot games of 2019! This game is more than deserving of this high acclaim, and we expect similar results for the next 88 years. We expected this kind of success from such an innovative and engaging game. It is another triumph for the iGaming masterminds at SG Interaction, who continue to be commended by their peers.
Everybody loves free stuff, and Fortune 88 is offering its players freebies to enjoy, just for participating in the game! The golden gong symbol is the key to unlocking free bonus credits in Fortune 88. We advise that you keep your eyes peeled, and prepare your fleecy gong beater to whack that symbol! But the free fun on offer does not stop there.
If you land 3 matching symbols on the reels in a consecutive order you will be gifted with a free game. The free games feature only higher-paying prizes, giving you an opportunity to win huge prizes without risking a financial loss! If you're busy but still want to continue playing 88 Fortunes, there is a handy auto-play feature – because why on earth would you ever want to stop?
Now, we are going to let you in on a secret, 88 Fortunes has 4 hidden Jackpots, unknown to their players. These Jackpots are usually only uncovered by lucky players who win these undisclosed jackpots! So, feel free to get excited about this special offer, but keep it to yourself! And, if you accidentally let it slip – do not tell them that I told you!

The Verdict
The visuals for this game are incredible, it boasts a beautiful art style which perfectly captures the aesthetic of Ancient China. So, what are you waiting for? Pack your bags, book a plane ticket, and a time machine. Just make sure you have wheels on that suitcase because Ancient Eastern-Asian coins are extremely weighty. We highly recommend playing this online casino game, so try it today!
Win gold coins by becoming a gladiator in Spartacus.