Jeff & Scully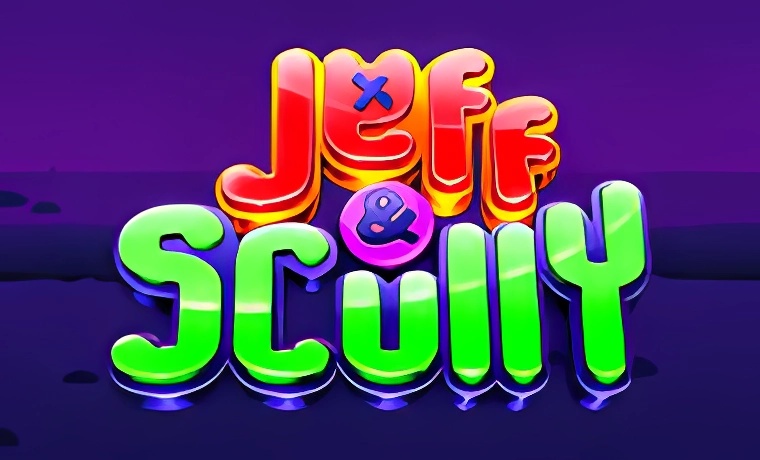 The Jeff & Scully slot offers a whimsical gaming experience with charming characters. Players accompany Jeff and Scully on their adventures through engaging graphics and a playful theme, creating an enjoyable and light-hearted slot experience.

---
Game Rules
Jeff & Scully is a slot with 7 columns, 7 rows, dropping symbols and corner triggered win areas.
The minimum bet is £0.20, the maximum bet is £4.00.
Each bet is 100 coins.
A game round starts on the selected bet level when the player hits the Spin button.
Winnings and winning combinations are paid out according to the paytable.
Winnings are presented in the player's currency or in coins. The player can change preference in settings.
The game is played in two modes, normal mode and bonus mode with free drops.
The Wild symbols substitute for any paying symbol. A rectangle with only Wild symbols in the corners will not pay or trigger any feature.
A game round begins with new symbols dropping into the 7x7 grid of symbols.
4 identical paying symbols in the corners of a rectangle, form an area and triggers a win paid for this symbol for the number of cells in the area. 3x3, 3x5, 4×7, etc.
A multiplier symbol in a winning area will multiply the win amount. Several multipliers will add to each other.
An instant pay coin in a winning area will pay out a separate instant win multiplied with the bet amount and the multipliers in the area, or the game's maximum total win (MAX WIN).
For large area wins of 24 symbols or more, the multipliers and instant pay coins in the win area will count up with their initial value when they first landed.
A blocker symbol is a non-winning symbol and cannot create a winning area.
A bonus symbol in a winning area will be collected for a possible later bonus game trigger.
A Wild symbol in the corners of an area win will be consumed and removed before any redrop.
Area wins trigger a redrop where all multipliers, instant pay coins, bonus and unconsumed Wild symbols remain sticky while all other symbols are dropped out and new symbols drop in. This will repeat until no more area wins.
An area win with red Jeff symbols triggers the Jeff feature which awards an area win for each paying symbol type in the area except for Jeff and Scully symbols.
An area win with green Scully symbols triggers the Scully feature which swaps up to 3 pairs of symbols to provide additional winning areas.
Bonus symbols part of a winning area are collected towards a bonus game.
3 collected bonus symbols trigger the bonus game with 10 free drops.
The bonus game starts with a new symbol set except for multipliers and instant pay coins which remain.
The multiplier and instant pay coins remain sticky during the entire bonus
4 collected bonus symbols trigger the super bonus game with 10 free drops.
During the super bonus game, the multiplier and instant pay coin values are counted up with their initial value for every new free drop. The values are capped at 666. The instant pay symbol MAX WIN cannot increase its value.
Collecting 3 or 4 bonus symbols during a bonus game will retrigger the bonus game with 10 additional free drops. A bonus game can be upgraded to a super bonus game, but a super bonus game will not be downgraded to a bonus game.
Winnings are paid out at the end of a game round.
The maximum total win in a game round is capped at 10 000x the placed bet.
A game round is immediately ended when the win cap is reached, and the wins collected so far will be paid out.
No bets can be changed during a game round.
The theoretical payout (RTP) is 94.0%.
In the event of malfunction all bets and wins are void.

Last updated 2023-08-18
---
*All values (Bet Levels, Maximum Wins etc.) mentioned in relation to this slot game are subject to change at any time. Game features mentioned may not be available in some jurisdictions.