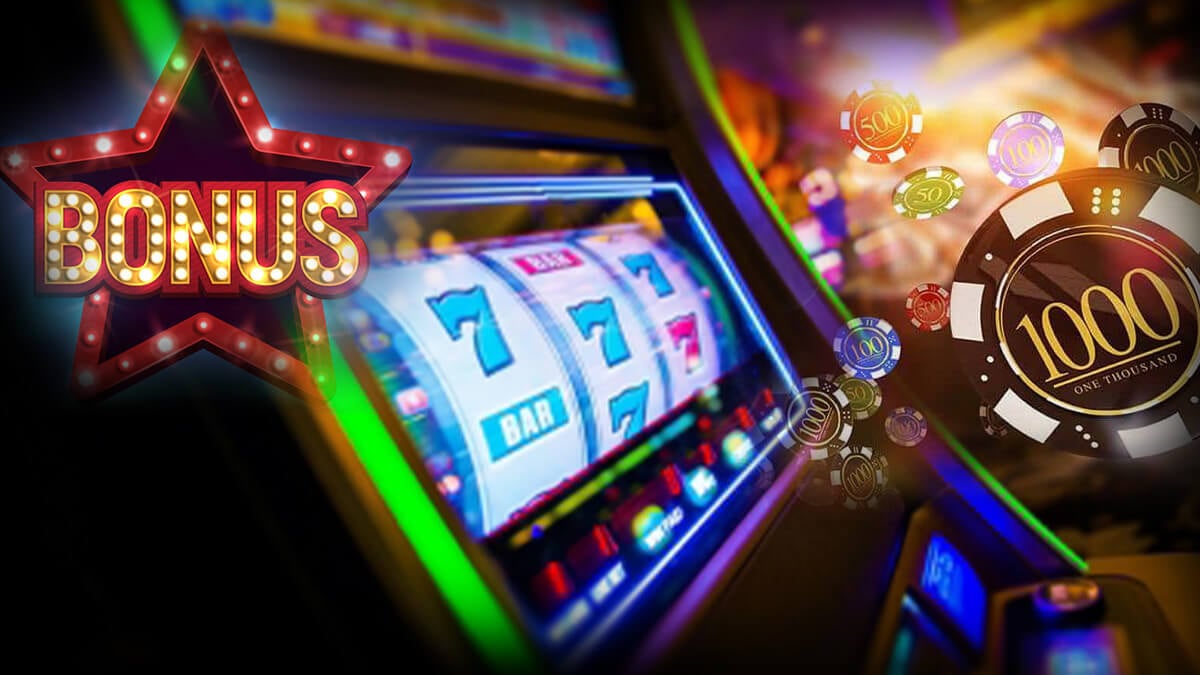 Many people believe that the outcome of a slot bonus round is predetermined but is this true or is it actually random? 
This blog post will tell you whether slot bonuses are random or predetermined. We will also talk about whether slot machines are random, what a random number generator is and what happens when a slot machine resets.
Are Slot Machine Bonus Payouts Predetermined? 
One of the most exciting things about playing online slots is the chance to unlock an exciting bonus feature! Luckily, there are many bonuses in modern slot machines, including Free Spins features and pick style bonuses. But are bonus payouts predetermined?
There are two main types of slot bonuses; skilled and unskilled. Until recently, all bonus rounds were unskilled. They required no skill from the player, and outcomes were completely random. For example, in a pick-style bonus game, you would have to choose one treasure chest out of the six shown on the screen to determine your outcome. The outcomes are random.
Nowadays, some slot games may require a level of skill. For example, it could be a bonus round where you collect gems, shoot objects or collect coins. How much a player wins depends on their performance in the bonus round. 
Whether you trigger the bonus round in a slot is entirely random, as are payouts awarded through them. 
Are Slot Machines Really Random? 
There are myths out there that suggest casinos can rig slot machines and that slots are fixed. However, this is not true. Slot machines are entirely random.
But how can you know that slot machines are random? All online and land-based slot machines use a Random Number Generator (RNG). An RNG is a small computer inside a slot machine that determines all outcomes. It works by constantly producing vast quantities of number sequences every second. Every time a player hits the spin button on a slot machine, the sequence produced in that instant is used. Each RNG number sequence represents an outcome on the reels of the online slot.
When the reels stop, a pattern of symbols will appear which have been randomised by the RNG. Players will see a sequence of symbols, either a winning or non-winning combination. 
A RNG ensures the randomness and fairness of winning outcomes for all players. The RNG cannot be rigged, and in all reputable online casinos regulated by the UK Gambling Commission, slots are tested regularly by third-party companies. These third-party companies test the RNG of slots regularly to ensure randomness. A casino can only keep its license if they continuously prove that they provide fair and random gambling.
It's important to remember that despite some conspiracy beliefs, the RNG itself, which determines the outcome of the slot, does not have any memory and certainly does not remember your history of when you last played and how many times you have won/lost. Therefore, results of the RNG are not predetermined by your previous gameplay. 
It doesn't matter what time of day you play either! The outcomes of slots are always random, and this is because of the random number generator used.
What Happens When a Slot Machine Is Reset?
Sometimes, a slot machine may malfunction. When this happens, the slot will reset.
The slot gaming experience will remain the same as before the slot was reset. The reset does not alter gameplay, and you still have the same chance of winning. The outcome of the slot is still random for players.
Many players believe that you will not likely win once the slot has opened up again, but this is not true. The slot will return to where it was before a malfunction occured. A slot will remember its status before it malfunctioned and displayed an error code.
All the control programs in the slot machine are responsible for how the game runs. It also includes the random number generator. These control programs can remember the last 10 games played. 
Therefore, once the slot machine has been reset, it will continue after the last 10 games. People believe that the outcome of slot bonus rounds may be predetermined after a slot machine resets as sometimes the same bonuses load, but this is not the case. Instead, the slot machine saves the recent activity and continues to provide random outcomes when it has been reset.
The slot machine tracks activity and can remember this information. However, the RNG does not. The RNG is responsible for generating the outcome of spinning the reels. The slot machine then 'translates' this outcome if you like; it interprets what the RNG has generated to discern whether a payout needs to be awarded or a bonus feature triggered. 
The slot machine's information does not affect the outcome the RNG produces. Each spin is an independent event with a random outcome.