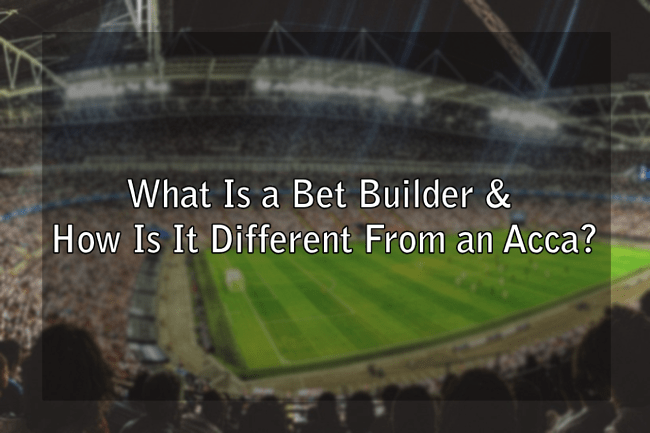 If you're familiar with sports betting, you've probably come across Bet Building before. 
However, if not, continue reading this Wizard Slots post as we shed some light on what it is and how it is different from an Acca, also known as an accumulator bet. 
This blog post will provide some clarity on how you can use this type of bet, give you examples of what it looks like and also what to expect if you place a Bet Builder and lose.
What Is a Bet Builder?
Bet Builders is a betting concept that essentially allows bettors to build their own bets. You can think of it as a system that allows you the freedom to make the kind of bet you want and build it yourself, rather than placing a single bet, which is already available at the bookies.
Bet Builders tend to be popular with sporting events such as football, tennis, NFL, and many others. But, in most countries, including the UK, this bet is commonly found in football matches. With this Bet Builder feature, punters can make their bets on multiple selections within the same event, increasing their odds with every additional selection.
Say, for example, you want to place a bet on a match between Juventus and Arsenal. You bet against Juventus losing by X amount of goals, but also want to bet on who will score the first goal, who will get a red card, and at what point a team or both teams will score a penalty.
A Bet Builder allows you to place all these bets in one. So, in essence, a Bet Builder can be thought of as a collection of multiple bets in one bet.
How Does a Bet Builder Work?
A Bet Builder works by combining a series of individual bets into one big bet. They can typically only be used in one game or event, so you would not be able to make a Bet Builder by combining two betting events into one. 
For example, betting on a football match and an NFL game, and making one big wager on both events, or betting on two different football matches in one bet.
Some bookmakers may allow you to make more than one Bet Builder on a single match or event, and combine the Bet Builders into one big Bet Builder. But they have to be about the same sporting event, not two different ones.
The idea is that the more bet structures you accumulate or create, the better your chances of having at least one winning bet. Therefore, they are believed to increase your odds of potentially winning. 
Obviously, they are not a foolproof method of winning as the event outcomes are unpredictable. So, you can place a Bet Builder and still lose. However, we will look into that later on in this post.
Is a Bet Builder a Multiple Bet? 
No, a Bet Builder is not a multiple bet. Though they may sound like the same thing at face value, they are fundamentally different. A Bet Builder is made of a series of outcome 
selections from the same sporting event.
In contrast, a multi bet, also known as Acca or Accumulator bet, is a combination of a series of outcomes, from multiple games, in one bet.
What Is The Difference Between a Bet Builder & an Acca?
The difference between these two bet types is that one focuses on a single sporting event, while the other combines different events. 
A Bet Builder combines multiple possible outcomes in a single event into one big bet with one total. For example, you can bet on a particular team in a match to not only win but also win by a specific number of goals or points, have X number of penalties, score X number of goals during extra time, receive X number of red cards, etc.
A typical Acca bet will have at least four selections or legs of outcomes in different sporting events. For example, say there is an English Premier League going on, and you want to bet on most of the teams in it. You could then place a bet that looks like this:
Liverpool to beat Arsenal at 2/1

Newcastle United to beat Manchester United at 2/1

Tottenham Hotspur to beat West Ham United at 4/1

Leicester City to beat Juventus at 3/1
However, if you lose one leg in an Acca bet, you lose the entire bet. 
Bet Builder Example
To better illustrate what a Bet Builder typically entails, we will make an example of what a Bet Builder would look like, using a hypothetical match between Liverpool and Manchester City.
Find the Bet Builder option, select it, and choose a specific market (a specific category), such as a set score. That may look like Liverpool to beat Manchester City at 3/1. Continue choosing markets and selecting outcomes until you are satisfied.
Then, the odds for each market will be added together to produce one big odd. An example of a Bet Builder ticket of the entire process described above may look like this:
Under 3.5 goals for both teams
Mohamed Salah (Liverpool) - Anytime Goal Scorer  
Red Cards for both teams combined - Under 4.5 
Over 2.5 goals - Over/ Under 3.5 goals
Corner Kicks - Over 8.5 
Match Results - Liverpool or draw
Both teams to score in the match - Yes
Player Assists - Kevin De Bruyne (Manchester City)
What Happens If You Lose One Bet In a Bet Builder?
What happens if you lose one bet in a Bet Builder may be specific to the terms and conditions of the sporting event or the bookies. Therefore, before placing the bet, it may be best to familiarise yourself with the terms and conditions, and the rules. Some bookmakers may have special conditions regarding winning or losing a Bet Builder.
Generally, if you lose one bet in a Bet Builder, the entire bet is lost or void.
However, also keep in mind that every result in a sporting or gambling game is unpredictable, and no amount of knowledge can help you make definite wins.