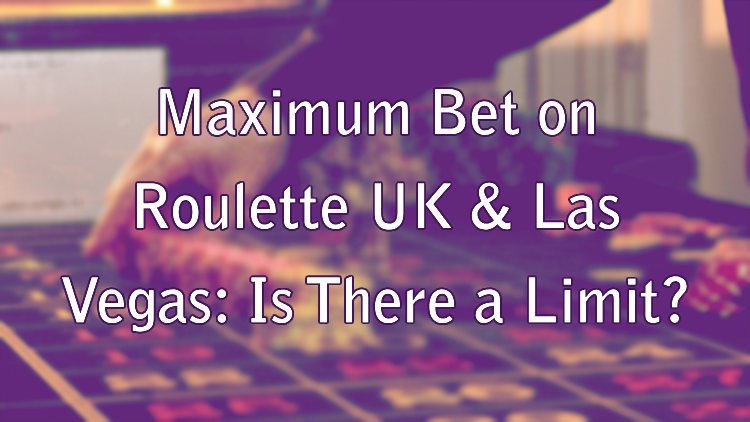 Roulette is an exciting game of chance that is popular in casinos all around the world. But is there a limit on how much you can bet on this casino staple in the UK and Las Vegas? Let's delve into the matter. 
Maximum Bet on Roulette In The UK
In the UK, the betting limits for roulette can vary from casino to casino. The highest maximum bet available in the UK is around £10,000 per spin, but this could be lower in some casinos.
The maximum limit is in place to help combat problem gambling and to help avoid potential excessive losses. 
Maximum Bet on Roulette In Las Vegas
In the world of Las Vegas, the stakes are often much higher. The city is known for its high-roller casinos, where bets can reach dizzying heights. In fact, the largest ever roulette bet in Las Vegas history was a staggering $250,000 made by the cast of MTV's reality show, "The Buried Life". 
However, it's important to remember that such high-stakes bets are not the norm. Most casinos in Las Vegas have table limits to manage their risk. The limits can vary greatly between casinos, with VIP tables often allowing much larger bets. However, there's usually a maximum cap to prevent any bet from becoming too big a risk for the casino. 
Are There No Limit Roulette Tables?
While the idea of a no-limit roulette table may seem appealing to some, it's important to remember that casinos are businesses. They have to manage their risks, and setting no table limits would leave them exposed to a great deal of uncertainty. 
In theory, a no-limit table could allow a player to keep placing increasingly high bets. If they were to win, the payout would be huge, potentially resulting in a massive loss for the casino. And if multiple people did this, the losses could stack up quickly. 
Therefore, while there may be tables with very high limits, a true no-limit roulette table is very unlikely to exist. 
Is There a Maximum Bet on Red or Black?
Betting on red or black is one of the simplest bets in roulette, offering almost a 50/50 chance of winning. The maximum bet for this type of wager is typically the same as the table limit. 
What's The Maximum Bet On Roulette In Bookies?
The government conducted an in-depth inquiry, resulting in the maximum stake on fixed-odds betting terminals (FOBTs) being slashed from £100 to £2. This is a substantial reduction aimed at mitigating the harmful effects of gambling on the most vulnerable in society. 
FOBTs account for a significant proportion of gaming machine revenue despite making up less than 20% of all machines. They were a leading revenue source for high-street bookmakers like Ladbrokes Coral and William Hill. 
However, the high stakes and rapid pace of FOBTs could lead to players losing substantial amounts of money quickly. Hence, the reduction in the maximum stake was seen as a necessary measure to prevent problem gambling and protect players. 
However, many bookmakers also run an online casino where the betting limits can be much higher. 
In conclusion, while there's no such thing as a no-limit roulette table, there are plenty of opportunities for high-stakes roulette. However, it's important to always gamble responsibly and play within your means. 
---
*All values (Bet Levels, Maximum Wins, etc.) mentioned in relation to this game are subject to change at any time. Game features mentioned may not be available in some jurisdictions.