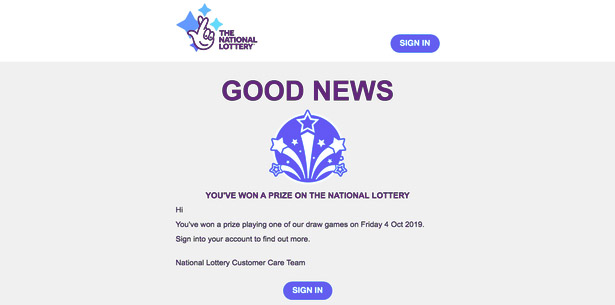 If you buy a lottery ticket online, you will be notified by email if you win. But how do you know whether the email is legit? 
In this Wizard Slots blog post, we will talk you through the email you can expect to receive from The National Lottery if you win a prize. We will also guide you through how to check if a win is real.
Does The National Lottery Inform You If You Win? 
If you bought a lottery ticket from a shop and ended up matching all the numbers and winning, you must make the first steps to come forward and claim your win. Starting from the draw day, players have 180 days to claim their lottery win.
Players that bought their winning lottery ticket in a shop must ring The National Lottery to confirm their win if their prize is over £50,000. Once you have confirmed your win on the phone, The National Lottery will outline the next steps to claim your prize.
For winners who bought their tickets online, the procedure to claim your prize is the same; however, you will be informed if you win. You will be informed of the win if you purchase your lottery ticket online and opt to be notified. If unsure, you can go to your National Lottery account's "My Games" section. Here, you can see the outcome of all the lottery games you have entered.
How Quickly Does The National Lottery Email You If You Win?
No matter the size of the prize, The National Lottery will email you reasonably quickly after a win. Typically, you can expect an email from The National Lottery the next day after your win. 
The email will include everything you need to know, including the date the draw took place.
What Does The Email Look Like If You Win The Lottery? 
If you bought a lottery ticket online and opted to receive email notifications, you will receive an email if you win. It doesn't matter if you have won an additional ticket, £5 or £1 million; you will always receive an email letting you know you have won. But what does the email look like?
In a winning email, the email subject writes "News about your ticket". The official email comes from the email address player@national-lottery.co.uk. 
The email then reads as follows:
"Good News! You've Won A Prize On The National Lottery."
"You've won a prize playing one of our draw games on *date*. Sign in to your account to find out more."
"National Lottery Customer Care Team."
Beneath this is a sign-in button which you can click on to sign in to your account and see how much you have won. The email does not contain information on how much you have won; you will need to log in to see.
National Lottery Big Win Email - Is It Legit?
With so many fraudulent emails and scams these days, it can be difficult to trust or distinguish what is genuine. So if you are ever unsure of whether your National Lottery big win email is legit, log in to your account.
The easiest way to find out whether your win is legitimate is to visit The National Lottery website directly and log in to your account. Never click any links in your email if you are not 100% sure they are genuine. 
Once you have signed into your account, go to "my games" and then "draw game tickets". This sends you to a page where you can see a list of all of the lottery games you have entered. The status of the ticket will be marked as "current", "finished", or it will say "won" with the prize amount. You can click "view ticket" to see more details too.