Treasure Raider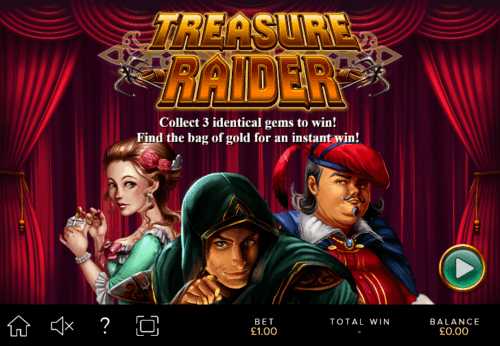 Rob from the rich and give to… the rich. It might not seem as noble a gesture as Robin Hood's but to be fair, the gems you steal in this pick n' click slots are being returned to their rightful owner.
A beautiful countess has been cheated out of her jewels by a cunning merchant and has hired you, a master thief, to get them back. It's time to step out of the shadows and right those wrongs. Do a good job and the countess will share her spoils with you in the real world! Let's play slot online today!
Quick Links: Lucky Leprechaun | Lucky Irish  | Shaman's Dream | Enchanted Prince | Twin Spin | Stardust | Mega Moolah
About the Developer
Formed in 1950, Bally Wulff is one of the leading electronic entertainment companies in Germany. They don't just deal in online slot games UK and casino games.
Bally Wulff has a long history of creating physical gaming cabinets as well as creating entertainment for the online world.


About the Game

Treasure Raider is a mystery pick n'click which casts you as a righteous robber, sneaking into a greedy merchants' palatial abode to and breaking vases to secure the countesses valuable gems.
Before getting smash-happy in the search of loot, you must select your stake. There are 6 options: beginning at 50p, increasing through £1, £2, £5 and £10 before peaking at £20.00.
Once you have staked your bet, press the play button to be taken to an ornate room. The merchants' pad is full of decadence, featuring red velvet curtains, hunting trophies, portraits of the rich and famous (dominated, of course, by the vain merchant himself) and even a pile of money with a sword!
Most importantly, the room includes 19 vases. You get to pick 8 vases in the hopes of reaping a rich reward. To do so, you'll need to reveal 3 matching gems. On top of this, there is the possibility of an instant win, in the form of a money pouch bursting with gold coins.
There is a quick play button so you can instantly see which prizes you have hit but the total win will be clearly displayed at the end of each round.
There are 6 gems with increasing multipliers. At the low end of the scale are the green gem, blue purple and yellow gems. These offer a 1x, 2x, 5x and 10x multiplier respectively. The final two gems change the game and send the cash opportunities into the stratosphere! Match 3 red octagonal gemstones for a mega 250x multiplier. However, if you manage to score 3 silver diamonds, the multiplier is an INSANE 3,000x!
This makes the top prize in Treasure Raider a whopping £300,000, an ultra win to rival even the most generous casino games.

The Verdict
Treasure Raider is a sparse potluck game, consisting solely of what many online slots games would include as a bonus round. However, there is some fun to be had in playing an enigmatic thief with a sense of moral justice.
The room is impeccably illustrated and the sound effects and music are minimal but on point. It won't become a new favourite but is a satisfactory deviation. If you liked this one you could try Fae Legend Warrior.