Jack and the Beanstalk
Climb the beanstalk with Jack on his journey for riches and defeat the troublesome giant in this encapsulating 5 reel online slots game , video enhanced slot experience. Look-out for the Walking Wilds that move to the left after every free spin.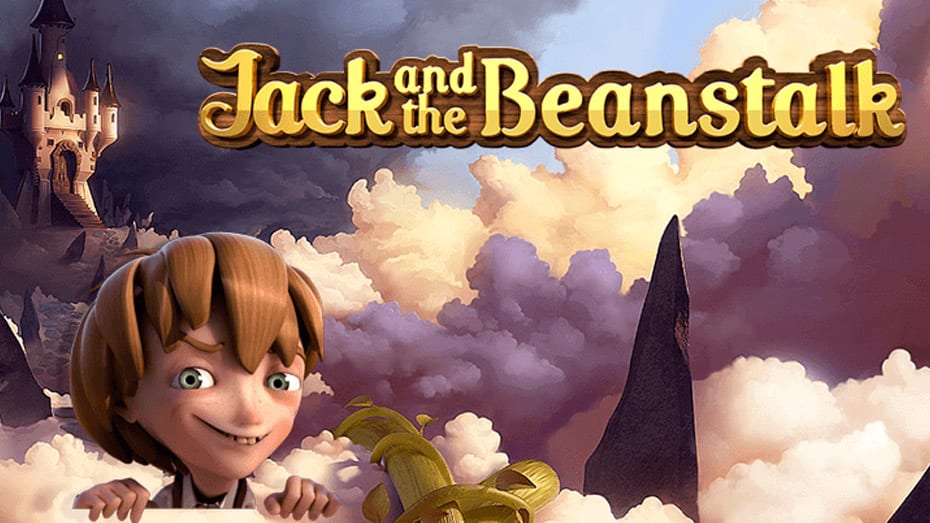 Summary
So this game is for all you fairy tale lovers out there.  We all know the story, and now those nice people at Net Entertainment have turned it into a slot game you can play and win money on!  How nice of them!
It isn't rocket science to understand what the aim of the game is – you need to help young Jack climb the beanstalk and by doing so you'll have lots of fun and potentially put a penny or two in your pocket!
About the Developer
As mentioned, the game has been developed by industry veterans NetEnt.  These guys certainly know what they're doing and have produced many a good slot and mobile slots games over the years.  This one doesn't disappoint.  As you'll have come accustomed to if you've played on other NetEnt games, Jack and the Beanstalk is packed full of great gameplay and interesting bonus features.  The bonussing in particular will keep you wanting to play longer as it really does increase your chances of a big win.
About the Game
It's a 5 reel, 20 line slot, typical of what we've come to expect from NetEnt.  They certainly know they're on to a winning formula with the mechanics behind their games.
The opening animation will really get you into the mood, it's absolutely top notch.  The graphics and design of the game itself isn't too far behind either – it's very welcoming on the eye and helps to draw you into the theme of the game.
Overall, the look and feel of this slot is right up there with any slot you'll find on the market today.
For those of you who want to bet big (and hence increase your chances of winning super big!), you can wager up to a humongous £100 per spin!  At these sorts of levels you really do need to understand your budget and to use it to gamble responsibly.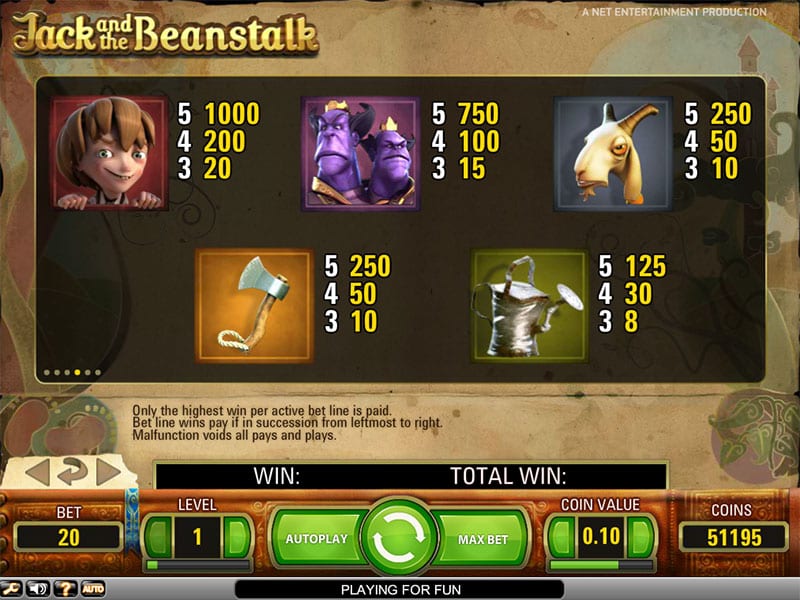 As mentioned the artwork throughout is immense.  The backdrop shows you a cottage with some axes and logs and a beautiful blue sky.  Even the standard symbols are pretty cool as they shape themselves into the beanstalk.  The main symbols consist of watering cans, axes, and goats!  And of course Jack himself!
Content-wise, NetEnt have gone all out and there are some excellent bonus features to be enjoyed.  The scatter symbol is a treasure chest and the wild is the game's logo.  Land these and your luck is in!
There is also a walking wild feature which will give you a free spin which can be re-triggered and hence will stack up freespins for you until there are no wilds left.  This is a nice little feature!  It will also activate another bonus game in which you can achieve win multiples.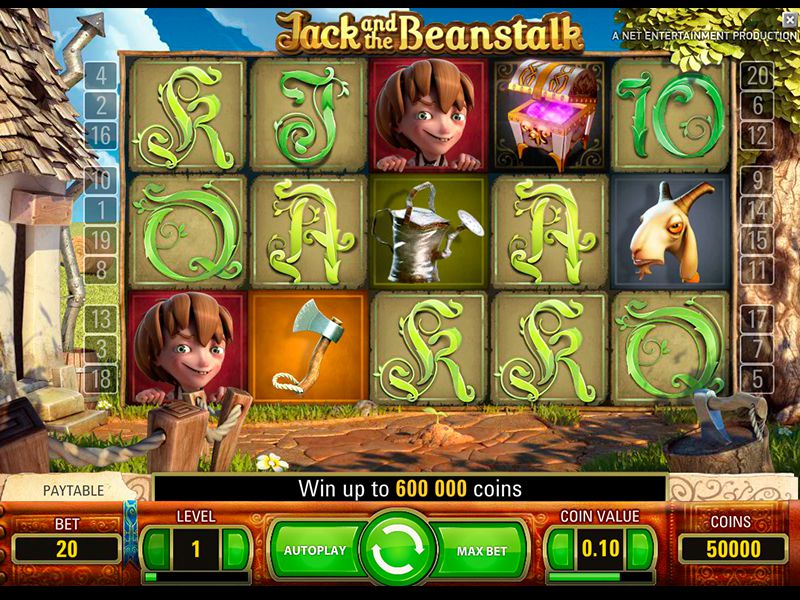 Verdict
There aren't many slots players out there who don't love this game.  The graphics and illustrations truly are superb but the great thing about it is that it doesn't detract from the gameplay.  It certainly is the right mix and is without doubt the reason why this game is one of the most popular on the market.  So go on, get playing and give Jack a hand up that beanstalk!
If you liked Jack and the Beanstalk you might also like Gonzo's Quest