Txs Holdem Pro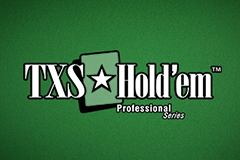 In Texas, blood, sweat, and tears are the main components of your gambling experience so it's important that you've got the gall to take on the pros at their own game. Txs Holdem Pro is a traditional variant of online slots UK classic. I hope you're wearing your poker face.
Quick Links: Lucky Leprechaun | Lucky Irish  | Shaman's Dream | Enchanted Prince | Twin Spin | Stardust | Mega Moolah
About the Developer
NetEnt (short for Net Entertainment) are known not only for their highly anticipated online slots and games, but also for their pioneering attitude towards the industry itself. They lead by example with cutting-edge slot games such as Butterfly Staxx and Gonzo's Quest which you can play Wizard Slots.


About the Game

Table games are a classic way of earning some quick cash while enjoying the benefits of a casino game from the comfort of your own home. TXS Hold'em Pro Series is NetEnt's take on this popular game. We know that going to a casino can be fun, but this game has already started on creating its own band of loyal followers who will stop at nothing to reap the rewards and win big.
Thanks to NetEnts dedication towards great gaming experiences, you have a very fluent table game, both graphically and game play wise. It's a very smooth title that is best played with dark lighting to enjoy this game to its fullest. TXS Hold'Em acts more like a real life simulator rather than an online table game.
At its core this is an adaptation from a classic, a card based game that is derived from classic poker. For those who aren't that informed on how to play the game both in and outside of this online table game, don't fret this game is very simplistic and has the ability to turn novices into professionals in no time.
TXS Hold'Em sets itself apart from most hold'em games is that players can bet on up to three hands simultaneously, and while this is a pretty regular occurrence in various versions of online blackjack, it is somewhat rarer with games like this. If anything this plays to the strengths of this game as a whole. Other than that, this is the same hold'em that you know and love. The slight change in this title is a very welcome change that changes the gameplay just enough for a
somewhat different experience.
Ultimately, the main reason you will want to be playing TXS Hold'em Pro is based on the track record of Net Entertainment. This game is apart of their Pro Series, a series that prides itself on quality and smoothness of both graphics and gameplay.
This game is the perfect first game to play if you are only used to the classic Windows XP hold'em games. If you are used to playing in two dimensions with out-dated sound effects then maybe it's time for a welcome upgrade, and what a great place to start with TXS Hold'Em Pro: a virtual table game perfect for any avid fan of this legendary game.

The Verdict
With casino games you do get what you pay for, and what you pay for is the thrills and excitement of being in an actual casino. Realism is a very big part in this game. In fact it acts more like a real life simulation than an online table game. Texas Hold Em is a very popular game and this one is sure to be too. Give it a try. 8/10
If you liked Tis Holdem Pro why not try Blackjack Pro.