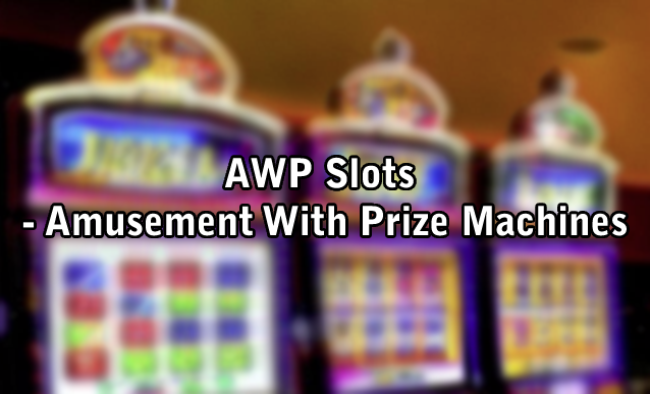 Slot machines are a timeless form of casino game that has been enjoyed by gamblers for decades and continues to be one of the favourites. But, in order to keep a wide range of players entertained, different variations of slot machines have been, and continue to be created.
One such variation is the AWP slot, short for Amusement With Prize machines. These games are similar to classic slot games but have a few differences. In this Wizard Slots blog post, we will discuss what AWP slots are, how they work, and the difference between them and fruit machines. 
AWP Slots - What Does AWP Stand For In Slots?
AWP is an acronym for Amusement With Prize. It is a type of slot machine commonly found throughout the UK in arcades and pubs, although they can also be found online and in some land-based casinos.
However, if they are in a casino, they may be referred to as fruit machines, depending on the establishment and who you ask.
Playing this type of slot game requires no skill, and any winnings are entirely random, unlike the Skill With Prize (SWP) machines. These types of gaming machines also produce random results, but they require some level of skill, unlike the AWP machines. 
Amusement With Prize Machines - How Do They Work?
In order to play an AWP machine, you may need to insert coins and then push a button or a lever to make the three standard reels spin (if playing at a land-based casino). The goal is to try and match symbols on the reels in order to form a winning combination.
However, some AWP machines may take you to another screen if you land three matching symbols on the payline. So, instead of receiving a prize like you would if playing a traditional slot machine, it takes you to a second screen where you will play for a prize.
For example, you match three symbols on the payline. Then, the reels are removed, and you are left with a pick game where you select random objects to reveal a possible prize. If a prize is won or you run out of picks, the screen returns to normal. 
To learn more about a specific game and any features it may offer, you can always refer to the paytable or game rules.
What's The Difference Between AWP Slots & Fruit Machines?
Fruit machines are also a type of slot game. In fact, fruit machines or 'fruities' are usually how many slot machines are referred to in the UK. Technically, they are classic slot games with three reels, a few paylines and fruit symbols, including bells and number sevens.
From a glance, the AWP and slot machines may look the same, but they share some distinguishable differences. The AWP machine may offer extra features that may enhance the fun and interactive nature of the game. One of the major differences between these two machines includes the stake options and potential payouts.
AWP machines usually offer lower stakes, and payouts can be in the form of vouchers, more tokens to play games with or cash, depending on the game you are playing. Another significant difference between fruit machines and AWPs is the graphics. Fruit machines are usually classic slot games with low-quality graphics, whereas AWPs tend to have more advanced graphics and symbols. 
Lastly, the AWP machines also tend to offer the nudge and hold feature. The nudge function may help players change the position of a reel, which may help form a potentially winning combination, and the hold feature may hold one or more reels in place while the rest respin. While the nudge and hold feature may not be in every AWP, it's usually a common feature.
In Summary
With AWP slots, you can enjoy a unique and entertaining gaming experience that combines traditional slot machine gameplay with possible extra features and bonus rounds, depending on the game.
Currently, these machines are most popular in the UK and Europe, and they can be an excellent choice for players seeking a more interactive gaming experience.
Although they look similar to classic or fruit slot machines, they are quite different and can offer additional features in some cases. Please remember to always gamble responsibly.
*All values (Bet Levels, Maximum Wins etc.) mentioned in relation to these slot games are subject to change at any time.