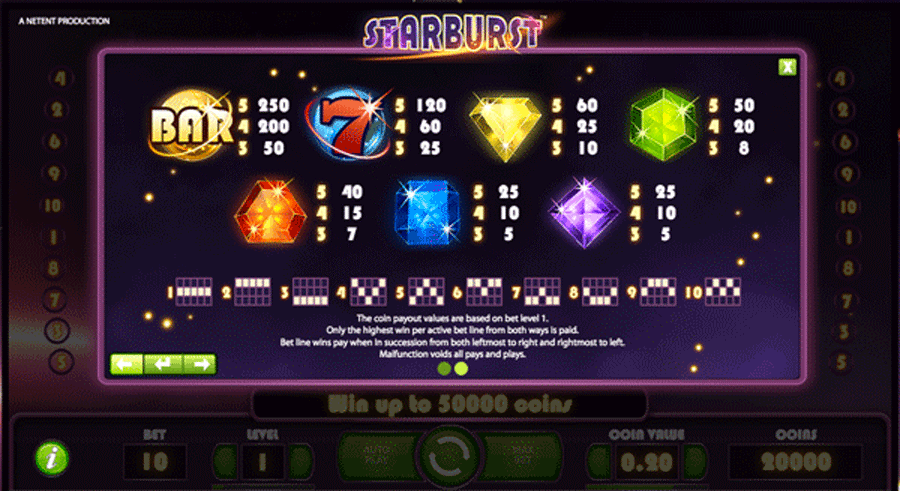 Back in the day, when most slots were very similar, pay tables were relatively easy to understand. Nowadays, there's such a wide variety of online slot games to play with a different number of reels, paylines and an abundance of innovative features that it may make some pay tables a bit more confusing.
If you're feeling overwhelmed when reading slot pay tables, you can read our guide below to better understand. We'll gently guide you through where to find a casino slots pay table, how to read a pay table and what slot pay tables tend to look like.
What Is A Pay Table On Slot Machines?
First, you may be asking yourself what a pay table is. A slot pay table is an information board containing important details about the slot machine and its game rules. This could include the number of paylines, the number of reels, betting requirements, symbols, bonus features, and a list of potential prizes and payouts.
Every slot machine has a pay table that outlines the game's rules. The wild and scatter symbols, the bonus features, and potential jackpots and or payouts. We recommend reading the pay table before playing a new slot, so you know exactly what to expect from the first spin.
Where Do You Find A Slot Machine's Pay Table?
Generally, it can be quite simple to find a slot's pay table. When the slot has loaded, you can usually find the pay table at the bottom, or side of the reels. It's sometimes shown as different symbols such as a few straight lines, a question mark or an "i" icon.
When you click on the pay table, you will see all of the slot's rules covered over a few pages. You can take as long as you want to read through and understand the pay table.
How Do You Read A Pay Table On Slot Machines?
Now that you know what a pay table is and where to find it, let's further explain how you can read them. Reading a pay table is relatively straightforward. However, if you're unfamiliar with reading pay tables, it might take reading a few to get the hang of it.
There are many elements to a slot's pay table. On a slot pay table, you may find the slot's game rules, the number of paylines, potential payouts, details on the Return to Player (RTP) rate, betting requirements, symbols, bonus features, or even, jackpot amounts. Some slots don't have all of these elements, but they all include some. Let's take a look at them in more detail.
Slot Rules
In the pay table of a slot, you will find the slot's rules. All rules and guidelines vary depending on the slot game, and some slots could have just a few rules, while others can have a long list of rules to read through.
In the slot rules section, you may find the RTP of the slot. This refers to the theoretical percentage that a slot may payout over a long period of time. 
The slot may also have other rules, such as how to play slot games and land a winning combination, what happens if the game disconnects, and information on bonus features, including how these can be activated during the base game.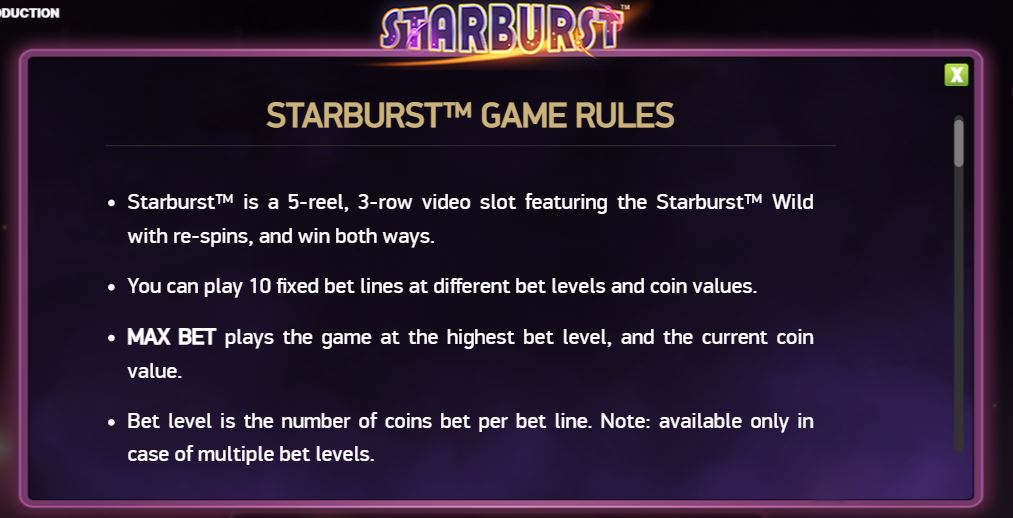 Paylines
Another thing you will see mentioned in the pay table is how many paylines the slot has. A payline is the pattern you can see on the reels, where matching symbols need to line up or land to form a winning combination.
Traditional slots can have a single horizontal payline. However, a lot more slots nowadays have multiple paylines that can give you more chances to form potentially winning combinations. Make sure to check the paylines of a slot before you begin playing, so you understand how you can land a win. You don't want to end up seeing a horizontal line of matching symbols only to then find it's not a winning combination!
In the pay table, the paylines can be shown as small tables. These are usually made up of different colours and show the various winning combinations you can make. Sometimes, seeing the tables visually and with bright colours can make them easier to read.

Betting Requirements
One of the most important things when choosing a slot to play is its betting range. Lots of slots have both a minimum and maximum stake value.
The pay table, or information table, may explain how to place your bet. Typically, you can adjust your slots wager by clicking the arrows at the bottom of the reels.
Most of the time, you can find out what the minimum and maximum bets are in the pay table.
Symbols
You will also see all the symbols in the slot game on the pay table. You will see a picture of each symbol, alongside how much you can win for landing (typically) 3, 4 or 5 matching symbols on a payline. The symbols can be listed from the lowest value to the highest value.
As well as the standard symbol, if there are any special symbols, these will also be listed in the slot's pay table. These could include wild symbols, scatter symbols, and bonus symbols.
A wild symbol usually replaces all other symbols, apart from the scatter, to form a potentially winning combination. A scatter symbol can appear anywhere on the reels and is typically the key to unlocking one of the bonus features, such as a free spins feature. Bonus symbols activate bonus features that can potentially lead to bigger payouts or slots free spins.

Bonus Features
Most online slots will have at least one bonus feature, sometimes multiple, which can make a slot much more entertaining and exciting to play.
You can find all of the information you need on how to activate a bonus feature, how to play the bonus feature, and how much you can potentially win when playing a bonus feature in the pay table.
Bonus feature rules in the pay table are normally explained in a concise and easy-to-understand way. For example, one of the most popular bonus features in an online slot is the free spins feature. A free spins feature is usually triggered by landing 3 or more scatter symbols, but make sure to check the pay table to see the specific slot rules.
There are many exciting bonus features in modern slots, from Megaways slot to pick-style games, expanding wilds, sticky wilds, re-spins, and cascading symbols.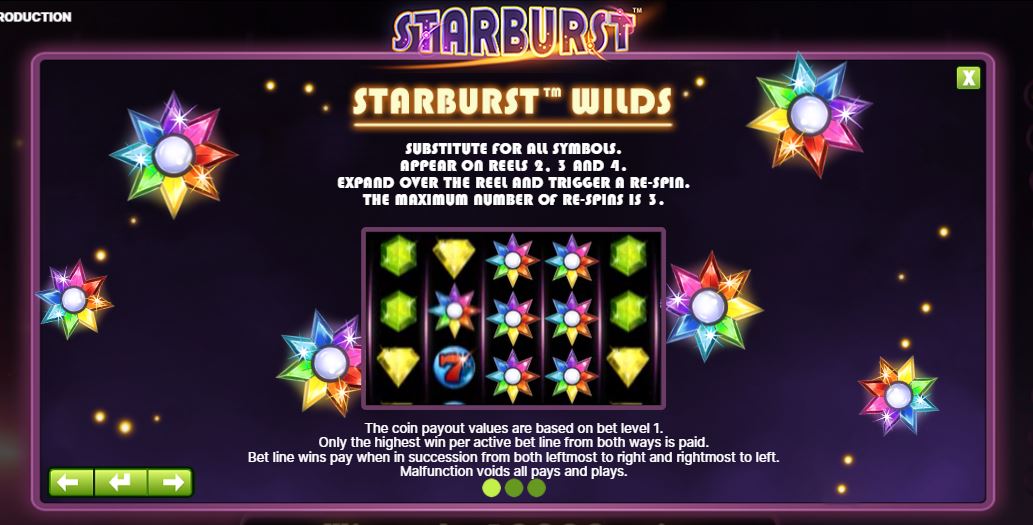 Jackpots
If the slot you are playing has a jackpot or is a progressive slots game, you will find all the details you need to know in the pay table. There are different types of jackpots, including progressive and fixed jackpots.
Jackpots are typically categorised as mini, minor and major. When reading the pay table, you will find out how to access the jackpot. A jackpot is usually unlocked with a bonus feature.
What Do Slot Machine Pay Tables Look Like?
A slot's pay table looks like a book with several pages of rules and helpful information. A pay table is like the ultimate guide to a slot machine.
Typically, the pay table fits in with the theme of the slot. For example, the pay table in Starburst looks out of this world, with a starry background and colourful graphics to go along with the detailed information.
You may see animations on some pay tables, which is great if you understand things better visually. For example, the pay table will show each symbol within the slot game, alongside how much you can win if you land a certain number of matching symbols on a payline.
Some paylines clearly show the patterns in which you can form a win. All the information is laid out neatly, so it's pretty easy for you to read and comprehend.