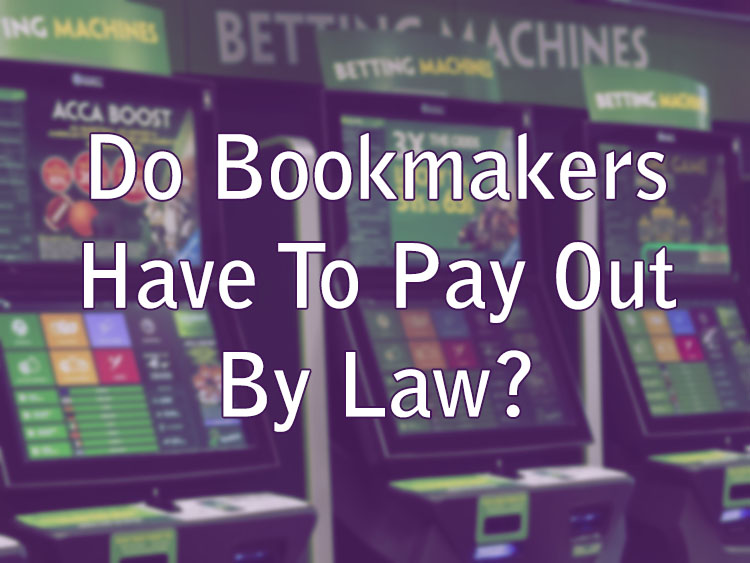 It would be safe to assume that when you place a bet with bookmakers and make a winning bet, you will be paid what is due with no hassle.  
Bookmakers, also known as bookies, are businesses that allow individuals to place bets on various events, such as sports events or horse races. 
These businesses operate with a certain level of regulation to ensure fair play for all parties involved. Many potential UK casino players may question whether bookmakers are legally obligated to pay out on winning bets. 
In this post, we'll explore the issue of bookmakers paying out by law and the rights of bettors in the event of a dispute.
Can Bookies Keep Your Money? 
The short answer is no. Bookmakers are not allowed to keep your money in the event of a winning ticket. That is because all bookmakers must be licensed and regulated by a governing body, whether operating in physical locations or online. 
These governing bodies ensure that bookmakers are operating fair and legal practices, which includes paying out on winning bets. For example, in the United Kingdom (UK), all bookmakers must be licensed by the United Kingdom Gambling Commission (UKGC). 
The UKGC is also responsible for ensuring that all bookmakers comply with the law. 
That includes ensuring that bookmakers are paying out on winning bets in a timely manner. If a bookmaker were to be found not paying out winning bets without any sound reason, they would be in violation of their license and could face penalties, including revocation of their license.
Are Bets Legally Binding In The UK? 
When a bet is placed with a bookmaker, it is considered a legally binding agreement between the customer and the bookmaker. Therefore, if you win the bet fair and square, the bookmaker is obligated to pay out the winnings. 
However, that wasn't always the case. Bookies used to treat bets as a "debt of honour" and would not always pay the bettors. As a result, in the UK, the Gambling Act of 2005 established a framework for all legal gambling in the country. 
This act establishes all bets placed with a bookmaker as a legally binding agreement. The Gambling Act also established the Gambling Commission as the governing body responsible for regulating all gambling activities in the country. 
Be that as it may, it is your responsibility to understand the terms and conditions of your bet and the rules of the bookmaker or gambling operator to avoid any possibility of not being paid.
You should contact the bookmaker or gambling operator if there is a dispute on a bet. The disagreement may be forwarded to the relevant gambling commission if no solution is reached. 
Why Bookmakers Might Refuse To Pay Out
While bookies are required by law to payout winning bets, there might be circumstances where they can refuse to pay. 
That is because bookmakers have certain conditions and requirements that your bet must meet in order for a bet to be considered valid and for the winnings to be paid out. 
Below are some of the reasons why a bookmaker may refuse to payout:
Fraud or Manipulation
One common reason for a bookmaker to refuse to pay out is if there is evidence of fraud or manipulation. That can include using multiple accounts to place the same bet, using false or stolen identities, or trying to manipulate the event's outcome. 
In these cases, bookmakers have the right to void any bets placed using fraudulent means and retain the funds from the bet.
Violation of Terms of Conditions
Another reason a bookmaker may refuse to pay out is if the bettor violates the bookmaker's terms and conditions. That could include using prohibited software or bots to place bets, providing false personal information or violating whatever the bookie has under their terms and conditions. If such is the case, the bookmaker may refuse to pay out the bet and retain the funds you won.
Evidence of Misconduct or Pricing Error
Bookmakers may also void a bet and refuse to pay out if there is evidence of misconduct, such as insider trading or manipulation of the outcome of the event. Again, this is to maintain integrity and fair play in the betting industry.
Additionally, in some cases, a bookmaker may refuse to pay out due to an error or mistake on their part. That could be a technical malfunction, incorrect payouts or any other mistake. In such cases, the bookmaker should rectify the error as soon as possible and pay out the winnings if you placed the bet validly.
In summary, bookmakers are required by law to pay out on winning bets. However, certain circumstances may make a bookmaker refuse to pay out on a bet, such as a bet placed on an illegal or fraudulent event. 
Additionally, while all bets placed with a bookmaker are considered legally binding agreements under the law, you should be aware of the terms and conditions of your bets. 
Most importantly, always gamble responsibly, and do not bet more than you can afford to lose.