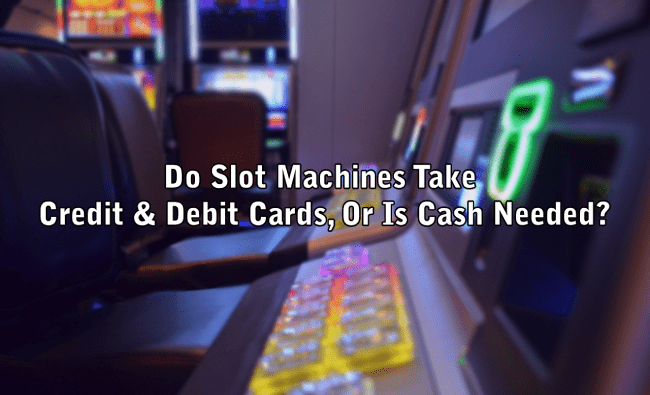 Slot machines are considered the most played casino games in land-based and online casinos. Therefore, casinos have allowed all kinds of payment methods for players to have easy access to the games, including cash, credit and debit cards.
However, after the April 2020 ban, UK casinos are no longer allowed to accept credit cards as a form of payment. 
So, you may be wondering what slot machines take for payments in the UK. If so, continue reading this post to learn what UK slot machines take; debit, cash or coins.
Do Slot Machines Take Credit Cards?
No. UK slot machines do not take credit cards.
While slot machines and other gambling games can be entertaining and fun, they can quickly become a financial strain if not handled responsibly. For example, playing with credit cards is like gambling on debt with interest, which means you do not have the money you are gambling.
Therefore, they are banned in the UK.
Do Slot Machines Take Debit Cards?
Unlike credit cards, UK casinos are allowed to take debit card payments. 
With debit cards, the money you pay with is like paying with cash you already have. 
Whereas with a credit card, the money you pay with is borrowed and incurs interest.
So, you can use your Visa or Debit MasterCard to make deposits or buy chips or tickets to play slot machines. 
Do You Need Cash For Slot Machines?
You do not necessarily need cash for slot machines. You can use other various payment methods, except for credit cards. 
There are casinos that still accept cash. However, some may only have cashless options. 
These options offer you the flexibility to choose which payment option is best for you. Other players may argue that it is best to play with cash because it makes it easier to stick to a budget. For instance, if you run out of your bankroll, you may not be tempted to keep playing and potentially going over your budget.
However, you may need some sort of casino chip or ticket to put inside a physical slot machine, not the actual cash, although some slots can accept bills.
Do Slot Machines Still Use Coins?
When slots were first created, they operated mainly on coins. Punters would use cash to buy the coins from the cashier and then insert the coins in the slots.
However, nowadays, slot machines have been updated to accept credits electronically or via tickets. That means if you hit a win playing at a land-based casino, instead of receiving a pile of coins for your payouts, you receive a ticket to redeem at the cashier.
For online slots, the credits are typically loaded electronically after you use your PayPal, e-wallet, debit card, or bank transfer to make a deposit. However, when playing slot games, you may notice that the credits are presented as coins sometimes. But that is only symbolic; it does not mean the slot machine takes coins.

Can You Use a Credit Card In a Casino UK?
As of April 2020, the use of credit cards in a casino in the UK was banned. 
Both online and land-based casinos are subject to this ban. The UKGC (United Kingdom Gambling Commission) is constantly finding ways to improve UK citizens' gaming experience while protecting them from potential harm that could be caused by problem gambling.
For example, the UKGC does not condone using credit cards because they encourage getting into or using debt to gamble. That debt has the potential to lead to financial ruin and even harm personal and professional relationships.
Fortunately, there are various other methods you can use in the UK to pay for your slot machine games. You can choose between bank transfers, debit cards, PayPal, e-wallet, and other pay-by-phone methods.
Remember to always play responsibly.
*All values (Bet Levels, Maximum Wins etc.) mentioned in relation to these slot games are subject to change at any time.