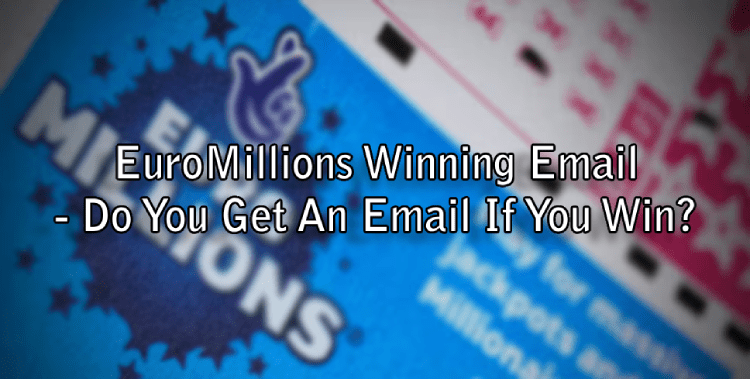 It is estimated that over 80 million people buy Euromillion tickets weekly in the UK. 
What if you actually win? Do you get an email alerting you of your wins? If yes, what does it look like, and how long does it take the Euromillions lottery to contact you? 
In this casino blog, we answer all your questions regarding winning the Euromillions lottery and what to expect. 
Do You Get An Email If You Win The EuroMillions Jackpot?
Yes, if you win the EuroMillions jackpot, you will receive a notification via email. However, this email is not sent to you by EuroMillions. It is a scam if you receive an email from any EuroMillions account claiming you have won.
A legitimate email would be from the National Lottery, not EuroMillions. It would be sent to the email associated with your National Lottery account with instructions on how to claim it. It's important to note that the National Lottery would never ask you to email them your personal information or send money to claim this win.
Anything of that nature is indicative of a scam. The National Lottery would only ask you to call them, and the number is associated with Camelot Group, which owns the National Lottery.
How Long Does The Lottery Take To Email You When You Win?
Suppose you won the Euromillions jackpot prize; how long would the lottery take to email you? 
Well, as soon as the draw is over and the National Lottery has established that you are the winner, you should receive an email alert if you have a registered account with the National Lottery within hours of the completion of the draw or days, depending on the nature of the draw. 
However, suppose you did not play the game via the National Lottery online site and bought a physical ticket. In that case, you may need to contact the National Lottery or the Camelot Group and turn in the ticket to the store you bought it from for verification. Then, the National Lottery appoints an advisor to call you back as soon as possible. 
EuroMillions Winning Email: What Does It Look Like?
To clarify, if you win the EuroMillions draw, you will not receive the email directly from EuroMillions but from the National Lottery. You want to pay attention to the sender's email to see that it is not from Gmail, Yahoo, or any other such email. 
So, what would that look like? Below, we have an example of what the email from the National Lottery would look like:
Subject: "News about your ticket."
Sender email address: player@national-lottery.co.uk
Body:
"GOOD NEWS. YOU'VE WON A PRIZE ON THE NATIONAL LOTTERY."
"Hi. You've won a prize playing EuroMillions on the (insert the day the draw took place). Sign into your account to find out more. "
"National Lottery Team"
The email may also address you by name, but it will never ask you to click on suspicious links. It may, however, have a button you click on that will take you to your National Lottery account, but if you are not sure, go to your account manually the way you would any other time. 
Any email asking you to send over personal information or make fee payments is not legitimate. Some emails, especially the ones alerting you of a massive win in the millions, may also mention how much you have won instead of just saying you've won a prize. 
What Does The Lottery App Say When You Win The Jackpot?
If you win the jackpot and open your Lottery app, you may have an alert under the Messages tab. If you click on that message, it may read something like:
"Congratulations, you've won (instert the jackpot amount) on EuroMillions!"
"Claim your prize now - ticket no (insert the winning ticket numbers)".
"Call (insert the relevant National Lottery contact details)
It is important that you call the number provided for further instructions on how to claim your money. Depending on the jackpot type, you have up to 180 days to claim your prize, so if you need to take a moment to make sense of the notification, you can do so.
Conclusion
The odds of winning the National Lottery jackpots or the EuroMillions are extremely low. But if it happens, it is best to be knowledgeable about what to do, how to do it, who to contact, and so on in advance.
Be careful of scammers posing as EuroMillions, and never send money to anyone to claim your "prize". Also, avoid clicking on suspicious links. When in doubt, it is best to go to the National Lottery site or app and log into your account manually or call the National Lottery directly.