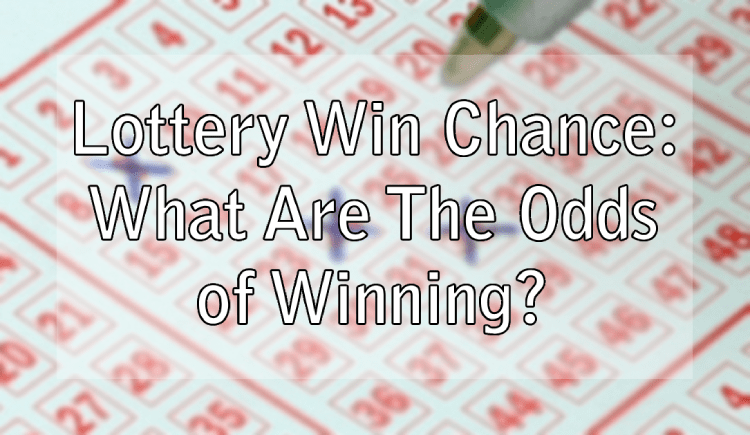 It may be every player's dream to one day, not only play, but also actually win the Lottery. The Lottery is one of the few gambling games that offer the opportunity to award massive rewards.
But what are the odds of actually winning it? 
Find out in this Wizard Slots blog post as we explore the odds of winning the Lottery. We will also look at whether you can increase the chances of winning the Lottery, if you can win more than once and if there is a chance you can win the Lottery twice.
What Are The Odds of Winning The Lottery?
The Lottery is a game of chance that was created as a means to raise money for good causes. It is one of the most popular games of chance, played by millions worldwide. Potential lottery rewards can reach hundreds of millions.
However, as promising as these lottery numbers can be, they are an elusive dream for most, having the lowest odds of being won. There are various types of lotteries, each with their own odds. But usually, the higher the win potential, the lower the odds of winning it, which is true for nearly all lottery games.
For example, if you play the National Lottery, which takes place every Wednesday and Saturday, you have around 1 in 45,057,474 odds of winning the jackpot, and up to 1 in 9.3 odds of winning any number.
For EuroMillions, your odds of winning the jackpot are much higher, at 1 in 139,838,160. The Set For Life jackpot odds is 1 in 15,339,390, and the Thunderball has 1 in 8,060,598, respectively.
Is The Lottery Worth Playing?
The Lottery can be a fun game to play. It can be entertaining and offers the potential to win a huge jackpot prize. While winning the jackpot is almost impossible in one's lifetime, it can happen.
However, it does not mean your money is wasted if it does not happen for you. Since the Lottery was created as a charity fundraising cause, a portion of the money you use to buy your tickets and play the Lottery goes into several good causes.
Because of the players who choose to play the Lottery, various sectors of society, such as education, community welfare, environmental welfare, and arts and culture, have been supported.
For example, since the National Lottery launched in 1993, more than £26 billion has been donated to good causes. 
Therefore, we can argue that the Lottery is a worthy cause. However, you can decide whether or not it is worth playing for yourself, as playing is a personal choice. 
Can You Increase Your Chance To Win The Lottery?
The short answer is no. You cannot increase your chances of winning the Lottery. All lottery games are games of chance with no skill requirement at all. The numbers are drawn either by a Random Number Generator (RNG), or a three-step mechanical process that uses air or a vacuum to select the numbers randomly.
Both these draw mechanics ensure that the lottery results are consistently random and unpredictable.
However, there are certain strategies that other players use to increase their chances of winning, regardless of how infective they are. Let's explore some of them below:
Joining a Lottery Group
Over the years, many lotto players have banded together, creating lottery groups to help them increase their chances of winning the lotto. 
These groups typically work by pooling bets and appointing select people to play the lotto. Wins are shared equally among the members of the group, or as agreed upon.
The idea is that the more tickets bought in a group, the higher the likelihood of winning. 
Buying Tickets in Bulk
Another way players try to increase their winning potential is by buying a large number of tickets and playing different numbers. This method works similarly to the group method, except it does not have as much of a wide range as the group method typically does. 
Playing Random Number
While some lottery players prefer to play the Lottery by choosing numbers of sentimental value, some believe they hinder their chances of winning. Therefore, they may choose to select their numbers at random or opt to play Lucky Dips randomly. 
While all of these strategies can help add to the entertainment of playing the Lottery, they are not foolproof and do not guarantee you will win. 
Can You Win The Lottery More Than Once?
Yes, it is possible to win the Lottery more than once. There have been a number of players who were lucky to win the Lottery more than once. 
These players include David and Kathleen Long, who won £1 million both times, and Joan R. Ginther from Texas, who won the Lottery four times, collecting approximately $20 million (about £16 million).
What Are The Chances of Winning Twice?
The odds of winning the lottery jackpot twice are extremely low. The odds of winning the Lottery twice are estimated to be 4 in 10 billion.
To put that into perspective, you have a higher chance of being eaten by a shark or killed by a serial killer than winning the Lottery more than once. 
However, this is not the rule. It is extremely rare and exceptional. As a result, there has not been a large number of recorded lottery wins that happened twice. Winning the Lottery once, is nearly impossible. Winning it twice is even more challenging.
The Bottom Line
Purchasing lottery tickets offers more and far-reaching rewards than just winning the jackpot. When you purchase a lottery ticket, a portion of your ticket contributes towards various good causes, helping build communities, improving education, and promoting good community health.
Therefore, even if you do not win the jackpot in your life, you will have donated to multiple charitable causes. With that said, there is a chance to win the Lottery, and it has happened for many, with a few of them winning it more than once.
If you want to play lottery-style games online for real money, you can register an account with Wizard Slots casino. Click the Join button to create an account and enjoy instant win games such as the Diamond Strike 100,000, Chaos Crew Scratch, Tennis Scratch, and other lottery-style games.
*All values (Bet Levels, Maximum Wins, etc.) mentioned in relation to these games are subject to change at any time.