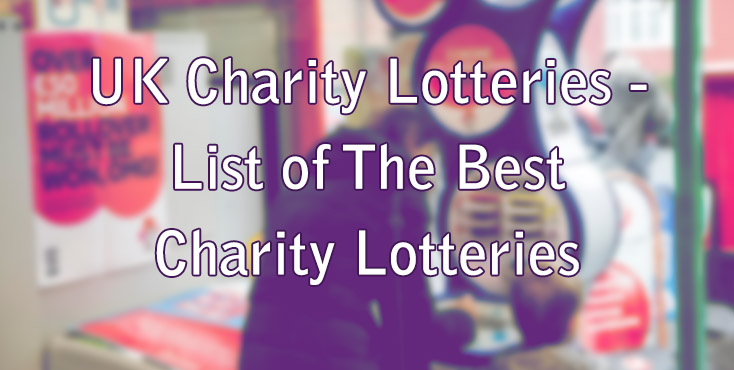 Lotteries are not only used as a form of entertainment; they can also be an excellent tool for charities to try to raise funds or increase awareness about a particular cause. The lotteries can provide charities with reliable and effective crowdfunding while offering players the chance to win big.
In this Wizard Slots blog post, we will explore some of the best UK charity lotteries and give you an overview of what each charity supports and which charity lottery offers the best odds. 
How Many Charity Lotteries Are There In The UK?
Before we can get to how many charity lotteries there are in the UK, let us first explain what charity lotteries are. Charity lotteries work precisely like the traditional lottery except that they are typically run by non-profit organisations. 
They use a portion of the lottery ticket sales and pay it forward to the charity group or groups they support. They are also called society lotteries.
The UK has various lottery charities, estimated at 500+, some on a small scale and some more significant. They all support great causes such as chronic illness organisations, research or animal shelters, and can leave you feeling good knowing you have contributed to something worthwhile. 
List of Charity Lotteries
As mentioned, the UK has many lottery charities, but we will only focus on some of the most popular ones. That does not mean they are the best of the best; all the charities in the UK support great causes. 
These are just a few that are popular or well-known by the masses, so even if your favourite charity is not listed here, it is still doing a lot of good for the communities and people in need. 
Age UK Lotto:

This charity has been around for over 18 years and has raised more than £60 million. It forwards this money to help the elderly of the UK stay connected with their friends, attend events and also have transportation, to mention a few. To play the Age UK lottery, you can

buy a ticket

for £1, and this contributes to the services Age UK offers the elderly. As a player, you could potentially win the Quarterly Superdraw of up to £25,000!

The People's Postcode Lottery:

The People's

Postcode Lottery

was first known as the UK Postcode Lottery. It then expanded its services through Scotland and Great Britain as the People's Postcode Lottery. The People's Postcode Lottery does not just focus on one cause; it is spread through a wide range of good causes. To date, it has raised over £1 billion. With the People's Postcode Lottery, you could potentially win £30,000 Street Prizes or £1,000 Daily Prizes!

The Health Lottery:

This charity lottery raises money for health-related causes throughout the UK, focusing on smaller, local groups. The Health Lottery foundation has helped to fund over 3,000 health and wellness-related causes, such as research and development into new treatments and medicines throughout England, Scotland and Wales. The potential prizes for the Health Lottery range between a Free Ticket, £10, £25,000 and up to £100,000!

The Children's Trust Lottery:

If you play the Children's Trust Lottery, you are contributing towards supporting children with brain injuries to live the best possible life. The

tickets

start at £1, and £0.60 goes to helping children in care. It also offers players a chance to win cash prizes worth up to £25,000!

The National Lottery:

The National Lottery is the biggest of all. It runs a National Lottery Distribution Fund (NLDF), which supports various charities and other community causes such as health, education, sports, and the environment. So, each time you play the National Lottery, a portion of your bet contributes towards these charities and causes. It first launched in 1994 and has given away over £88 billion in prizes!
Animal Charity Lotteries - The Players' Favourite
Animal charity lotteries are extremely popular among lottery players. That is because UK communities are big on supporting the welfare and health of animals in need, and the animal charity lottery is one of the best ways to do that. Some of these charities include:
The Royal Society for the Prevention of Cruelty to Animals (RSPCA) Lottery:

The RSPCA lottery was founded to support animal welfare. Tickets only cost £1 and you could potentially win prizes ranging from £10 up to £10,000!

Dogs Trust Lucky Pups Lotto:

This charity lottery is big among dog lovers, and a portion of each £1 ticket you buy goes towards the Dogs Trust charity, one of the UK's largest dog welfare charities. With the Dogs Trust Weekly lottery, you stand a chance to win up to £1,000!

World Animal Protection Lottery:

With the World Animal Protection Lottery, part of your bet goes towards ensuring the livelihood of animals whose lives are in danger, and you stand the chance of

winning cash prizes

worth up to £25,000!
Which Charity Lottery Has The Best Odds?
There is no straightforward answer to this question because most charity lotteries offer some of the best odds. That is because they typically offer lower prizes, often capped at £25,000.
Take, for example, the Health Lottery Foundation. This charity lottery offers a 1 in 2.1 million odds of winning the jackpot, while the National lottery has 1 in 45 million, respectively. In any case, society lotteries are created to raise funds and support good causes and charities.
*All values (Bet Levels, Maximum Wins, etc.) mentioned in relation to these games are subject to change at any time.