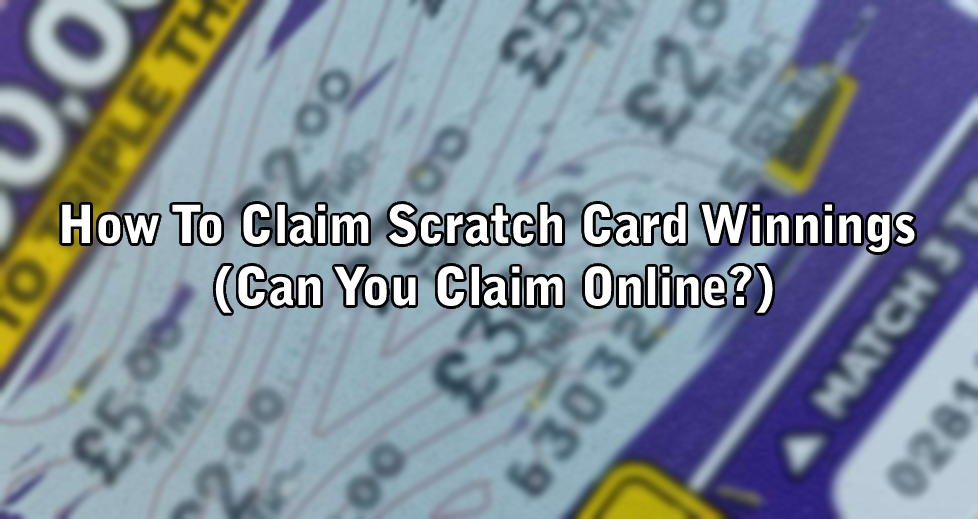 Playing scratch cards is a popular gambling option. It might not be as common as online slots, but millions of people have participated over the years and won. 
Scratch cards are cards for competitions with a thin plastic seal that conceals random numbers or symbols. The idea is to purchase one at a local store and scratch it to reveal the hidden values. On most scratch cards, a win is possible if you reveal 3 matching symbols or numbers after scratching the card.
The scratch cards usually indicate the potential prizes available. For example, you can find scratch cards that award prizes of £500, £500, £1,000, or even £50,000+. We'll show you how to claim scratch card winnings below.
Can You Claim Scratch Card Winnings Online?
No, you cannot claim physical scratch card winnings online. Claiming your win is straightforward, but it depends on the prize value. But it's important to be sure you have a winning scratch card before you can start celebrating. A few tips might help:
Visit the National Lottery website to check the procedure page for instructions. They outline the different prize amounts possible and advise you on what to do for each category.
Write your name on the back of the ticket and a preferred contact method.
If you don't have online access, you can visit your local retailer to check your scratch card and confirm if you won. Carry any proof of identification if possible.
How To Claim Scratch Card Winnings
If you've won a scratch card game, congratulations. First, you should confirm your win by visiting the retailer who sold it. Next, you can claim your prize with different rules for the range of prize amounts. For example:
Prizes under £500
You'll need to claim these in a store. They're usually National Lottery retailers. These stores are allowed but not required to pay players prize money via cash or debit card. The prizes can range from £1 up to and including £500.
Prizes from £500 to £50,000
Claims between £500 to £50,000 would require a visit to the post office. You can also claim the prize money at some National Lottery retailers. Check the post office website to find the nearest branch, as well as instructions on how to go about the claim.
Note that prize values in this category require you to show a form of ID plus proof of address. You cannot claim the reward in-store without both forms of ID and will have to claim it by post instead.
£50,000+ prizes
£50,000+ prizes qualify for in-person interaction. Your first step should be to contact the National Lottery line to confirm your win. They'll arrange a time and date to claim your reward in person.
So if you're wondering how to claim £1,000 scratch card winnings, you know to look in the £500 to £50,000 prize category. Start by visiting the post office and having them scan your ticket or barcode to confirm the win. Alternatively, they can key the serial number in and check it for you.
Can You Claim Old Scratch Cards?
A scratch card could be considered old if the instant win game draw already occurred, the National Lottery announced the results, and the prize money window had elapsed. They could also have all been sold by retailers at this point.
The scratch card results appear on the site alongside the prize window. After the draw is announced, you will have up to 180 days to claim your winnings. Note that you cannot claim scratch card winnings after 180 days elapse as they would be expired.
How To Claim A Damaged Scratch Card
One of the best rules about claiming scratch cards is that you can still claim them if they get damaged. However, there is an extent to the damage in question.
For example, you might not be able to claim a card that's entirely torn. If your card encounters a tear, ensure the barcode is intact because the retailer will need to scan it if you win.
Lastly, always ensure any scratch card you purchase is in pristine condition before leaving the store. A useful tip would be to write your name and address at the back as proof of ownership in case of loss.
Play Scratch Cards Online
At Wizard Slots you can not only play slot games, but you can also play a variety of scratch card games online including: