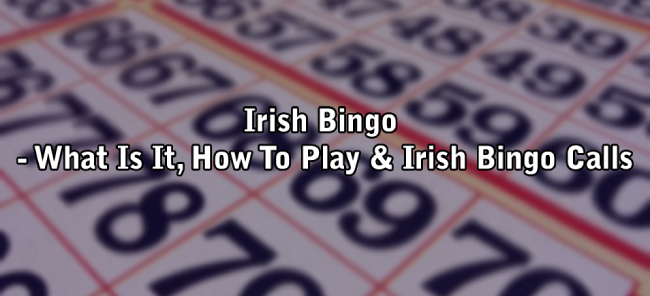 After bingo games gained popularity all around the world during the mid-1900s, the Irish caught on to this bingo train and created their own variation.
Since then, Irish bingo can be found in major online casinos and is enjoyed by many throughout the world. So, get ready to experience a whole new kind of bingo, Irish Bingo, that's full of entertainment and fun!
But before you dive in, we are going to explore what Irish bingo is, its variations, possible calls and how to play it.
What Is Irish Bingo?
Simply put, Irish Bingo is a version of bingo that's played in Ireland and other parts of the world. It is not that different from traditional bingo, save for a few tweaks here and there, such as rules and features.
Like other bingo variants, Irish bingo can be found in public houses (pubs), bingo halls, community centres and online casinos. Some players tend to describe it as playing traditional bingo "backwards". 
For example, if you are playing in land-based establishments, the game may start with everyone on their feet, and if a number is called and you have it on your ticket, you sit down. However, this may change depending on the bingo version you are playing.
Irish Bingo Variations
Irish bingo has a few variations that its players can enjoy. In this Wizard Slots blog post, we are only going to focus on three variations of Irish Bingo: 75-ball bingo, 80-ball bingo, and 90-ball bingo. 
75 Ball Bingo
Although this type of bingo is commonly played in the US (American Bingo), it can be played in Ireland too, and other parts of the world. It typically involves 75 bingo balls and a 5x5 grid.
In order to create winning combinations with 75-ball bingo, your numbers need to create a pattern, which could be a horizontal, vertical, or a diagonal line. 75-ball bingo tends to be a fast-paced and shorter game.
80 Ball Bingo
80-ball bingo is another Irish bingo variation that is also available worldwide. It is perfect for players who do not like the slow pace of 90-ball bingo, but also feel they can't keep up with the fast pace of 75-ball bingo.
As the name suggests, it is played with 80 balls numbered 1 to 80 on a 4x4 grid. To win, your marked numbers must form a diagonal, horizontal or vertical line or fill out the entire card, completing a full house.
90 Ball Bingo
The 90-ball bingo is played on a 9x3 grid with 90 balls. It is extremely popular in both Ireland and the UK as well as throughout the world. It is also available in most online casinos. 
How Do You Play Irish Bingo?
Like other bingo variations, Irish bingo can be easy to play and caters to a wide range of players. You can find it in most online casinos, including our slots site Wizard Slots and other licensed land-based establishments. 
Bets can start from as little as £0.10 per game. Before the game starts, you select the number of cards you want to play with. Then, wait for the caller or the screen to display the randomly selected numbers. 
If they match the ones in your card, you can mark them off, or if playing bingo online, the game may automatically mark them off for you, although you can also mark them off yourself if you want to do it manually.
Whether or not you win will depend on the rules of the game, but you typically create a winning combination if your numbers form vertical, horizontal, or diagonal lines, as well as a full house where all the numbers are marked off. 
Irish Bingo Calls
Irish bingo calls are not that different from regular bingo calls. These calls can be a fun way to announce numbers that have been drawn. So, instead of saying, "Number 90!" The caller could yell, "Top of the Shop!"
Calling the numbers this way can add an extra layer of entertainment to the game, potentially enhancing the enjoyment. Some of the calls you may hear when playing Irish bingo include:
1 - Kelly's Eye

46 - Up to Tricks 

47 - Four and Seven 

4 - Knock at the Door

50 - Half a Century

51 - Tweak of the Thumb 

7 - Lucky Seven

17 - Dancing Queen

66 - Clickety-Click

22 - Two Little Ducks
Play Bingo Games Online
You, too, can take part in the entertainment of Irish bingo from Wizard Slots casino. Here, you'll find everything from the traditional 90-ball bingo game to 75-ball bingo and more!
*All values (Bet Levels, Maximum Wins, etc.) mentioned in relation to this game are subject to change at any time.