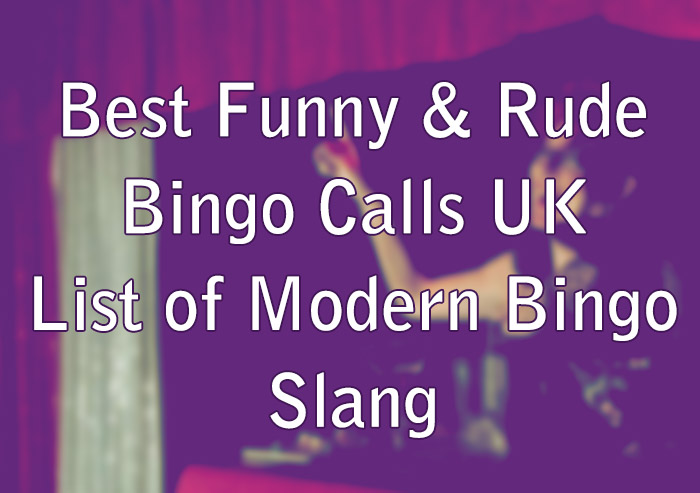 Part of the fun when playing bingo is the calls. In addition to hearing the numbers called, you may hear funny words and some that are downright rude. 
For example, when calling the number 4, the announcer may say, "Knock at the door!"
In this article, we have compiled a list of modern bingo slang to help you brush up on your bingo or keep up to date with the modern world of bingo!
Funny Rude Bingo Calls
Bingo can be a fairly repetitive game. So, the bingo calls usually rhyme with the numbers to add some lighthearted fun to the game, and they make it easier for players to remember. 
Below are some of the funny and rude bingo calls you may come across if playing bingo: 
19 – Keep 'em keen 

20 – Getting plenty 

21 – Adult fun 

24 – Did you score

37 – One night in heaven 

44 – On all fours 

69 – Your place or mine 

87 – Grandma's gone to heaven

88 – Two fat ladies
Naughty Bingo Calls
There are also plenty of naughty bingo calls. However, they may differ from site to site, but below, we will list some of the most common ones:
20 – Getting Plenty 

34 – Ask for more 

40 – Naughty forty/Life begins 

41 – Time for fun 

58 – Make them wait

63 – Tickle me 

71 – Bang on the drum
Modern Bingo Calls
Bingo maintained a lot of its traditional calls, but some have been revamped to match the new generation. Let's look at some of them below:
6 – Little Mix 

8 – Tinder date

11 – Eyebrows on Fleek/ Dinner With Bae

17 – Selfie queen 

22 – I don't know about you (but I'm feeling 22)

24 – Lads on tour 

25 – Adele

27 – Hipster heaven 

32 – Jimmy Choo 

48 – Tag a mate 

71 – J-Lo's Bum

88 – Wills and Kate
Rhyming Bingo Calls
Many popular bingo calls came to be because they rhyme with their corresponding numbers. Some of them include the following:
3 – Cup of Tea 

4 – Knock at the door 

5 – Man alive 

8 – Garden Gate

15 – Young and keen 

17 – Dancing Queen 

25 – Duck and dive 

26 – Pick and mix 

27 – Gateway to heaven 

28 – In a state/Overweight 

29 – Rise and shine 

31 – Get up and run 

32 – Buckle my shoe 

35 – Jump and Jive
Christmas Bingo Calls
Playing a Christmas-themed bingo game? Below are some of the calls you may hear during the game:
1 – Red robin 

2 –Turtle doves 

3 – Three wise men 

4 – Santa Claus

16 – Sixpence in a Christmas pudding 

17 – Sleigh, queen! 

18 – Nativity scene 

19 – Santa's Keen 

20 – Wrap your presents 

21 – Elf on the run 

22 – All I want for Christmas is you 

23 – Deck the halls with boughs of holly 

24 –

Christmas Eve

 

25 – Christmas Day

87 – Christmas in Devon 

88 – Two fat snowmen 

89 – These presents are mine
Play Bingo Online
Want to try your hand at bingo? Bingo is a popular game that has made its way to online casinos, including Wizard Slots online casino. 
With us, you can play any of your favourite bingo games, including the following titles:
Keep an eye out for the fun, quirky, and naughty bingo calls and see if you can spot any of the above. Don't forget to have fun! Also, remember that these phrases are there to spice up the game and try not to take offence.