Baccarat


Baccarat – Getting Started
Baccarat is one of the most popular casino games to play online and in land based casinos. It's very simple and easy to play and that's a big part of why players enjoy it so much!
It was once played by the most glamorous and richest people in the world, but thanks to the advent of online gaming now anyone can join in the fun.
Whether you are new to the world of online Baccarat or an expert, playing at Wizard Slots and online slot site is the way to go!
Quick Links: Diamond Strike | Bonanza  | Jungle Jim - El Dorado | Big Bad Wolf | Irish Luck | Fluffy Favourites Fairground | 3 Genie Wishes | Chilli Heat
How to Play Baccarat
So how do you actually play Baccarat? Well, the main aim of the game is to predict whether The Banker or The Player will end up drawing the higher hand. It's important to learn that The Player is not referring to you, nor is The Banker referring the casino.
They are just terms that are used to represent the different hands. You can bet on a Tie or the hand that you believe will draw the highest. The game is played with 8 decks of cards and the dealer will re-shuffle them after every hand.
Four cards are dealt and the first and third cards belong to the Player's hand while the second and fourth cards belong to the Banker. Once both have been given their cards their points will be shown on the screen. If someone has a hand of 8 or 9 then they have drawn a Natural and no more cards will be dealt.
The winning hand is the person whose total is the closest to 9, and it's possible to Tie if the totals end up being the same. If the winner doesn't end up getting revealed with the first draw, it's possible for a third card to be drawn face up. If you don't want to make any side bets, then you only need to decide what you will wager and what hand you think will win.  
If you are looking for something other than casino games, why not check out these slot games?
Card Values in Baccarat
There are two important rules to remember when playing online Baccarat, and the first rule is that face cards and 10s represent 0. The second rule is that only the last digit of your total is counted, this means that an 8, 6 and King will add up to the total of 14 but it will be played as a 4.
A 0 hand or a Baccarat is a hand that's made up of 3 and 7. As long as you remember these rules you'll be fine!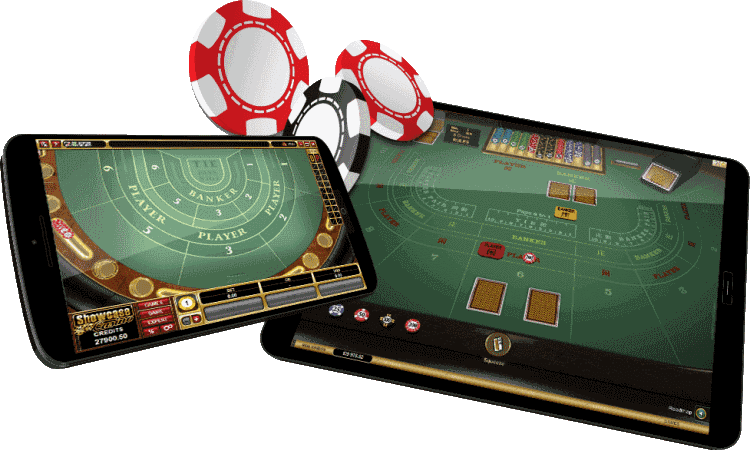 Side Bets in Baccarat Casino Game
Are there any side bets that you can place during the game? The answer is yes! One of the most popular side bets to make in online Baccarat are called the Banker Pair and the Player Pair. This will mean that you'll place a bet that your first two cards you've been dealt are a pair, like K-K or 10-10.
 This side bet will result in the loss of all outcomes if your cards do not end up being a pair. The game will continue as normal, and you'll be able to make the standard wagers as well as side bets. The typical payout from this bet is good, as it stands at 12:1.
You can also make a side bet on whether you think the cards will be all red or all black, and the odds will be adjusted on every betting opportunity once the shoe is dealt.
How To Win at Online Baccarat
While Baccarat is mostly a game of chance, that doesn't mean there aren't things you can do to help improve your chances of winning! Let's take a look at some strategies you can employ:
Play for fun: whenever you can play in demo mode (not for real money) while you are still getting to grips with the game. This is definitely a tip for you beginners out there, why lose your hard earned money while you're still unsure of the game?
Make use of bonuses: casino promos are a fantastic way of boosting your chances of winning, so make sure you head to Wizard Slots and check out what casino bonuses they have to offer you.
Play at trusted casinos: never overlook this point, as it is vital to improving your chances of winning. Always choose an online casino with a good reputation, one that has all of its licenses up to date and technology in place to help keep your details safe – like Wizard Slots!
Never change your strategy: once you have begun to employ a strategy don't change your mind halfway through the game.
Take breaks: it's really important that you take regular breaks during online gaming, and playing Baccarat is no different. You could play the game in short bursts, that way you won't lose your way and lose your hard earned money by getting carried away with your bets. It is never good to give into your frustrations and increase your bet if the game isn't going your way, so try and keep a cool head.
Last Thoughts on Baccarat Classic Casino Game
Baccarat is a fun online casino game that has the power to award you with big wins. Placing side bets, such as Banker Pair or Player Pair can end up being very lucrative for you. What's more, the game is extremely simple to understand, so we would recommend it to you beginners out there.
In fact, if a player doesn't wish to place any side bets they only need to make two simple decisions in the game: what to wager and choose who they believe will win the next hand. See, simple! Remember to head over to Wizard Slots and check out their casino bonuses to make the most of your experience.
If you like to play casino slots on the internet then you are in luck, as Wizard Slots have an incredible collection to choose from, all with different themes and bonuses. So why not enjoy a slot or two like the Arena of Gold slot once you've had a game of Baccarat? Happy gaming!