Forty Thieves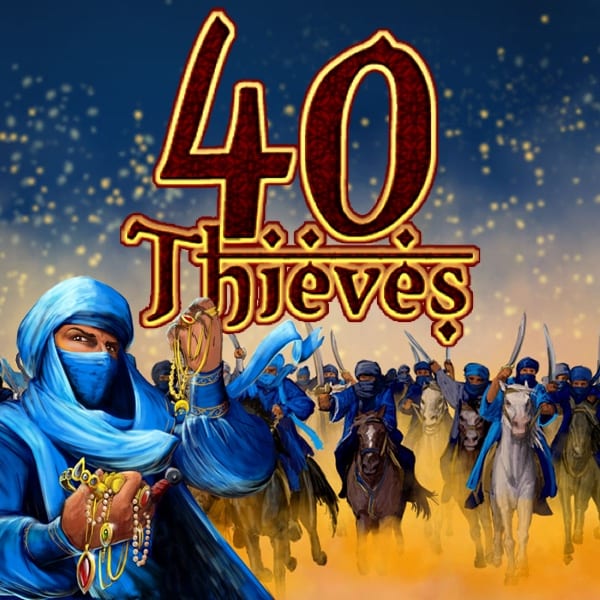 Explore the stories of Ali Baba and his 40 Thieves when you play this mystical slots casino game. Spin the reels of this epic storyline and match up symbols that includes hearts and diamonds, and clubs and spades while you play ahead of the middle-eastern baron wasteland. Deposit today and see what fortunes you can muster and you could be on the receiving end of some elusive free spin bonuses.
Quick Links: Jimi Hendrix Video Slot | Guns and Roses Video Slot  | Asgardian Stones | Viking Gods | Viking Fire | Thunderstruck 2 | Siren Serenade

About the Developer
What's brighter than the sun? Merkur gaming that's what. With an entree of games at their disposal, it's quite simple to answer the question of why their games are so popular: they're just too fun. The sun on their logo is only as bright as their ideas (and trust us, they aren't lacking in that department). If you haven't tried their new slot games, then you're missing something! In any case, visit Wizard slots!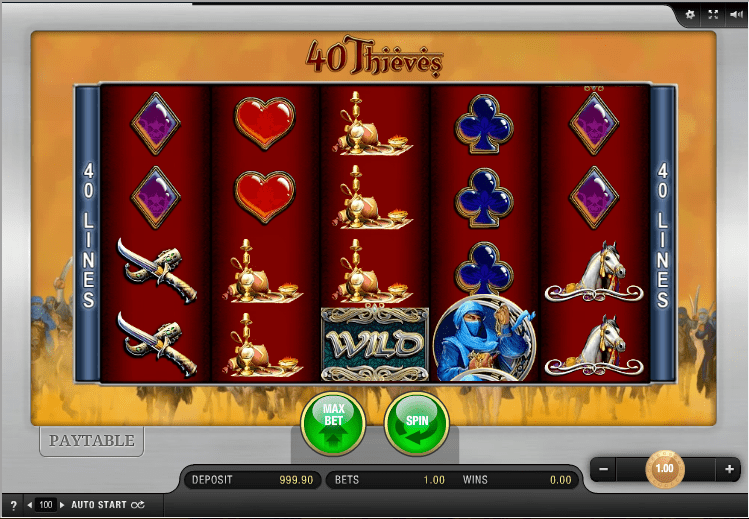 About the Game
In folklore it is said that valuable treasure can be found by simply uttering the words open sesame. In the online slot 40 Thieves, you need only a device to play it on and the bravery of just one of the 40 thieves. The best games we find are always the ones with the most interesting backstories, it's these games that keep you invested as you begin to see a rags to riches story unfold before your very eyes.
Spoiler alert, the person in this rags to riches tale is you, the player. 40 Thieves is a 5 reel and 40 pay lines online slot from Merkur. It's design is very simplistic allowed for an equal level of gameplay. Symbols featured include: gems, knifes, horses and pretty much anything else you could expect from this kind of theme. Hearts, clubs and diamonds are this games lower winnings. Additionally, you have your scatter and wild symbols.
These symbols provide a great change of pace for an otherwise cut and dry experience. The fun designs on some of the symbols allow them to stand out on their own, especially against the choice of colours in the game as well as the fonts used throughout 40 Thieves. Although 40 Thieves does not feature a bonus round, there are equally many in-game rules that keeps the action rolling.
Wilds will replace other symbols in the game except for scatters which will shake up the board if the player is in quick need of change. A total of 3, 4 or 5 scatters (known in game 'Amulets') attract 10, 15 and 50 free spins each making them highly sought after items.
Auto starts are available from the get-go making it possible to go about your daily business while you earn cash simultaneously. This option is available from the main menu where the player can select how many auto-plays they want to do as well as how much they want to play in each of these games.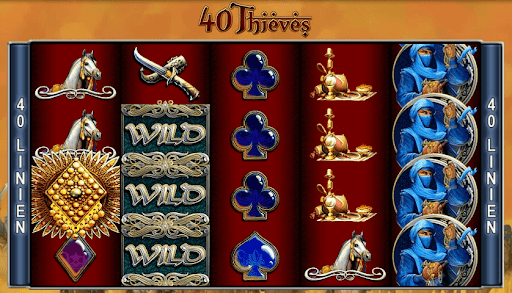 The Verdict
Merkur's decision to create a very simplistic game gives even the newest of players a great launchpad into the world of online slots. If you enjoy high speed capers resulting in high cash payouts then you will be very happy with 40 Thieves. It's gameplay is very basic but then this only adds to the game itself. 40 Thieves: a game where you rob them blind. 8/10
If you enjoyed Forty Thieves you might also like Lucky Keno.