Lucky Keno

This genre of lottery drawings game is always a global favourite, simply because of its appeal to the gamer to win big. Choose your own numbers and hope they're drawn when you spin the slots casino lines, and you could be earning yourself some significant cash rewards. Good Luck.
Quick Links: Diamond Strike | Bonanza  | Jungle Jim - El Dorado | Big Bad Wolf | Irish Luck | Fluffy Favourites Fairground | 3 Genie Wishes | Chilli Heat
About the Developer
Pariplay is a producer of brilliant products that create an experience of engaging entertainment. They create online games and systems that add significant value to both platforms and the gamer's user-experience. Pariplay's developers always strive to deliver innovative and contemporary games that meet the high expectations of their customers.
They are responsible for a number of successful new slot games including Froots, Asteroids, and Las Cucas Locas where players can try at Wizard slots.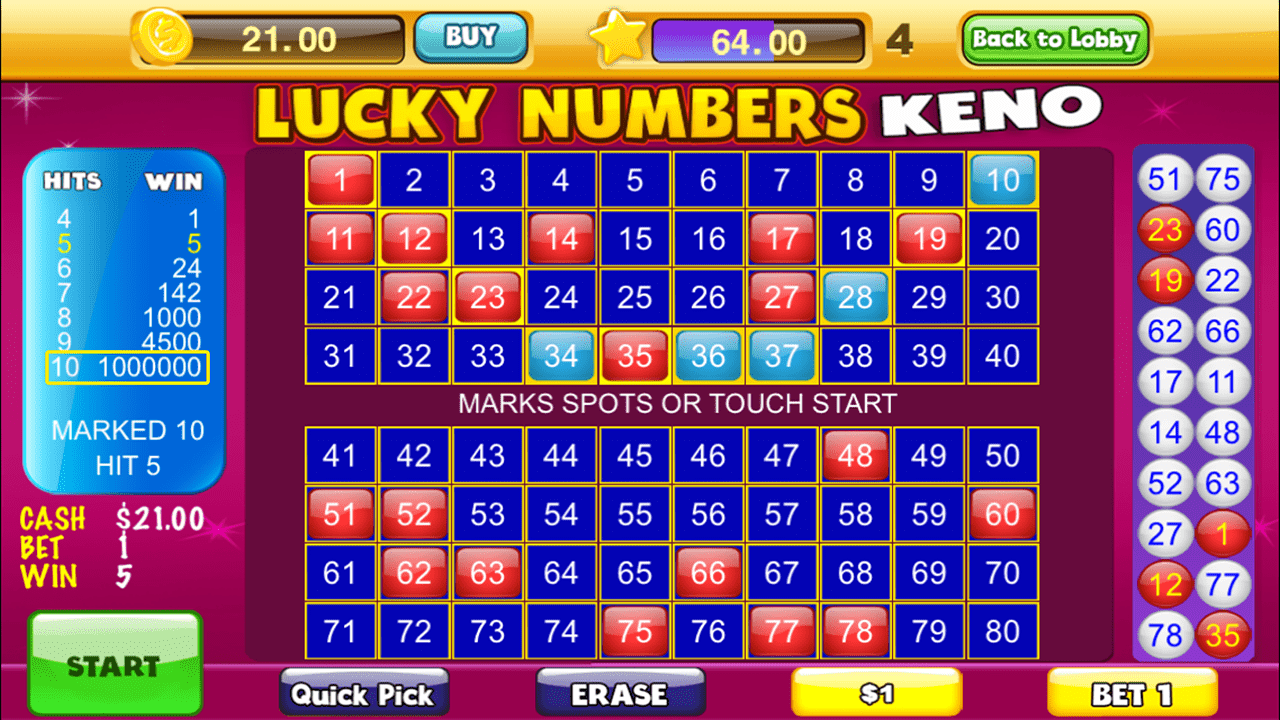 About the Game

Lucky Keno is one of the much simpler games on offer within the slot gaming industry yet still manages to be just as exciting and interesting. The object of the game of Lucky keno is to guess which of the Lucky keno numbers, from 1 to 80, will be drawn by the Lucky keno computer itself. The game is similar to that of Bingo or a lottery and will be sure to get your heart rate surging as you gradually pick off the numbers along the board.
There's a whole lot of numbers that will appear in front of you on this 10 by 8 game board, any of which have the potential to be your next pick and your next winner. Before you start picking your numbers, you will first of all want to set your bet level. This ranges between 0.01 and 10 coins. It's entirely up to you how you want to start this game off, although Lucky keno is a much more generous the more you bet. That said it's probably the case 9 times out of 10 about most online casino games, but Lucky keno is a game that reaps more rewards and prizes than any other.
The first step in playing Lucky keno is to pick your wager amount by increasing or decreasing the value of your coin amount. Then, you simply select your lucky keno numbers. On average the Lucky keno board will display 80 numbers. Determined on your Lucky keno strategy style, you can select anywhere from one to fifteen numbers. Your chosen numbers will be displayed in blue on the Lucky keno board.
If you are happy with your bet amount and your Lucky keno number choices, hit on that Play button. The Lucky keno machine will then fire out twenty numbered balls with the winning numbers. If a one of the winning numbers matches a number you have chosen, in this instance it is called a "hit." Any hits you gain will be displayed in red on the Lucky keno board. Once you get enough hits, you have beaten Lucky keno, it's as simple as that.
Winning all depends on how many numbers you selected and how many hits you achieved. If you chose, for example only one Lucky keno number, and that number hits, you win 3 coins. Note that, the coin value depends on the coin size you picked at the beginning of the game.
Say, if you chose eight numbers, and four of them hit, you win 3 coins. Five hits will pay out 6 coins, six hits will pay out 19 coins, seven hits will pay 90, and eight hits will pay 720 coins. If you select the maximum fifteen numbers, and all fifteen hit, you win a whopping 10,000 coins!
The pay-out schedule is always displayed right on your screen, so don't worry about forgetting or getting in a muddle, when you play Lucky keno. You can just sit back and enjoy picking and choosing your lucky keno numbers and collecting your exciting payouts when they hit. That is all the fun of Lucky keno. Play online today and get amongst the ball rolling action!

The Verdict
Play Lucky Keno today, it is so easy to play. If you're a lover of lottery or bingo games then this is certainly a game that you should definitely consider. Aesthetically, this game simply can't go wrong. It simplistic design coupled with its intriguing gameplay creates a one-off experience that gamers can enjoy on multiple occasions.
If you enjoy Lucky Keno you might also like Star Raiders.