Planet of the Apes
Here's an all new slots game form the team at NetEnt. It's Rise & Dawn for Caesar and the apes in this iconic dual reel slot game inspired by a combination of both motion picture films and produced by the NetEnt team. Planet of the Apes now has its very own slot game with 5-reels, 3-rows, and 20-lines. Spin the Planet of the Apes characters, take them all on and find out which mood Caesar is in today for your chance to cash in.
This game throws you into the overrun city of San Francisco as Caesar and his army of chimps spread out to fight for their own independence, taking no prisoners along the way. Become a part of the journey as you conjure up your own tactics and spin to survive in a chimpanzee apocalypse and reap the rewards at the click of a button.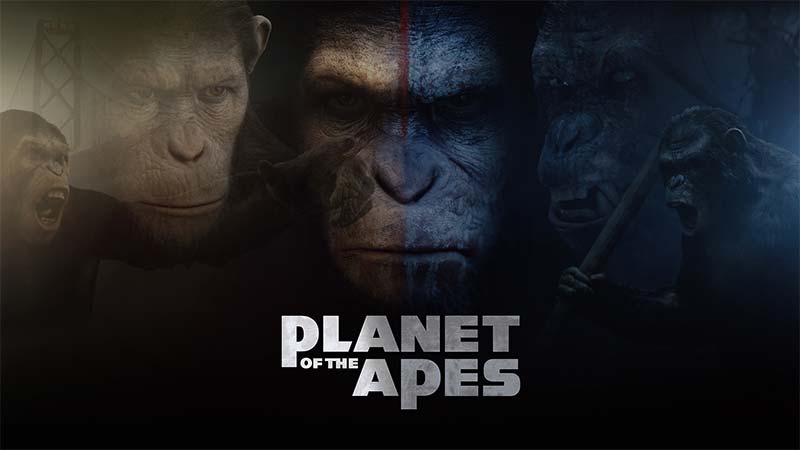 About the Developer
With two decades worth of experience NetEnt are a leading provider of premium gaming solutions with multiple awards. NetEnt have produced yet again another popular slot game in video form. The emergence of this video slot game has only reinstated NetEnt variety of content for the games they produce so well. Planet of the Apes is another classical production of NetEnt, an animated slot games UK that is constructed by the successful creative innovators.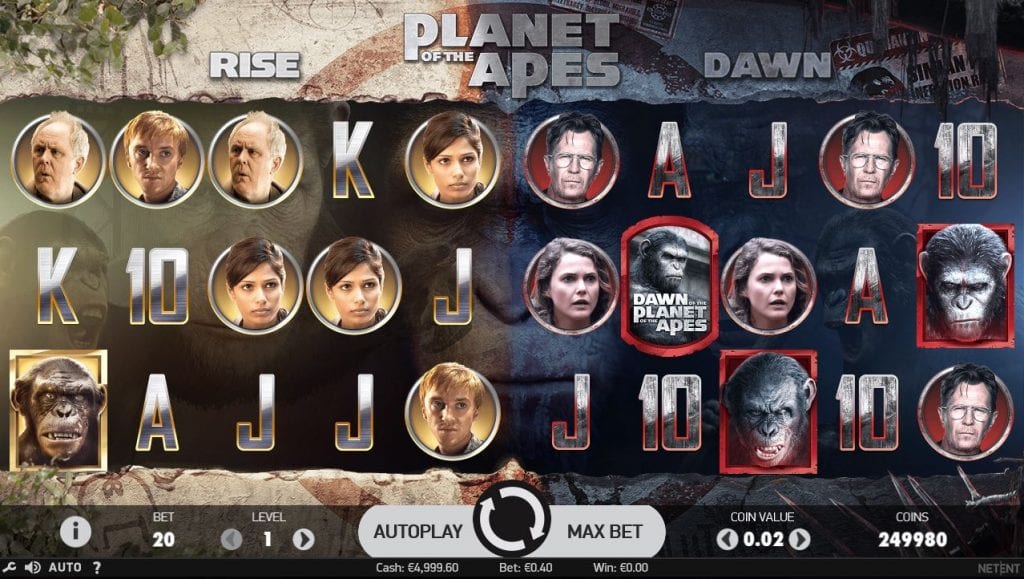 About the Game
Planet of the Apes poses a gameplay whereby it features links to both the first and second film, allowing players to reminisce both films together. This slot game puts you right in the thick of the action as you join Caesar and his band of merry Chimps to take over San Francisco and defeat the human race once and for all.
The game itself includes 5-reels, 3-rows and 20 lines that are fixed offering a simplistic gameplay experience. Offering players Rise and Dawn Free Spins, Bonus symbols, Scatter symbols, Wild substitutions, a Stacked Wild feature, a Dual feature and the Rise and Dawn Bonus features.
As ever, you have the power as you choose your own stake per line as well the number of lines you wish to bet. This game has a minimum staking point of £0.20 and a maximum staking point of £200.00 accommodating a wide budget range for both the slot game minnows and the high-rollers. Here at Wizard Slots we also maintain a healthy responsible gambling policy.
The design and layout of the game is effective, the format integrates both films into the game using relevant characters, colours and different emotions from both films. This is made very clear in the difference in emotion shown in the two films. The tool bar located across the bottom is clear and concise to make the game easily playable.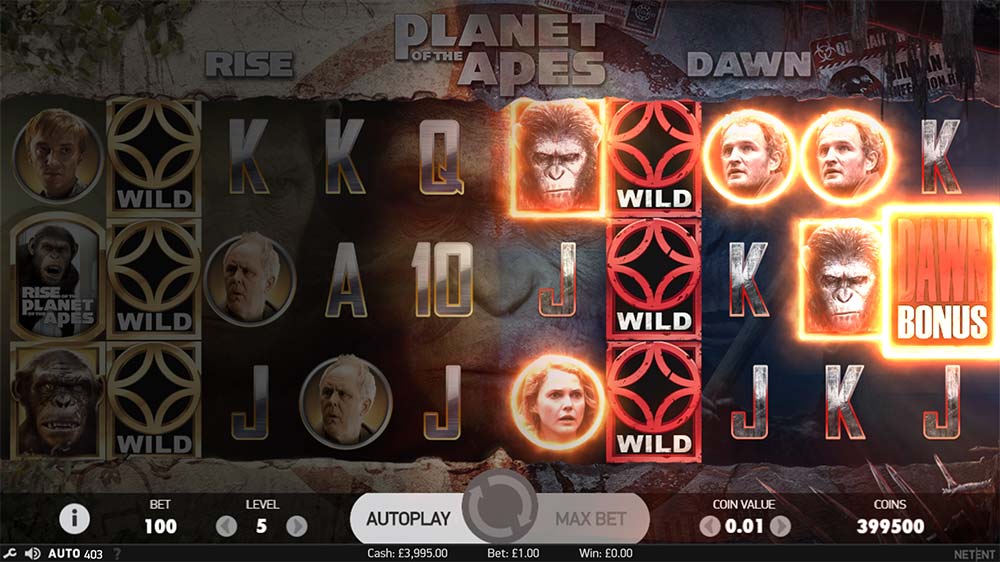 The Verdict
Planet of the Apes is iconic and it's no surprise this game has really took off. The combination of the two films into one game and the dual reel offers a unique feel therefore this game will no doubt continue to be played by those who have had the experience of watching both films. If you liked Planet of the Apes you might also like Viking Gods