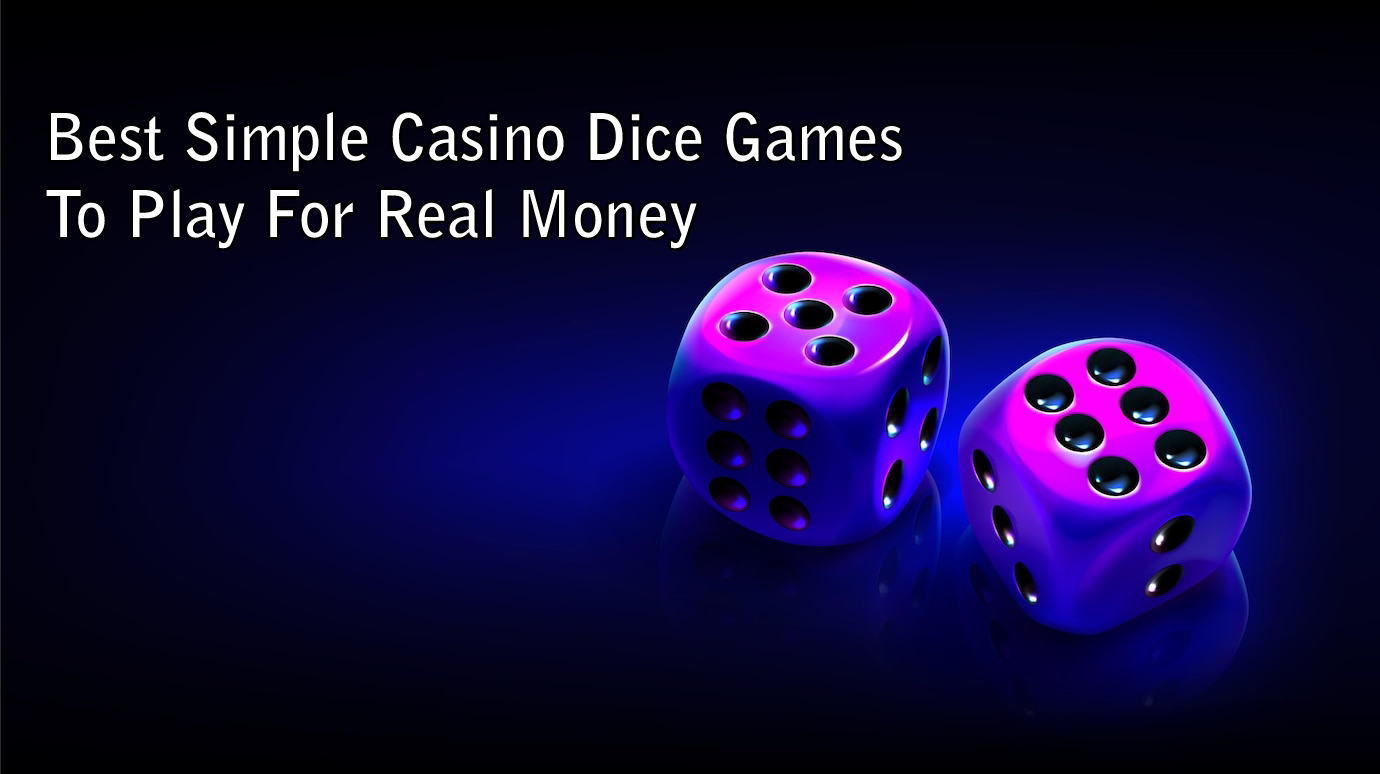 Online casinos are a hub for all kinds of games you can play for real money, packed in a single click for easy access. But, when you think of casino games, the first thing that may pop into your head is probably poker, blackjack, roulette or slots.
But, there is another world of casino games that is ruled by a throw of the dice. Casino dice games come in all shapes and sizes, and they can offer simple but fun entertainment. Some popular dice games include Craps, Sic-Bo, Chuck-A-Luck, Hazard, and Klondike, to mention a few. 
In this Wizard Slots blog post, we will explore some of the best simple casino dice games you can play for real money. So, continue reading to find out!
Craps
A Craps game includes a roll of two dice. As a player, you place your wager according to what face you think the dice will show. For example, a dice has six face values; each dotted with a number of dots equivalent to its face value. So, rolling a six would show six dots, a four would have four dots, while a two would have two dots, etc. 
You wager against the house and aim to guess what face value the dice will show after being thrown. So, all wagers need to be placed before the 'shooter' throws the dice.
Craps is considered one of the most complex but easy-to-learn dice games. It is also one of the most popular social dice games online and in brick-and-mortar casinos. Moreover, Craps has a number of betting options, so it may be a good idea to get familiar with those before you start playing.
Hazard
Hazard is a historical casino game that works similarly to Craps. This is because Craps was developed by simplifying the rules used in Hazard. However, like all casino games, different rules may apply to Hazard, so you may want to check before your play. 
Generally, Hazard also involves two dice, and can be played by any number of people, but the more, the merrier. 
The person who throws the dice first is called a 'caster' or a shooter. There's also a 'banker' or a setter. If the caster throws a winning roll, that's called the 'nick', and if they throw a losing roll, that's called the 'out'.
The caster, or shooter, begins by placing their wager on the table and then declares either a 5, 6, 7, 8 or 9. This number is known as the 'main'. Then, they roll the dice. If they roll their declared main, they win. But if they roll a 2 or a 3, they lose.
If the caster rolls an 11 or 12, what happens next is determined by their main. For example,
The caster loses if:
The main is a 5 or 9, and they throw an 11 or 12

The main is a 7, and they throw a 12

The main is a 6 or 8, and they throw an 11
The caster wins if:
The main is a 5, and they throw a 5

The main is a 6, and they throw a 6 or a 12

The main is a 7, and they throw a 7 or an 11

The main is an 8, and they throw an 8 or a 12

The main is a 9, and they throw a 9
If the caster rolls anything else, this is known as the 'chance', and they play a second round. In the second round, if they roll their main again, they lose. But if they roll the chance number, they win. 
For example, the caster has a main of 7 and a chance of 8. If they roll anything except these numbers (7 and 8), they continue to roll the dice until they roll either the main or the chance. If they roll a 7, they lose. If they roll an 8, they win.
The caster continues being the caster until they lose 3 times, and then the dice will move to the next player.
The caster is essentially betting they're going to nick or win. Once the main has been established, other players may bet on whether the caster will win or lose. Bets can only be made after the caster states their main.
Chuck-A-Luck
Chuck-A-Luck is a dice game with a bit of flair. Instead of using a person to throw the dice, they tumble out of a caged glass. It is believed to have originated in Australia and became popular during the Civil War in America. 
The Chuck-A-Luck game involves 3 dice that are spun in a glass. Before the dealer spins the glass, players place their bets on the number they think will be rolled out. Moreover, the Chuck-A-Luck game consists of 5 different bets, namely:
Single Number 

Field Bet 

A high bet - over 11 

A low bet - under 10 

Triple 
Klondike
Klondike is perhaps one of the most simple dice games. It is played with 5 dice where the dealer rolls their dice first, and you roll yours afterwards to try and beat the dealer, also known as the banker.
Rolling a 1 is usually ranked as the highest. The remaining numbers are then ranked from highest to lowest. For example, 1, 6, 5, 4, 3, and 2.
In some online casinos, you can also wager to roll a number lower than the dealer. These dice rolls have five combinations or outcomes that count:
1 pair

2 pairs 

Full house (3 of a kind and a pair)

4 of a kind

5 of a kind
If you roll the same combo as the banker, then you lose.
Banka Francesca
The origins of Banka Francesca can be traced back to Portugal, and the term "Banka Francesca" translates to French Bank. 
Only the dealer is allowed to roll the 3 dice, and you only have three types of bet to work with. These are:
Aces or Ases = sum of the dice is 3. Basically, each dice rolled a 1.

Small = sum of the dice is 5, 6, or 7

Big = sum of the dice is 14, 15 of 16
Sic-Bo
Since its inception in Asia, Sic-Bo has had many variations throughout the ages, especially in online casinos. Like Hazard, Sic-Bo is similar to Craps. You place a bet based on what number you think the dice may land on. 
But, instead of playing with 2 dice, you play with 3. In addition, Sic-Bo has two types of most popular bets, a big and small bet, and you only roll the dice once. 
If you place a small bet, you wager that the sum of the dice will be between 4 and 10; if you place a big bet, you wager that it will be between 11 and 17.
Dice Dice Dice
Deserving of an honourable mention is the Dice Dice Dice slot game by Red Tiger Gaming. While it is not a dice game like the games mentioned above, it is a slot game, and it has a dice symbol, which represents the Wild. However, wilds can only land on the middle reel.
If the dice form part of a winning combination, they roll and can award a random win multiplier. In addition, if you unlock the Rolling Respins feature, the dice rolls can potentially increase the total win multiplier!
You can play this slot game and many more at Wizard Slots online casino!
What Is The Most Simple Gambling Dice Game To Play? 
The answer to this question depends on your personal preference. 
For example, some people may prefer simple and relatively straightforward games like Klondike, while others may prefer something with a bit of European history, like Hazard. Some players may enjoy a simple dice game with a wide range of betting options, such as the Chuck-A-Luck. Or maybe, some may prefer to play the Dice Dice Dice slot game instead.
The best way to decide would be to give these games a roll and see which one you enjoy most! And remember to always gamble responsibly.