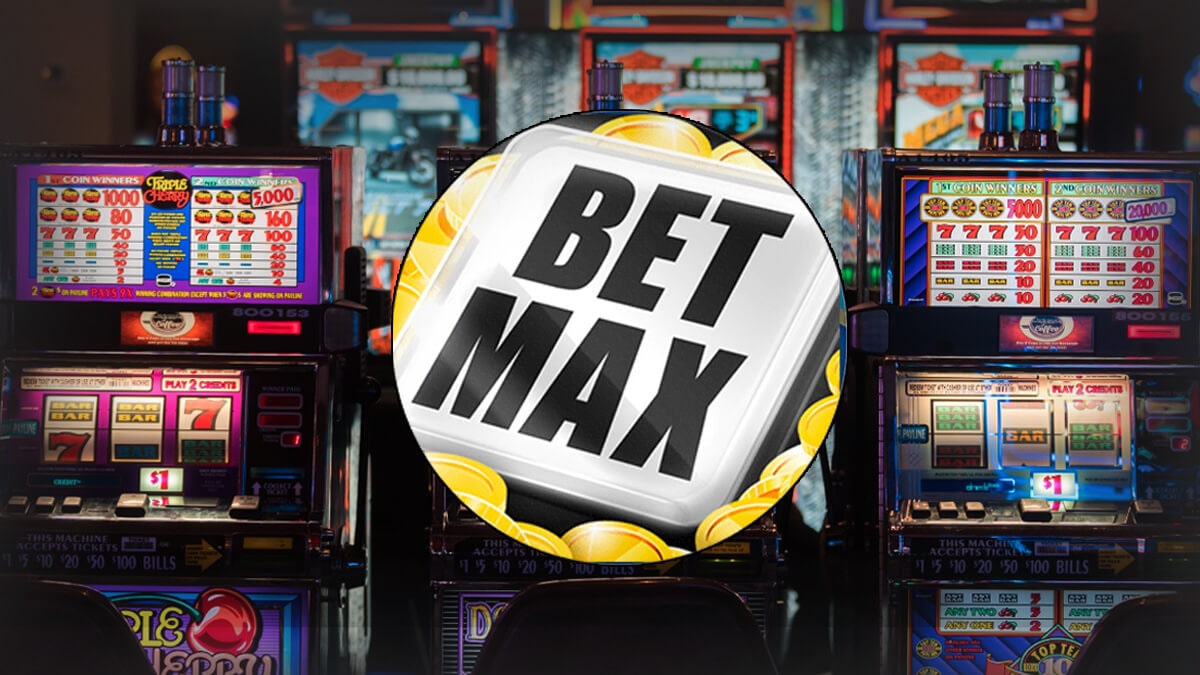 In this blog post, we will investigate whether slot machines pay out better on max bet. If you have ever wondered whether the amount you bet matters in slots, read on to find out more! 
Does Playing Max Bet Increase Slots Odds? 
Playing max bet means that you are playing the maximum bet possible on an online slot. When you play online slots you must make a bet before you play. You can alter the bet at any time during your gaming session.
All slots have a minimum and a maximum betting requirement, and each one is different. The maximum bet is the most you can bet on a particular slot. You can usually find the maximum bet of a slot by clicking the money icon in a slot and selecting the MAX option. 
Many rumours claim that playing on the max bet increases slots' odds. However, this is not true. Placing the minimum or maximum bet does not affect the odds of a slot machine. 
The odds of winning are due to the Return To Player (RTP) percentage. The RTP percentage is set by the online slot developer and does not change whether you bet high or low. You can test this out for yourself. You will see that whether you bet £1, £5 or £10, the slots RTP value remains the same.
Betting max does not alter the return to player percentage and does not provide any advantage for the player. You could pick online slots with a higher RTP value as this means that over time, these slots pay back more to players than those with lower RTP values, in theory.
Of course, if you had a winning spin with a small bet, you would have won more if you had placed a bigger bet, but your chances of winning would not have been any different. 
Online slots are random as they use a Random Number Generator (RNG). An RNG is a small computer inside a slot machine that generates hundreds of number combinations every second. Each number sequence produced corresponds to a combination of symbols on the reels; it ensures that the sequence of slot symbols that appears is random every time. 
Can You Win a Jackpot With The Minimum Bet on Slots?
The belief that betting max is best mostly comes from progressive jackpot slots. The assumption is that you must bet the maximum amount to be in with a chance of winning the jackpot. This belief does hold some truth. Some slots with progressive jackpots require you to place the maximum bet to have a chance of landing the jackpot. However, there are plenty of slots out there that do not require you to bet the maximum bet to have a chance to win the jackpot.
If a player places the minimum bet on a slot, they still have a chance of potentially winning the jackpot. Likewise, if a player places the maximum bet, they have a chance of potentially winning the jackpot. So it makes no difference whether you bet the max or minimum on a slot machine. You have the same chance of winning the jackpot either way, so long as you're playing a jackpot slot that does not require you to bet the max in order for the jackpot to be accessible.
What Is The Max Bet on a Slot Machine? 
Max bet simply means placing the maximum amount of money you can bet per spin on a slot machine. The maximum bet you can make on a slot machine differs, so check the bet range before you play. You can easily change your bet to the max by clicking the "max bet" button in the slot. 
You can change to max bet at any point during gameplay too. The only time you cannot change your bet is if you trigger a Free Spin feature or similar because the payouts will be calculated against the bet placed on the triggering spin. 
Changing your bet size does not change the chances you have of winning. The odds will always remain the same. 
Playing max on slots does not increase odds. There is no benefit to players for placing the maximum bet. Betting max could drain your bankroll more quickly, so it is essential to keep track of how much you are spending. Make sure to gamble responsibly and only play with what you can afford. Setting a money limit is always a good idea.
Does Bet Size Actually Matter on Slots? 
At the end of the day, it doesn't matter whether you bet max or bet min on slot machines. It's all down to personal preference! Your bet size could depend on several factors personal to you, such as budget, what slots you like to play, and how long you want your slot gaming session to be. Let's now look further at the pros and cons of playing max bet and minimum bet on slots.
Betting max refers to betting the maximum amount with every spin on a slot. Most modern online slots have a "bet max" button, making it easy for players to use if they want to bet max when playing slots.
If you prefer placing large bets, you may opt for jackpot slots, as these tend to have larger maximum bets. However, this does not guarantee a win and does not give you better odds of winning. The size of your bet does not correlate to higher odds.
One possible good thing about betting max is that you could potentially win more if you were to get a winning spin compared to a winning spin on a minimum bet. What we mean by this is that if you bet £100 and you win double your bet and get £200, this is better than if you bet £0.10 and win £0.20. However, wins are never guaranteed, and you cannot predict if or when you are likely to hit a winning combination. 
Another benefit is that placing the maximum bet on certain slots may be what makes the progressive jackpot accessible. Playing with anything less may leave you without a chance to land the jackpot. However, check the rules around this for the slot you choose to play; there are also plenty of slots that offer jackpots that do not require you to bet the maximum amount possible.
One con of playing max bet on slot machines is that your bankroll may not last very long. If you only play the maximum bet with every spin, your money won't spread very far on a tight budget. Also, betting max does not increase your odds of winning.
Playing minimum bet on slots means that you are betting the minimum amount with every spin on a slot machine. All online slots have a minimum betting requirement. You can easily adjust your bet to the minimum through the wager adjustment function, usually in the form of up/down arrows or +/-.
Perhaps the most significant advantage of playing the minimum bet on slot machines is that you could potentially spread your bankroll further. In addition, you could have much longer gameplay compared to betting max. So, betting the minimum is potentially a better option for players on a budget or players new to slots. 
A con of playing minimum bet could be that if you do land a win, it's likely that the payouts will not be particularly substantial.
Whether players choose to bet max or bet the minimum when playing slots online, they should always gamble responsibly. Please set a realistic budget for what you can afford for gambling and stick to it. Never exceed your budget or place a bet you cannot afford to lose.