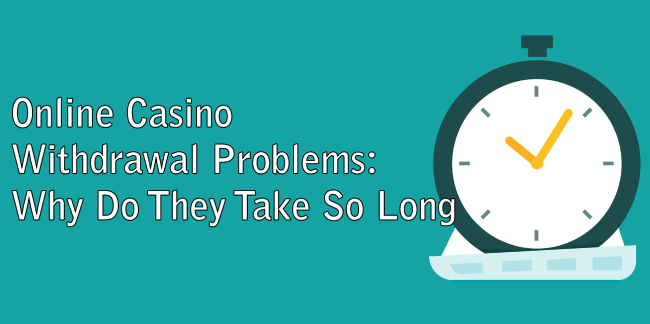 While withdrawing money from an online casino is relatively easy, sometimes, it can be frustrating. You may encounter issues such as delayed withdrawals, or the casino may refuse to process the payout altogether.
So, what happens in that case? What are you to do, and most importantly, what are the reasons the casino may take too long to be processed or refuse to pay out altogether? To find out the answers, continue reading this blog post.
How Long Do Online Casino Withdrawals Take? 
The length of casino withdrawals may depend on various factors, including the casino, your chosen withdrawal method, and if wagering requirements are involved. Typically, withdrawals can take between a few hours to several days, depending on the casino's policies and the chosen payment method.
For example, PayPal, Skrill, or Neteller can process payments within 2 to 48 hours, whereas bank transfers, debit, or credit cards can take up to 5 days and, in extreme cases, a couple of weeks to complete a withdrawal.
Generally, if everything is in order and all conditions are met, you should be able to receive your money within 5 working days from the withdrawal day.
Why Do Online Casinos Take So Long To Payout?
There are several reasons why an online casino may take too long to complete a payout. But taking too long to payout is generally not the norm. These include meeting wagering requirements if they apply, verification processes, and, of course, the withdrawal method you use. Let's explore them below:
Wagering Requirements
In most cases, if you claim and play with casino bonuses, there is a better-than-not chance that there is a wagering requirement imposed. That means you have to bet the bonus amount a stipulated number of times before you can withdraw any winnings generated from the bonus amount. 
The terms and conditions of the offer specify how to meet these requirements, such as how many times you must play through the bonus fees before you can withdraw your winnings. 
Verification Process
Casinos are required by law to verify your banking and other personal information details before they can approve your withdrawal. That is to ensure that you are who you say you are and that the information provided belongs to you.
These are put in place by gambling authorities to prevent illegal activities such as money laundering and fraud and to confirm that the player is of age. If you are under the age of 18 and you somehow lied on the registration form, you will not be able to withdraw, and you may face legal consequences.
Pending Periods
Online casinos may impose pending periods between withdrawals. That means there may be a period of time set for approval of the transaction before it is approved for withdrawal. 
There are various pending periods depending on the payment method, the time of the withdrawal transaction, and the casino itself. But, it typically does not take more than several days.
Type of Withdrawal Method 
Some types of withdrawal methods can take longer than others. For example, someone who used PayPal to withdraw their money and someone who used a bank transfer may receive their payout at different times. 
So, if, for example, you withdrew money at the same time as someone using different payment methods, the times at which you both receive your payouts could end up being different.
What Happens If An Online Casino Won't Payout?
It is rare for a legitimate online casino to refuse a payment without a good reason. If it happens, you have resources at your disposal you can use to help you receive your payout. That is why playing at legitimate and registered casinos like Wizard Slots UK Online casino is so important.
So, while it is unusual for an online casino to refuse payment, it can happen. Below are the steps you can take if an online casino won't pay out:
Contact the casino: There may be a reasonable explanation for why the casino refuses to payout. Or, it can simply be a misunderstanding. Contacting the casino may help clear any confusion and alert you of what steps you need to take.
Ensure that all your details are correct and up to date: Remember that casinos need to verify your personal information before approving and completing your withdrawal request. If there is anything that does not add up, the casino may withhold your payout. 
So, always ensure your personal details are correct. Once this is cleared, you should be able to receive your payout. 
Contact third-party authorities: If all else fails, you can contact third parties such as the UK Gambling Commission (UKGC). The UKGC is the governing body of all gambling establishments and practices in the UK; they can often help in resolving certain customer disputes. 
But, you are only able to get assistance from these companies if you play at a licensed and regulated casino. 
Remember that online casinos want to pay you and are contractually obligated to pay you. When you sign up and register at an online casino, the casino signs a contract with you, and, as per the agreement, casinos are required to pay out when a payout is due.
Online Casino Withdrawal Problems: What Can You Do?
Experiencing withdrawal problems can be frustrating, but there are steps you can take to potentially solve the problem. Let's look at some of them below:

Verify that your information is correct and you do not have duplicate accounts with the casino. It is against the rules and regulations to have more than one account with a casino. In addition, you must ensure that your information is correct; otherwise, the casino may not be able to verify the transaction if your personal details do not match.
You may also need to check with your bank to see if they are not the ones blocking your transactions. Sometimes, your chosen payment method can block your transaction for several reasons. 
If everything checks out, contact the casino. Registered online casinos have at least one form of contact method for their customers to be able to reach them, including email. So, it should be easy to reach out to them and make your case.
If all fails and you still cannot withdraw your payout, you may request to speak to a person of higher authority in the casino. If that fails, you can take it to the higher authorities, such as the UKGC, and have them help you.
Conclusion
Even the best online casinos can sometimes encounter issues with approving payments. But, as long as said casino is registered and legitimate, there are ways you can ensure the payment issues are resolved. Most of these issues are typically resolved as soon as the casino is alerted.
To ensure you never have to worry about payment issues, register with Wizard Slots casino, double-check that your personal information is correct and adhere to any wagering requirements if they apply.
To create an account, click the Join Now button and follow the registration steps.