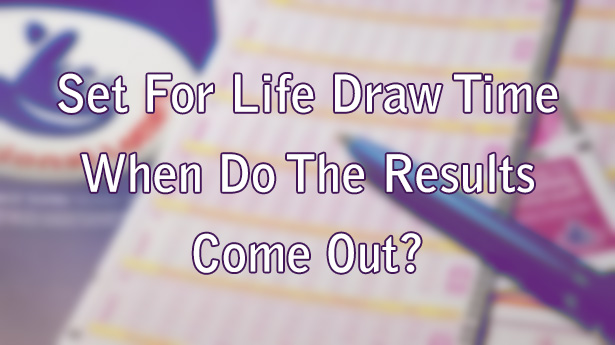 Are you curious about the Set For Life lottery but are unsure when the results come out? We have got you covered. 
In this Wizard Slots blog post, we are going to discuss when the Set For Life results come out, where to find the results, how often the draw happens and how to check the winning numbers.
What Time Is Set For Life Drawn?
The Set For Life Draw takes place every Monday and Thursday at 8:00 p.m. (GMT). You can watch it live on the National Lottery's YouTube channel or on their website. 
It is not possible to watch the Set For Life draw on the telly, but the places mentioned above are relatively accessible and as good as any. Plus, these channels allow you to rewatch past draws whenever you want or catch up if you missed the 8:00 p.m. broadcast. 
Set For Life Results Tonight: Where To Find Them
You can find all the Set For Life results, including the latest results, on the National Lottery website online or on their YouTube channel. 
They are available as soon as the draw is over, or you can watch them live while the draw is still taking place.
Past Set For Life Results
As mentioned, the National Lottery website and the YouTube channel keep track of all lottery results, including the Set For Life results, so you are able to go as far back as you wish to find and/or watch past Set For Life results.
You can click on the results history link below the current results page to view past results on the National Lottery page. 
You can use the drop-down arrow in the box to select the year of the results you want to view and click on the displayed dates to view more information, such as how many people won and how much.
How Often Is Set For Life Drawn?
Set For Life is drawn twice a week every month on Monday and Thursday. So, you are able to enter it on any day until 11 p.m., but if you choose to enter it on draw days, you have until 7:30 p.m. that day to enter.
How To Check Set For Life Numbers
You can check the Set For Life winning numbers in a couple of ways. You can watch the draw and check if the numbers match your ticket.
Or you can use the National Lottery website to check by following the steps below:
Go to the

National Lottery website

and click the Check My Set For Life Results page. 

Enter your numbers and select the time period, for example, last 7 days, 30 days, or 180 days. 

Select if the draw was for Thursday or Monday.

Click the Check button to see if your numbers won.

Alternatively, click the Draw History button to view the numbers. The latest draw numbers will be the first on the page.