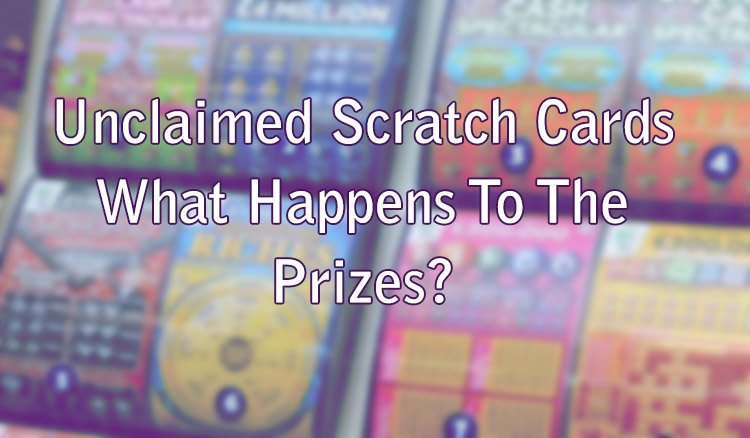 It is not uncommon for scratch card players to forget they bought scratch cards and therefore do not claim the prizes. Or perhaps you have been entered into a raffle prize draw and failed to inspect your ticket correctly. 
So, what happens to these unclaimed prizes, and how long do you have to claim a scratch card prize? Continue reading this Wizard Slots article as we uncover the mysteries of unclaimed scratch card prizes.
Unclaimed Scratch Cards - £125 Million In Unclaimed Prizes 
In 2019, it was reported that there were over £125 Million in unclaimed scratch cards. This staggering amount is a result of scratch card players either not scratching their scratch cards to see that they have won or simply forgetting to collect their wins.
Maybe you feel that the money you have won is too little for the trouble of claiming it. After all, scratch card prizes are often too small, with the most common wins ranging between £2 to £20. Still, there are some people who take home millions in scratch card winnings. 
However, when thousands of people play scratch cards every day and do not claim them, that unclaimed prize pool goes up.
How Long Do You Have To Claim Scratch Card Prizes? 
Although scratch cards do not go stale like bread, they do have a limited time to be collected. Generally, scratch cards expire 180 days after the draw. But this differs from provider to provider.
If you bought your scratch card from the national lottery, you have 180 days to claim your prize. But with other companies, you may have longer or less. 
But worry not. Your unclaimed scratch card prizes do not go to waste or are kept by the lottery company for themselves. Instead, they are often donated towards a good cause.
What Happens To Unclaimed Scratch Card Prizes? 
Unclaimed scratch card prizes are often donated to good causes all around the UK. If not, they are added to the next scratch prizes until someone wins and claims them. However, more often than not, they contribute towards a number of good causes and community projects.
Scratch cards are not the only games that have unclaimed prizes. There are also staggering figures of unclaimed lotteries. Unlike scratch cards, lottery prizes are often more significant, and therefore the National Lottery is more likely to search for the winner if the prize is unclaimed. 
But because scratch cards are often so little, do not expect to be hunted down to claim your rightful prize. If you miss it and the window to collect it passes, too bad. The money is no longer available.
Conclusion
In conclusion, each lottery company has a different procedure for handling unclaimed scratch cards. But you typically have up to 180 days to claim your winnings.  
According to the National Lottery policy, unclaimed prizes are held for 180 days for collection, after which they will be contributed to charitable organisations and projects if they remain unclaimed. 
So if you ever wonder about unclaimed scratch cards, they have either been put back into the prize pool or donated to good causes.
*All values (Bet Levels, Maximum Wins, etc.) mentioned in relation to this game are subject to change at any time.