Classic Blackjack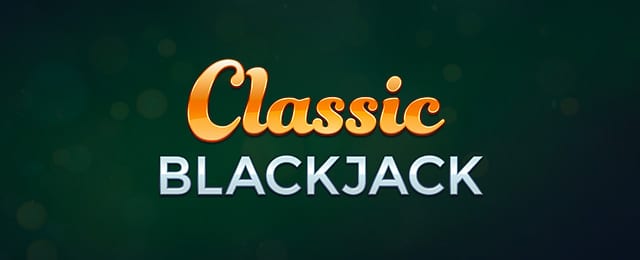 Classic Blackjack - Introduction
All slots online uk lovers are familiar with blackjack, even if they might not enjoy playing it. It's not only the most popular game but also the game with the lowest house edge from 1.5%. If you're new to the world of online casinos, you should try out blackjack games and their variants.
It's not enough to know how to play, but you have to know how to walk away with your money and that of the online casino. Keep on reading this guide on how to play blackjack, or you can skip this and go straight to Wizard Slots to start to play slot games.
Quick Links: Fluffy Favourites Slot Game | Starburst Slot Game | Rainbow Riches Slot Game | Mermaid Millions | Fishin Frenzy | Fluffy Too

Blackjack Rules
The aim of playing blackjack is to beat the dealer. To do this, there are three outcomes you must get.
#1. You draw a hand value that is higher than the hand value of the dealer.
#2. The dealer draws a hand value that is over 21.
#3. You draw a hand value of 21 on your first two cards, and the dealer does not.
You lose to the dealer if your hand value is higher than 21, or the hand value of the dealer is greater than yours.
It is also essential to know that blackjack is played with a standard deck of 52 playing cards, and it's critical to understand how to find a hand value so that you can make calculations and wins.
#1. An ace can be 1 or 11, as this depends on the value that is needed at that time.
#2. 2 to 10 have a face value—for example, 2 counts as two.
#3. Face cards (K, Q, and J) have a value of 10.
There are also some terms that you need to know when playing blackjack.
#1. Hit: This is when a player requests another card, or the dealer has to draw another card.
#2. Stand: This is when the player refuses to take any more cards, or the dealer cannot accept any cards.
Strategies for Classic Blackjack Casino Game
Blackjack is a casino game that is based on calculations and statistics rather than luck or chance, unlike some of the best uk online slots. It is important to practice playing free blackjack, or play with little money so that you can get used to playing the card game and winning at it. Here are some strategies to help you succeed.
#1. Hit when you have a hand of 8 or less. If your hand is between 9 and 16, you should hit and then either stand or double down.
#2. Stand if your hand is between 17 and 21.
#3. Don't take insurance as it might not benefit you during the game.
#4. Don't split your cards or stand when your hand value is between 12 and 16 if the dealer has a hand value of 7 or more.
Conclusion on Classic Blackjack – Hit or Miss?
Apart from playing the traditional blackjack game and its variants, there are also live games that give you the feeling of being in a brick-and-mortar casino. The top place to play blackjack and different variants of live blackjack is Wizard Slots.
Here, you can enjoy transparent table games with the usual house edge, and get the chance to win. You also have access to an extensive collection of online slots and other casino games, like the Live Blackjack A live casino game.