Keno Neo
The classic casino favorite has been given a makeover with Keno Neo from PariPlay. Boasting some stylish neon-lit graphics and soothing music, it's easy to get lost in this old favorite which has enraptured millions of gamers around the world. Its pastel hues and warm tones are straight out of your favorite cyberpunk movie and give this easy to learn but difficult to master game an entirely modern spin that is difficult not to get engrossed in. Deposit today and be transported to a neon-drenched future where all your fantasies are at the touch of a button along with big cash prizes!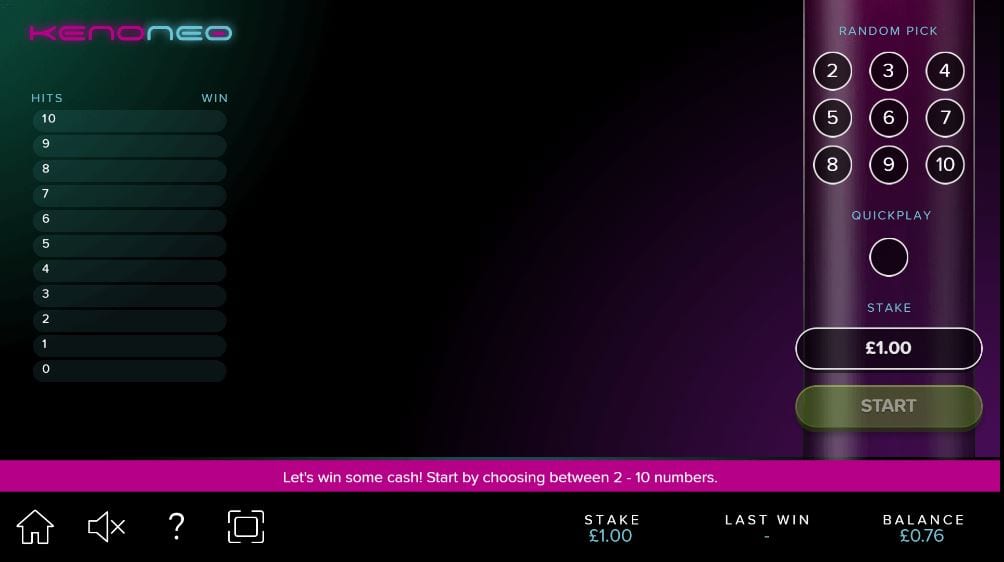 About the Developer
Operating since 2010, the team at PariPlay have been honing their skills with a string of land-based and online games that have delighted fans, both old and new. Pushing the envelope when it comes to video slot themes and game features, the talented developers at PariPlay have proven themselves adept at mixing old casino styles with new forms of modern gaming. Keep your eye on these guys as there's plenty more to come! Other hit titles from the developer include:
World Cup Keno
Jack in the Box
Change – Goddess of the Moon
Rio Bingo
Atari Star-Raiders
play slots online by PariPlay

About the Game
This legendary game is rumored to have its roots in Ancient China and takes the form of a traditional lottery game. After selecting their stake, players choose up to ten winning numbers from a selection between 1 and 80 before unleashing the balls and the excitement begins. Match anywhere between 1 and 10 of your numbers from a selection of 20 and you could win big!

While stripping the game back to its basics, Keno Neo introduces a couple of new features that are sure to have Keno fans buzzing! Some of its great features include:
RANDOM FUN – Players are given the choice of either choosing their own numbers or letting the computer choose for them with the 'Random Pick' generator for added excitement! Keno heads have always liked a lottery, but this will really separate the pros from the also-rans!
MASSIVE MULTIPLIERS – Put up the maximum stake and grab the maximum amount of numbers on the board and you can enjoy a truly massive pay-out of 20,000x. Now that's worth shouting about!
TRACK YOUR WINNINGS – The pay-out board on the left will help you keep track of your winnings and multipliers, so you always know exactly where you're at! You're never left in the dark here on wizardslots.com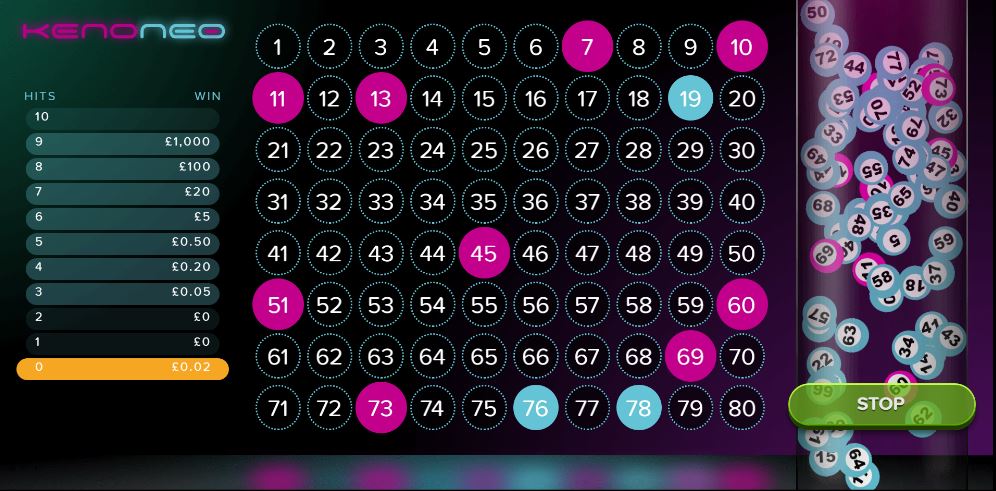 The Verdict
While there are plenty of Keno games out there on the market, few pull off this classic casino game with such stripped-back stylishness and aplomb as Keno Neo. Pariplay have taken the game back to its roots with a no-gimmick, back-to-basics approach that is sure to appeal to purists and new players alike. Quite apart from its attractive stylings and cool ambience, the possibility of a huge 20,000x multiplier is sure to have gamers flocking to this latest title from PariPlay. Deposit today and try your hand at this new take on an old classic! If you enjoyed Keno Neo why not try Cash Mix