1H Jacks or Better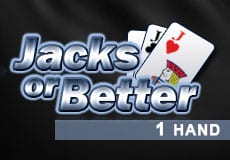 Try and achieve a 5 card hand that's greater than the dealers Jacks. This is a game of skill and precision. Only the wise persevere, many fall at the first hurdle but with knowledge comes great power and wealth. Count your lucky cards that the King and Queen are on your side in 1H Jacks or Better gambling slots online.
Quick Links: Mad Mad Monkey | Starburst  | Fluffy Favourites | Slingo | Cops and Robbers | Immortal Romance | Thunderstruck
About the Developer
NetEnt (short for Net Entertainment) are known not only for their highly anticipated slots and games, but also for their pioneering attitude towards the industry itself. You may know them from cutting edge titles such as Cosmic Fortune and Hansel and Dazzle Me at Wizard Slots.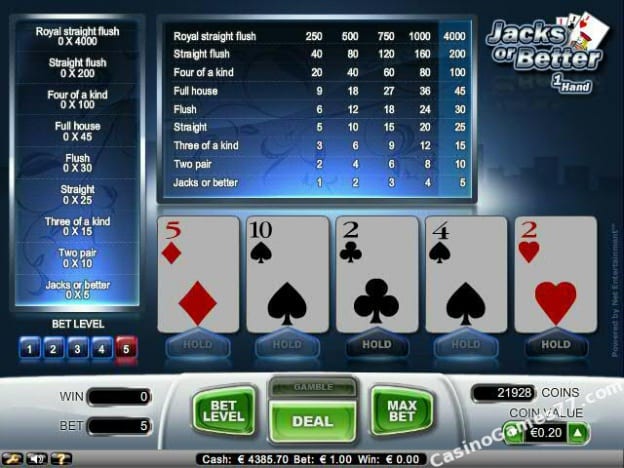 About the Game

1H Jacks or Better is a very interesting take on poker, it is what is known as a draw poker game which plays heavily on a different variation of gameplay while retaining all of the highlights that make poker so unique.
In 1H Jacks or Better you need only hold a hand with Jacks or Better to receive a payout which will happen a lot across the many hands you wish to run across the game. This a guaranteed pay-out game that is definitely worth your attention, there's no doubt about it. We recommend looking into the rules of poker before venturing into a title like this but if you are feeling confident in your decision to play then you are probably going to have that killer instinct that this game requires in order to succeed.
There are various hands for you to play that all equal a different pay-out depending on your hand as the player. Any card that is a Jack or higher. Low, on the other hand, refers to all cards that are lower in value than a Jack. Examples of high cards include Ace, King, Queen, and Jack, while low cards run from 2 through 10.
The design of this game is very heavily based on a robotic esque design with the players hand being featured towards the bottom of the screen. At the bottom is also where you will find the original base stake. The cobalt blue plays very well off the cards and overall theme of the game itself.
NetEnt have managed to create a very pretty game that stands out almost instantly depending on what you look for in these types of titles. There is only so much you can do with an online poker game, however NetEnt took that mentality to the limit in crafting a great design and interface that creates a lasting experience for anyone who might lay their eyes on the game.
We will admit that it might be difficult to adapt to other poker games once playing this one, this isn't necessarily a bad thing but if you are going to take a first step into the world of online poker it may be a good idea to start with a more basic online poker game before trying this one. Other than that this title is incredible.

The Verdict
Online poker is one of the most popular forms of online entertainment there is out there, and with good reason. For anyone that knows how to play poker they know how hard it is to find a slot that best represents the way they like to play and the amount of currency they earn through each game. 1H Jacks or Better is an example of online poker done correctly. Make no mistake about it, this game is for those who enjoy the classics. 8/10
If you fancy trying one of our slot games instead then how about our 1can 2can slot?