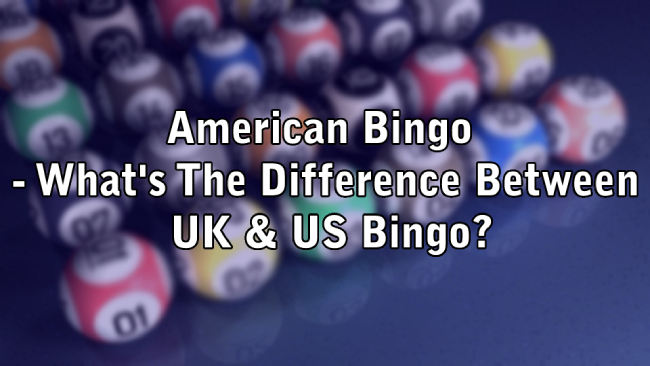 We all know how vastly different the US is from the UK; in politics, grammar, accents and sports! It turns out these differences can even be found in bingo games!
Firstly, the game is largely more popular in the UK than in the US, although it is quickly gaining traction. In the UK, you are more likely to find a variation of bingo called 90 ball bingo, while the US tends to favour 75 ball bingo. 
In this Wizard Slots blog post, we will go through some of the differences between UK and US bingo, including how to play the American version and its calls. 
What's The Difference Between British Bingo & American Bingo?
The British and US bingo games share a few similarities, but they also have noticeable differences. Firstly, UK bingo has a different card layout from the US version. The cards in UK bingo are typically laid out in a 3x9 grid, with 27 spaces. The US Bingo has a 5X5 grid with 25 spaces..
Additionally, the American 75-ball bingo game can only have one winner at a time, while the UK 90-ball bingo can have up to three winners at a time. 
The most obvious difference between these two games is that the UK version tends to be played with 90 balls, and the American version is played with 75 balls, hence the 90-ball and 75-ball bingo!
If you are a beginner and have not quite gotten your bearings with bingo yet, you may want to start with the 90-ball UK version, as it is usually more slow-paced compared to the fast-paced American 75-ball version. 
How To Play American Bingo
You can play American bingo on most online casinos, including Wizard Slots. All you have to do is:
Log in to your chosen online casino, such as

UK slot games

site Wizard Slots.

Choose an American bingo game you want to play.

Choose a bingo chat name.

Select the number of tickets you want to purchase, and wait for the game to begin.

Once the numbers get called, if your tickets have matching numbers, they will be highlighted.
American Bingo Calls
American bingo calls are usually different from British bingo calls, but they are both usually associated with numbers or phrases that rhyme with the number. However, in some numbers, they do share similar phrases. For example, some of the US bingo calls include:
01 - "Baby's Done It." 

16 - "Sweet 16." 

40 - "Life begins." 

54 - "Clean the Floor." 

75 - "Strive and Strive."

12 - "One Dozen."

74 - "Hit the Floor."
Play Bingo Online
Want to try your hand at an online bingo here at Wizard Slots casino? Then you have come to the right place!
Wizard Slots casino offers a wide range of bingo games with various themes. Regardless of your level of bingo skill, we have everything you need. So simply sign up, deposit and enjoy a world of entertaining casino and bingo games!
*All values (Bet Levels, Maximum Wins, etc.) mentioned in relation to this game are subject to change at any time.