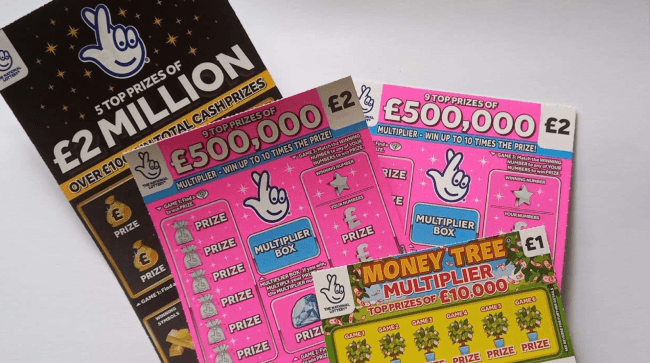 Scratch cards are very popular chance games as they can be very quick and easy to play! 
But can you actually win big on scratch cards? 
Find out in our Wizard Slots blog post below!
Does Anyone Ever Win Big Money On Scratch Cards?
While the odds of winning the jackpot on a scratch card can be very slim, people can and do win big money! 
The odds of winning any prize on a National Lottery scratch card are between 1 in 3 and 1 in 5. However, the odds change dramatically for the top prize to 1 in thousands or millions, depending on the scratch card game you are playing.
You can see for yourself that people do win big money on scratch cards. If you go to the National Lottery website, you can see a list of all the available scratch cards. Next to each scratch card, you will see various details, including the top prize and how many top prizes remain. If you have a look, some games have 0 top prizes left. This means that someone has won big!
If you're looking for more proof that people win big on scratch cards, look at reputable articles online. There are plenty of stories of real people sharing their big lottery and scratch card wins. 
One of the latest scratch card winners in July 2023 was Clive Bray. He picked up some scratch cards with his grocery shopping one day. He scratched the first card, revealing a £6 win. He scratched another, revealing a £6 win. Then, he scratched his final scratch card. Bray then discovered he had won the top prize of £300,000 on Sapphire Multiplier!
How Do You Win Big On Scratch Cards? 
Scratch cards all offer different top prizes. Jackpot prizes can vary from hundreds to thousands and even millions! 
To win big on scratch cards, you must scratch off and match particular symbols as per the instructions. Be sure to read the instructions on the back so you know what you're looking for! Some scratch cards require matching symbols and others, you have to match cash amounts, which may make things more straightforward.
What Happens When You Win Big On a Scratch Card?
If you win big on a scratch card, the first thing you may want to do is check again. Read the instructions on the back carefully and check your scratch card again. If you still aren't sure, you can go to a store that sells National Lottery scratch cards, and they will check for you on the machine. 
What To Do If You Win Big On a Scratch Card
Once you know for certain you have won big on a National Lottery scratch card, you have 180 days from the closing date of the scratch card game to make your claim. To claim your win over £50,000, follow these steps:
Call the National Lottery line to arrange your claim.

Fill out a prize claim form.

Camelot will then visit your home or other location to validate your win and give you your prize. You will need to show them

proof of your age and identity

.

Your prize is then paid to you by cheque, bank transfer or credit card.
However, depending on the scratchcard game, these rules may change.
Play Scratch Cards Online For Real Money 
Want to play scratch cards online for real money? Enjoy a variety of online scratch cards at Wizard Slots, including Diamond Strike 100,000, Rainbow Riches Cash Cluster and Fishin' Frenzy Scratchcard.
*All values (Bet Levels, Maximum Wins, etc.) mentioned in relation to these games are subject to change at any time.