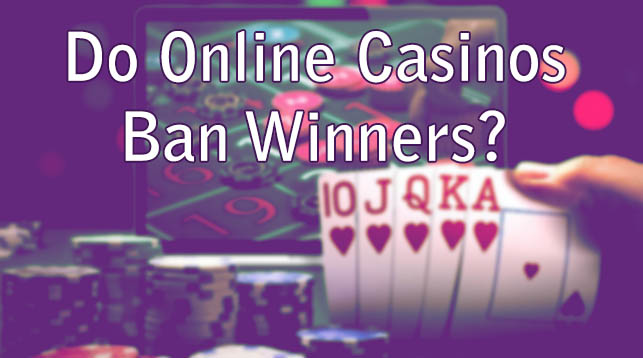 Have you ever wondered whether online casinos ban winners? There are various reasons why an online casino could decide to ban winners or any other player. For example, if the player breaks any of the casino's terms and conditions, potential fraud and cheating, to name a few. 
In this blog post, we'll be talking about the different reasons why online casinos could ban winners, and also why some may like winners.
Can A Casino Stop You From Playing? 
When you register with an online casino in the UK, you agree to their terms and conditions. You agree to follow the rules set by that casino, and if you break them, you could be banned.
The terms and conditions of an online casino are a legal agreement between a player (you) and the online casino. But not everybody likes reading terms and conditions, right? Even though they may take a while to read, it's important to read them, so you know you are sticking to the rules of the casino and don't get yourself banned without realising.
An online casino's terms and conditions page can contain lots of different information, including; details on how personal information may be used or kept, deposit and withdrawal methods, banking options, wagering requirements, gaming rules and regulations, bonus policies and more.
The reason online casinos have terms and conditions is to protect both themselves and their players. The terms and conditions of an online casino should be easy to find. When you sign up, there should be a link next to the check box where you agree to the terms and conditions.
To find the terms and conditions page on Wizard Slots, simply scroll to the bottom of the main home page and click on the "Terms & Conditions" yellow text at the bottom.
If a member breaks any of the conditions set out in the agreed terms and conditions, the casino can stop them from playing and may even suspend their account.
When a Casino Might Ban a Winner 
There are many different reasons why a casino might ban a winner. One of those reasons could be if you are not who you say you are or if you are underage. When you register with an online casino, you typically confirm your identity. If the casino finds out that you have a different identity from what you signed up with, you will most likely be banned.
You must be 18 years old or older to gamble in the UK. If you are found breaking this law, both you the player and the casino could have severe consequences, which is why you would be banned. 
Fortunately, this rarely happens in legal casinos. This is because online casinos in the UK are registered with the UK Gambling Commission (UKGC) and carry out checks and procedures to try and prevent any possible fraud and underage gambling. When you register with an online casino, you will be asked to provide documentation to show your age and confirm your identity.
Another reason why online casinos may ban potential winners and or players, is if they suspect the money you have deposited hasn't been gained legally, or if a player has made deposits from an unaccepted payment method. Unusual transactions would also be a red flag for the casino, which could result in a potential ban.
If the casino suspects a player is cheating, this breaches the terms and conditions and can result in a ban. An example of cheating could be card counting or using software programs that could help boost any possible winnings. 
If you have been banned from an online casino, you can follow these simple steps:
Don't panic! Try to stay calm and think about what you're going to do.

Take a look at the casino's terms and conditions, and read through these carefully. Hopefully, after you have read through the terms and conditions, you will have some clarity on why you have potentially been banned. This should be relatively easy to rectify if it is for a minor issue such as ID verification.

Contact customer support. If you are unsure why you have been banned and think it was a mistake, you can contact customer support. If it was a mistake, you should be able to get your account back.
Why Casinos Like Big Winners  
Winning on online slot games can never be guaranteed, but there are some people who do win big and take home the jackpot prize!
But do casinos like it when players win big? In short, yes! Of course, online casinos take great pleasure in knowing that one of their players won big.
When someone wins big, we're talking millions, it can generate publicity for the casino. This may then attract many people to visit the pay by mobile online casino. Some of these people can then become members! 
This might result in more people starting to play at that casino in hope of a big win for themselves. The more players the casino attracts, the more money the casino can potentially make!