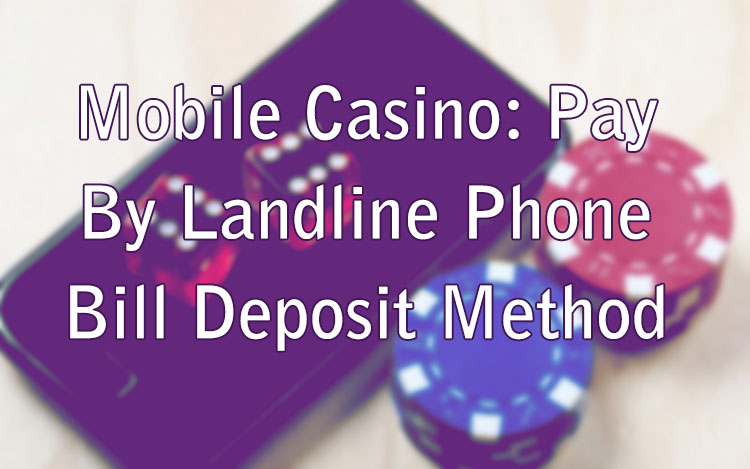 Various payment methods have emerged in recent years to make online slot games more accessible. 
One of the ways is through mobile casinos that may give you the option to play online casino games on your mobile phone and deposit by your phone bill, including your landline bill! Yes, some people prefer using their landlines over mobiles. 
This Wizard Slots blog post is about how you can use your landline bills to pay for your online casino games. So, let's dive in and explore how a Pay By Landline casino works, how it compares to a Pay By Mobile phone bill casino and everything in between.
What Is a Mobile Casino? 
A mobile casino is an online casino site that can provide you with the option to play your real money slots online using mobile phones. The site's interface would typically be optimised to be both and user mobile-friendly.
In addition, a mobile casino can offer convenience because you can access your favourite slot games from your phone without having to travel to a brick-and-mortar casino. 
However, with so many mobile and online casinos out there, you might want to be careful and choose a licensed and regulated UK casino like Wizard Slots.
How Does a Pay By Landline Casino Work?
Pay By Landline is another casino deposit method that offers a chance to make casino deposits via your phone. We do not have this method at Wizard Slots, but it may be worth knowing, so we will explain how it works.
This option works for customers with landline contracts, such as BT, Virgin Media or TalkTalk. It allows you to pay or deposit to your online mobile casino using your landline bill.
Generally, to use this payment method, you must choose the Pay By Landline option from the casino's Deposit or Payment options. You may then be prompted to enter your landline number and follow the instructions to confirm the payment. 
But remember that this payment method is still emerging, so it is not as widely available as the mobile payment option, and has not been around as long.
Pay By Mobile vs Pay By Landline
This section will explore the possible benefits of a Pay By Mobile vs Pay By Landline casino. Though both these methods can provide simplicity and convenience when playing online casino games, they are not entirely created the same, but which option to use ultimately boils down to you and your preference.
Availability
The Pay By Landline payment method is not as widely available as the Pay By Mobile method. Some casinos, including Wizard Slots, do not have this option, whereas the Pay By Mobile payment method is typically available in most online casinos, including Wizard Slots.
User-Friendly Experience
The Pay By Mobile option streamlines the user experience because you can play slot games on your phone and pay for them all on the same device, removing the potential inconvenience of using two different devices.
With a landline, you do not have the option to play and pay for your games using one device, something that may make the overall experience a little more complicated.
Faster Deposit Times
The mobile deposit option can allow for potentially faster deposits, while the landline option may have a longer waiting period before your deposit can be confirmed.  
So, while the Pay By Landline method can offer some advantages, the Pay By Mobile option's pros may outweigh those of the landline option. However, in the end, the option lies with you as the user. 
Pay By Landline Slots: How To Deposit & Play
Below we will explain the usual step-by-step process involved in the Pay By Landline payment method:
Find an online casino that has the Pay By Landline payment method. That may not be an easy feast because not many casinos have this option.

Once you have found the casino,

register an account

and follow the prompts to the Deposit page.

Choose the Pay By Landline option. You may then be transferred to your landline contract provider for further verification. So, instead of a verification SMS, you would receive a call. 

You will be asked to provide the amount of deposit you want to make. It's worth noting that the deposit amount may be capped at £30, so you may want to check.

Stay on the phone until the

verification process

is complete and the funds are transferred. Otherwise, it may not be successful.

You may begin playing your favourite slot games once your deposit is reflected in your

casino account

.
Depending on the casino and service provider, this process may change.
Mobile Casino Pay By Landline Phone
So, as we have mentioned, the Pay By Landline option is still relatively new and not available everywhere, but it is another potentially convenient payment method you can use for online casino games. 
Whether you use the Pay By Mobile or the Pay By Landline option, you can still access the games your chosen casino offers. It can be easy to use and can provide an extra layer of security.
Play Online Slots & Deposit By Phone Bill
If you want to enjoy a wide selection of slot and casino games with various themes, features and gameplay on your mobile phone, consider joining Wizard Slots online casino. 
With Wizard Slots, you can play online and deposit by phone bill, making your overall experience relatively easy and streamlined.
So, log in or join Wizard Slots to start playing your favourite casino and slot games on your mobile phone, and you can make your deposits using the Pay By Mobile option.