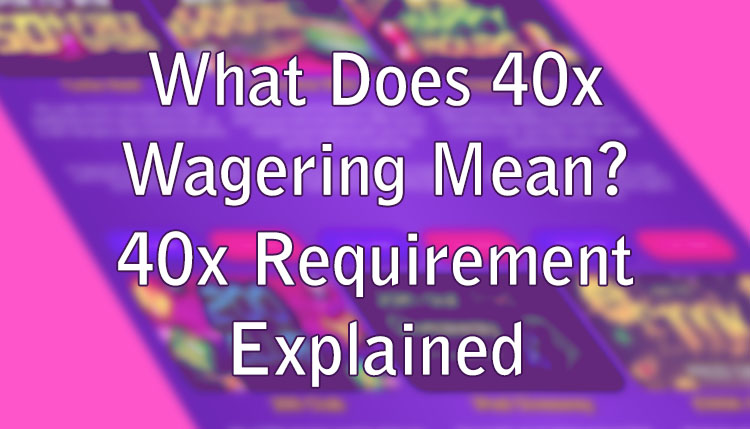 Many online casinos have promotional offers available to players, where it's a welcome offer to attract new prospective players to the site or offers available to existing players as a thanks for their continued patronage. These promotional offers can be very popular and typically offer bonuses in the form of Free Spins or bonus funds.
However, most promotional offers are subject to wagering requirements. We've prepared a guide for anyone curious about the topic in our Wizard Slots blog post below. 
What Are Wagering Requirements? 
A wager is another name for a bet. Wagering requirements are conditions online casinos impose on promotional bonus offers. These conditions exist to keep spinners from misusing the offer. It is the amount of money you must bet before you can withdraw any winnings.
Wagering requirements are also meant to offer clarity because some players assume that these bonuses qualify them for unlimited game time and guaranteed wins. 
What Does 40x Wagering Requirement Mean?
If wagering requirements are attached to any bonuses, it means that players need to wager the bonus amount a given number of times before they can withdraw any possible winnings. For example, if you claim a £10 bonus offer with a 40x wagering requirement, you'd have to bet £400 before being eligible to withdraw any potential winnings. 
What Happens If You Don't Meet Wagering Requirements?
The wagering requirements are stipulations you must meet to qualify for a potential withdrawal. You won't be able to withdraw any potential winnings from the bonus funds if you don't meet the wagering requirements. 
Potential winnings are usually considered bonus money, not real cash. The bonus money is stored in a wallet with a wagering requirement imposed. You'll need to complete the requirements to qualify for a withdrawal.
Why Do Casinos Have Wagering Requirements?
Casinos have wagering requirements for various reasons. For example:
To stop players from cashing out the bonus cash as soon as they receive it. If there were no restrictions, millions of players would opt for an instant withdrawal, which would just result in the casino losing money.
To prevent money laundering. 
To allow players to benefit from bonuses.
Casinos see bonuses as an investment. They have them in place to attract new players and retain existing players. In turn, wagering requirements protect them from players abusing their generosity. 
Can You Get Around Wagering Requirements?
No, you cannot get around wagering requirements. The only way to beat wagering requirements is to meet them. Once you claim the offer, you are subject to the terms and conditions of it, including wagering requirements. That's why we advise punters to read through the terms and conditions before claiming any promotional offers.
Any reputable online casino will outline its wagering requirements clearly on its T&Cs page.