Agent Valkyrie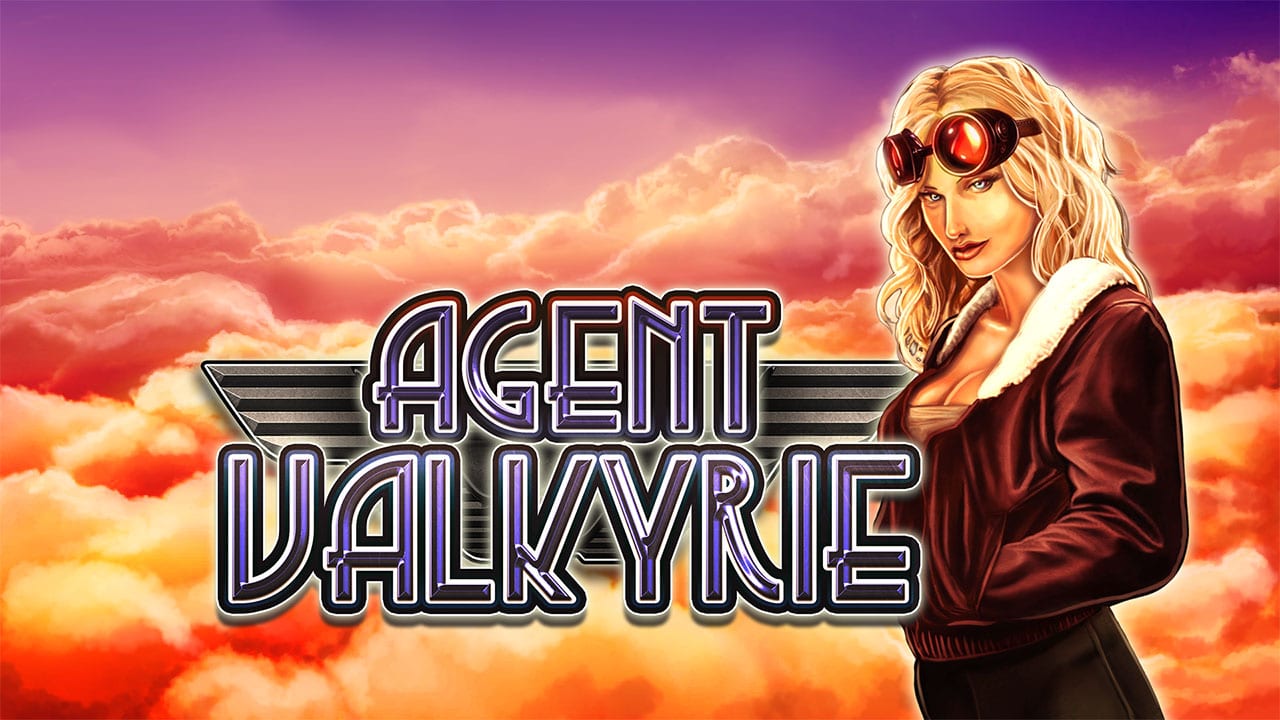 Summary of Agent Valkyrie
Take to the skies in one of the most thrilling online slot machines you'll play all year in Agent Valkyrie online slots! Does anyone remember the cartoon Catch The Pigeon? Well, Agent Valkyrie is like that, the only difference is you are fighting off villainous sky pirates rather than chasing one chirpy pigeon! 2 by 2 Gaming is the developer in the cockpit here, a name that a few of you might have heard of already given their penchant for top quality slot machines! 
Agent Valkyrie is a 5 reel by 25 pay line sort of adventure, one that is playable from as little as 25p a spin all the way up to £25! The bet margins here will definitely appeal to all sorts of flyers out there, from first-time flyers to veterans of the sky and everything in-between.
Since this is a 2 by 2 developed title, punters should only expect the best here as far as bonuses and whatnot go! If you wish to learn more about this slot game UK, then check out the rest of the review down below! 
Quick Links: Mad Mad Monkey | Starburst  | Fluffy Favourites | Slingo | Cops and Robbers | Immortal Romance | Thunderstruck
About the Developer of the Agent Valkyrie Casino Game - 2 by 2 Gaming
Chicago-based developer 2 by 2 Gaming are experts in the world of online slot gaming, so much so that we would have to put them in our top ten list of the best developers in the world right now, no joke.
Slots such as Agent Valkyrie have only helped propel them into the minds of many, and that slot is only the tip of the iceberg when it comes to the talent that possesses in their company. Give it a couple of years, and these guys will be top of the mountain, you watch! 
Almost all of their games can be played on mobile devices, bet you didn't know that! These guys have a pretty good grasp on what today's modern slot gamer wants, which is more than likely the reason as to how they've managed to create hype from seemingly nowhere with countless online games. Speaking of other games in their catalogue, be sure to check out the following games:
Aztec Temple Treasures 

Golden Tides 

Enchanted Spells 

And many, many more!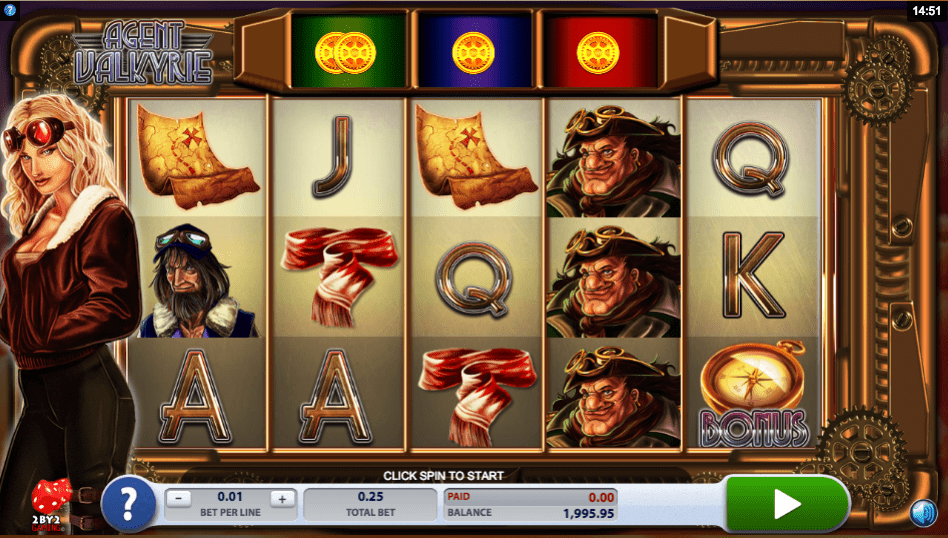 About the Agent Valkyrie Slot Game/Bonus Features 
There really aren't enough slot machines out there that take you high in the sky, thankfully Agent Valkyrie is here to save us! A slot that takes place within the clouds, you'll find yourself doing barrel rolls and all sorts of manoeuvres once you've stopped spinning and looked at the amount of money you've made when playing this 2 by 2 Gaming spectacular! Those of you out there scared of heights, don't worry, this slot is all digital baby. 
In Agent Valkyrie, you are the sky police, a job that requires you to give your full attention with every spin spun — unless you are taking advantage of the autoplay mode here that is. Autoplay is like putting on autopilot to earn money, simply select the number of games you want the CPU to play for you and relax as the wins come pouring in! Look at our guide to the best uk slots!

If you wish to play Agent Valkyrie for yourself, then you will need to place a starting bet of some kind. Your starting bet will affect the amount of money you come away with once the reels have come to a complete stop, so choose wisely — since you can play from as little as 25p a spin up to £25, you have plenty of wiggle room to try a different approach if you find yourself flying all over the place. 

Once you are happy with the amount on the screen, all you need to do then is hit spin! The movie UP has clearly had some effect on this slot in some way or other. Every icon you see here has something to do with the sky pirate theme that we mentioned at the top of the review. Treasure maps, ascots and various pirates can all be matched here. 

Low-value symbols do make an appearance here also, these icons are represented via the various letter-like icons. Matching these symbols will all add to your scores in small doses. There are bonus icons here such as wilds, scatters and free spins. Free spins here will trigger whenever the player matches the scatters, and scatters are more common when that player matches the wilds — think of it as a constant chase. 

If you care about making big cash in the Agent Valkyrie slot game UK, then you will want to be looking out for those coin symbols, matching them on reels two, three and four in the base game will fill up a meter to the side of the screen. Successfully fill the coin meter, and you'll trigger a respin with one of three extras, here's what can happen here: 
- Reel 2: Wilds Reels - 1 or 2 reels will be totally wild on this respin.
- Reel 3: Flying Wilds - a plane flies across the reels, depositing wilds at random as it goes.
- Reel 4: Capture Criminals - land any of the 3 criminal symbols are dubbed as 'captured' and turn into wilds for the respin that follows.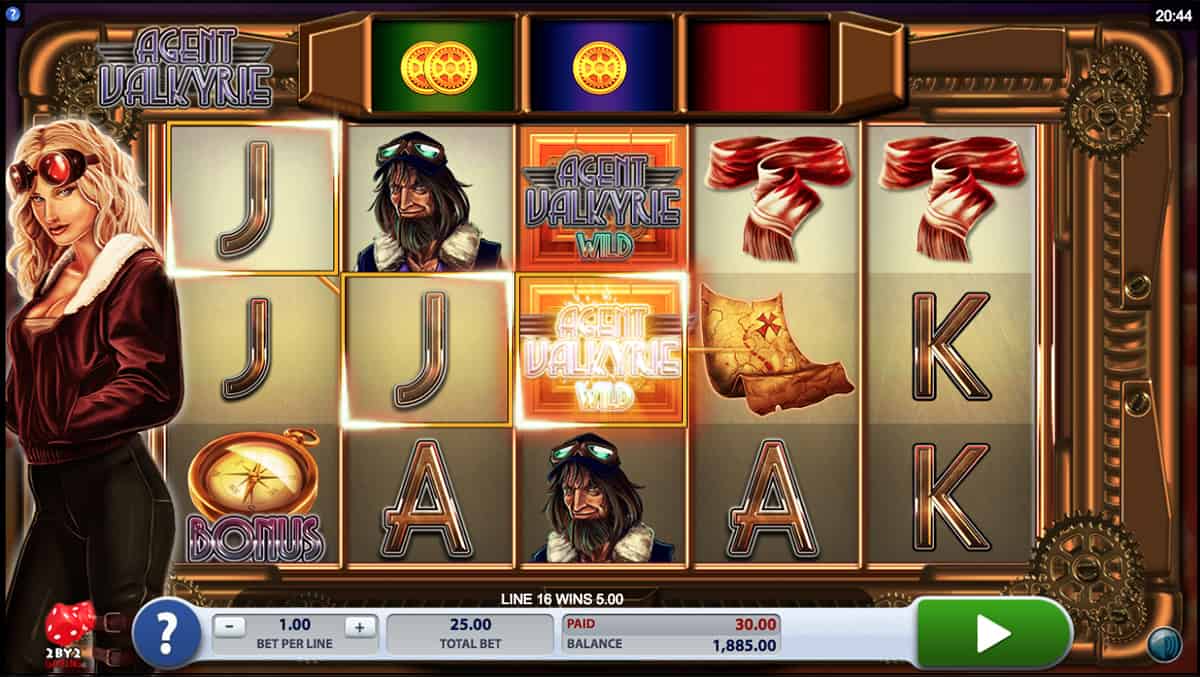 The Verdict on the Agent Valkyrie Casino Game
Agent Valkyrie is an online slots that takes you to death-defying heights, heights you might not be used to if you are somewhat new to the online slot industry as a whole! 2 by 2 Gaming has done an excellent job in crafting a slot machine that punters will want to keep coming back too in order to clock in their frequent flyer miles.
If you enjoy planes, adventures, making money, or simply just playing slots for the hell of it, then play Agent Valkyrie and earn your wings!