Rocket Men
Rocket Men is a Red Tiger Gaming production and as such, strong graphics and high standard of gameplay is to be expected.
The game has a real narrative to it, with an unfortunate nuclear armageddon seemingly upon us as we spin the reels. The villains behind this warfare, well they are none other than the most powerful leaders in the world as Donald Trump himself and North Korea's Kim Jong Un star in the politically aware 5 reel online sloty with 20 pay lines.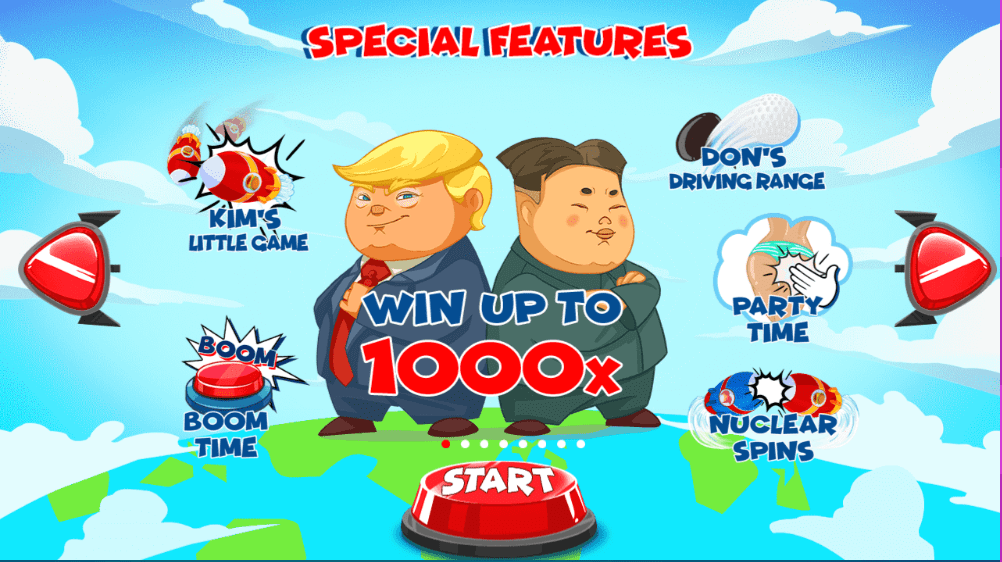 About the Developer
This is an example of Red Tiger Gaming at their slot games developing best so play online here.
Creating a very exciting betting experience whilst also taking a swipe at the madness of modern day politics, Rocket Men is unlike any other game out there. Superb graphics are the work of Red Tiger, too, but more impressive is the narrative and originality of the theme in play.
Red Tiger have a huge catalogue of games, some of which pack the same sense of humour and a strong animation as Rocket Men. Strong games from this well-known developer include Wild Wild Chest.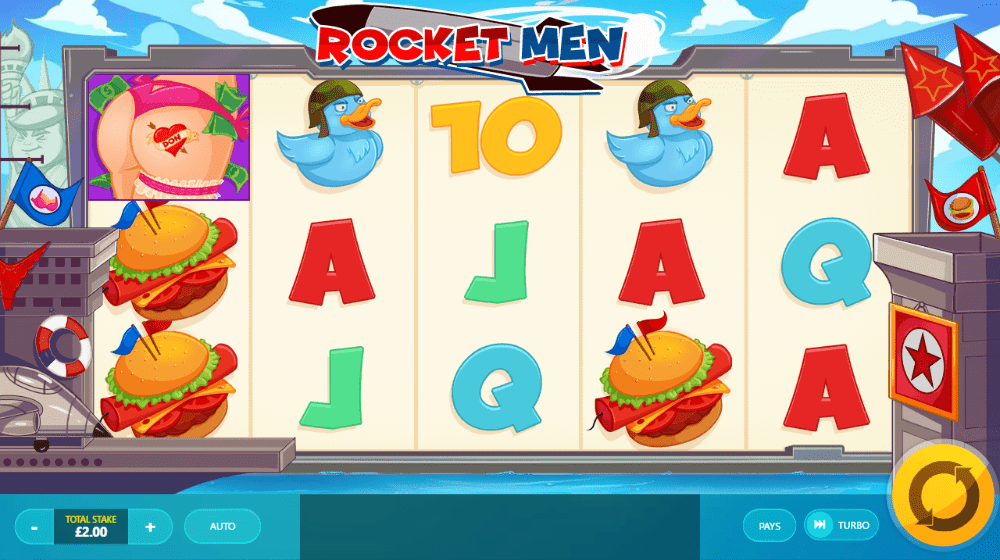 About the Game
As mentioned, the theme of this game corners nuclear war, but despite the dark concept which could end life and earth as we know it, it genuinely is a funny game with a superb sense of humour. There are so much to offer from one of the best slots Red Tiger Gaming developed.
Feeling like a critique of the power-hungry leaders of the world right now, Trump and Kim Jong Un feature in this comedic and even slapstick attempt to belittle the theme at hand. This is done so brilliantly with a good soundtrack, fun, cartoony graphics and animation, mixed with bizarre but hilarious symbols that include ducks in army helmets, burgers filled with explosives and dancer's backside.
The highest paying symbol of this crazy line up is the bombs which act as the wild in this all-action, explosive online video game. Landing enough of these bombs will blow up your winnings with a 500 coin prize being possible here. Rocket Men packs plenty of features into its gameplay which can make the game complicated but sooner or later, you will get to grips with these bonus modes that naturally come with their own comedic value.
From Kim's Little Game to the Nuclear Spin feature, these bonus games are a great opportunity to get your wins up and always deliver in terms of fun, even if they don't give you the wins you were after. The Nuclear Spins feature mentioned is probably the most impressive of all the bonus features as it rewards free spins that simply won't end until this war does.
You spin and spin and spin with this feature, completely for free, one of these leaders takes a chaotic, ultimately pointless victory by blowing their opposite up, destroying the world with it, too.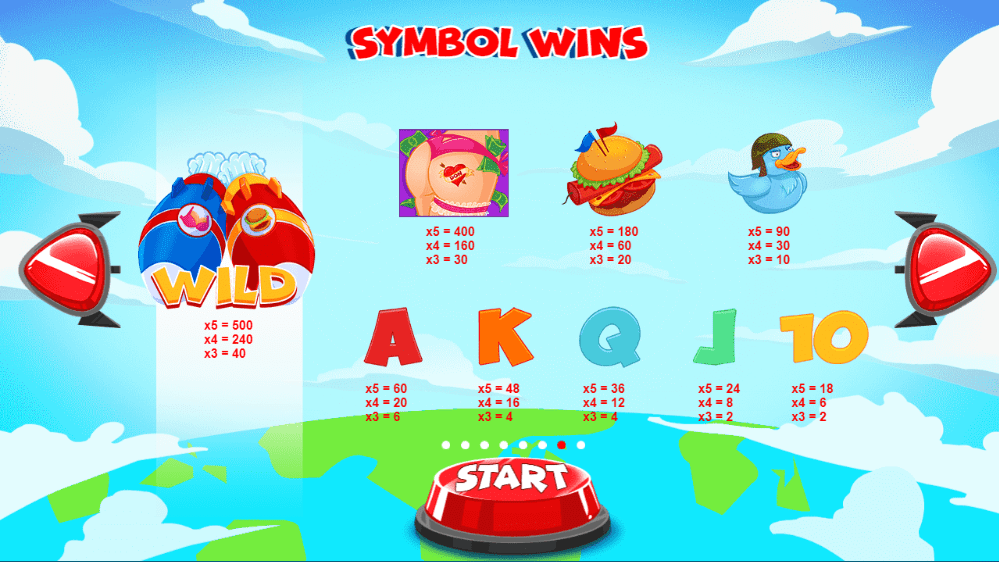 The Verdict
This is a truly brilliant online slot with a tongue in cheek theme that makes it a simple must play.
If you're not too fund of modern day politics - or more so - if you are intrigued by the madness of ur current political climate - this is the game for you. The chance of some big wins and a handful of features only creates more reasons to give Rocket Men a spin. Or you could try