Roulette Master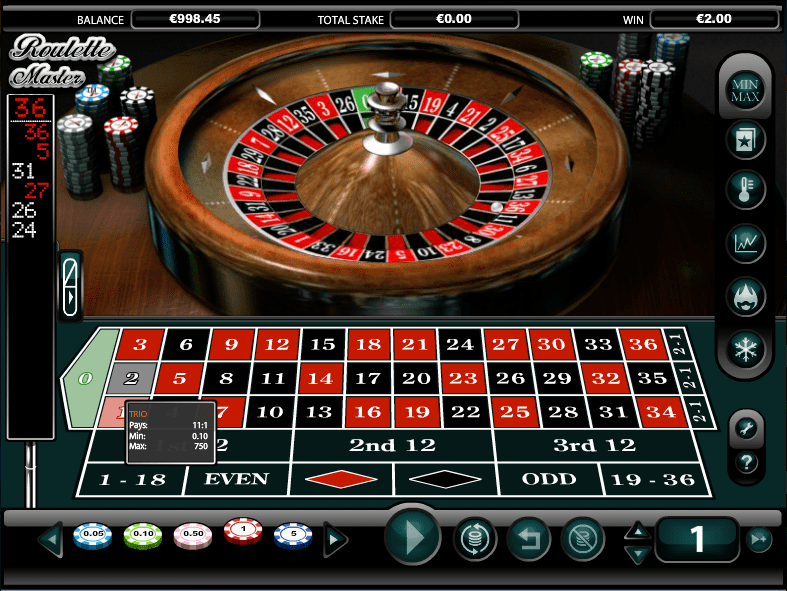 Enjoy all the virtues of the Monte Carlo casino with this table classic. Hedge your bets on red or black, the higher the risk, the higher the reward.
Quick Links: Jimi Hendrix Video Slot | Guns and Roses Video Slot  | Asgardian Stones | Viking Gods | Viking Fire | Thunderstruck 2 | Siren Serenade

About the Developer
Microgaming created their first online casino in 1994. Their development team has evolved together with technology bringing constant upgrades to online games. With new monthly releases their audience never gets bored with the variety of choice they offer. Microgaming has created more than 850 unique casino games, including 1,200 variants.
About the Game
If you are looking for a sophisticated game of Roulette but don´t want to leave your comfortable house, Roulette Master is the perfect choice. With its realistic graphics, the shiny polished wood and the casino background sounds you will feel just like on a night out in the casino, there is only a waiter missing, awaiting on you candidly to keep topping up your favourite tipple.
You are presented with a European roulette table that contains only one green zero increasing your odds already. If you are familiar with the roulette rules then this game is pretty straight forward on what you have to do, creating a relaxed gameplay experience.
If you like you can find some statistics in the various option menu on the right side or look at your spin history. Keep in mind though that the history has no effect on any future spins, it serves only for your personal record. Roulette Master allows you to place bets on a variety of different outcomes that range from your standard red or black option, odds or evens, or specific numbers that can be hedged on. Obviously the odds between specific numbers and the red or black bets fluctuate slightly but this is all part of the fun and risk of this online table game.
Underneath the wheel you will find the betting table with basic roulette betting options. If you like you can also swop to different options clicking on the star button on the top right. You can bet between 5p and 250 pound. You just have to click first on the chip size, which you will find underneath the betting options, then on the chosen bet. Once you have selected both you can either click on Play or run it with autoplay. The wheel can have up to 999 spins, but with almost 20 seconds per spin this would keep you busy for almost 6 hours.
For more casino games follow the link above!

The Verdict
Roulette Master is an immersive gameplay experience as it replicates with great quality a game at the casino. If you like to stick to the traditional roulette this game is perfect. It has amazing graphics and a nice feel to it. With a great option of bets you can make this game very profitable for you and walk away from the roulette table with lots of chips in your hands. If you enjoyed this game why not also try Starburst slot too?