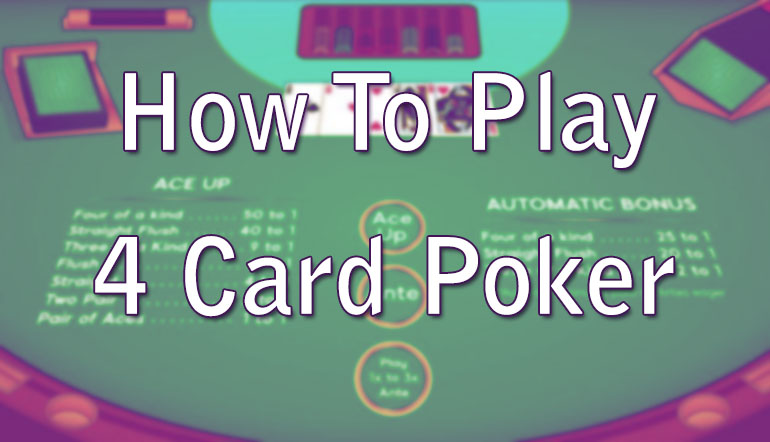 Want to learn how to play 4 card poker? Then look no further! In this Wizard Slots blog post, we will guide you through how to play 4 card poker. Luckily, this poker variation isn't as difficult as it sounds!
What Is 4 Card Poker? 
Poker has been around for many years, and over the years, many different variations have appeared. One version of poker that has become very popular is 4 card poker. 
Four-card poker is different from other poker variations, as players use 4 cards to make their final hand. The goal of 4 card poker is to have a better 4 card hand than the dealer.
How To Play 4 Card Poker? 
If you play 4 card poker, you are always playing against the dealer, even if there are other players at the table. The aim is to try and beat the dealer by getting a better 4 card hand.
The first thing you must do before you play 4 card poker is place your bet. There are 3 kinds of bets you can make: ante, aces up and ante and aces up. 
Once your bet has been placed, the dealer will deal 5 cards, face down. The dealer will also deal 5 cards to themself, with the addition of a single face-up card. Making a total of 6 cards.
Depending on the hand you have, you will decide whether to raise or fold. If you fold, the casino wins. If you choose to raise, you will continue playing and must place a bet that is at least the same amount (a maximum of up to 3x) as your ante bet.
4 Card Poker Strategy 
Most poker variations use the standard poker hand rankings. However, 4 card poker is a little bit different as players have 4 cards in their final hand. To make a straight, you will only need 4 cards. From best to worst, here are the poker hand rankings for 4 card poker
Four-of-a-kind
Straight flush
Three-of-a-kind
Flush
Straight
Two pair
Pair 
High card
There isn't a particular strategy to win 4 card poker, but there are a couple of things you can do to give yourself a potential advantage. Being able to recognise strong hands is helpful, so make sure to do your research and see what hands are best. In 4 card poker, you typically want to only play strong hands.
It can also be useful to know when it may be best to raise. When playing 4 card poker, deciding when and how much to raise can potentially help you make better decisions. 
Lastly, practice makes perfect, or at least better. You can practice playing poker online in the comfort of your own home before playing real-life 4 card poker at the casino. 
It's also worth remembering that in all casino games, including 4 card poker, the casino has a built-in advantage - the house edge. Remember to always gamble responsibly.