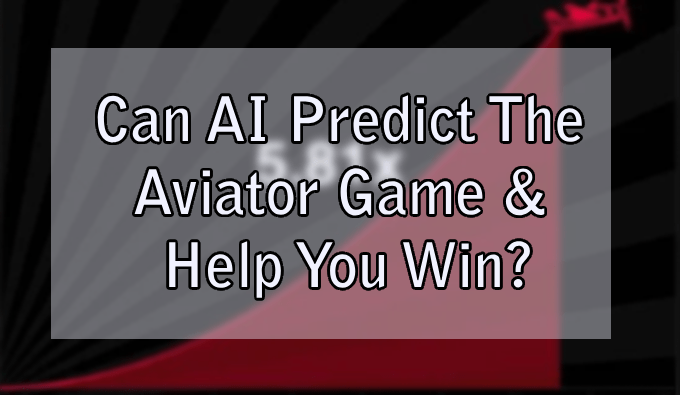 The Aviator game is a crash gambling game with a top potential win worth up to 1,000,000x your total bet. With potential prizes like that up for grabs, it's no wonder why so many people are searching whether or not you can predict potential wins.
In this Wizard Slots blog post, we'll be talking all about AI and whether AI can predict Aviator game results to help you win.
What Is The Aviator Casino Game? 
Aviator is a casino game developed by Spribe. It's a unique casino game that can be played with multiple players. Aviator isn't like a typical slot game, as there are no paylines, reels or symbols. 
The idea of the Aviator casino game is relatively straightforward. The aeroplane will fly upwards, increasing the multiplier the higher it goes. The multiplier starts at 1x and can continue to grow. 
The aim of Aviator is to try and grab your possible winnings at the right time before the aeroplane crashes or flies away. However, if you fail to do this and it crashes, you will lose your bet.
How To Win The Aviator Game 
Aviator is a simple yet unique casino game. Slot machine wins are typically formed by landing a number of matching symbols across a payline. But this is not the case for Aviator! 
To achieve a win in Aviator, you must cash out your multiplier before the aeroplane crashes or changes direction.
Once you have placed your bet, the first round begins. The aeroplane will then start to fly up, and this causes the multiplier to increase. Before the aeroplane crashes, you must try and cash out by clicking the cash-out button. 
Your bet will be lost if you don't cash out in time. However, if you stop (cash out) at the right time, your bet will be multiplied by the number you stopped at.
Is It Possible To Predict The Aviator Game?
No. It is not possible to predict the Aviator game. This is because, like all slot games, Aviator uses a Random Number Generator to generate unpredictable outcomes at random. 
The RNG makes it nearly impossible to predict the Aviator game, as it generates thousands of random number sequences per millisecond!
Why You Should Avoid Aviator Predictor Apps & Bots
Despite claims stating otherwise, Aviator predictor apps and bots do not work. The predictor apps claim to be able to predict wins in the Aviator game, but these promises are empty. 
This is because it is impossible to predict a slot's outcome due to the RNG.
Aviator predictor apps and bots should be avoided since they are generally inaccurate money-making scams that do not work.
Aviator Game Hacks Do Not Work As Promised
It's important to know that cheating and using prediction tools or "hacks" goes against the terms and conditions of online casinos and, if caught, will, at minimum, get you banned.
Additionally, Aviator game hacks do not work!
With that in mind, it may be best to avoid them altogether. 
Play The Aviator Game Online For Real Money 
If you like the sound of the Aviator game, you can play other similar slots for real money online at Wizard Slots casino.
Similar crash gambling games you can play here include Circus Launch, Crashout Fireworks, Fly X, and The Incredible Balloon Machine.
Please gamble responsibly.
*All values (Bet Levels, Maximum Wins, etc.) mentioned in relation to these slot games are subject to change at any time.