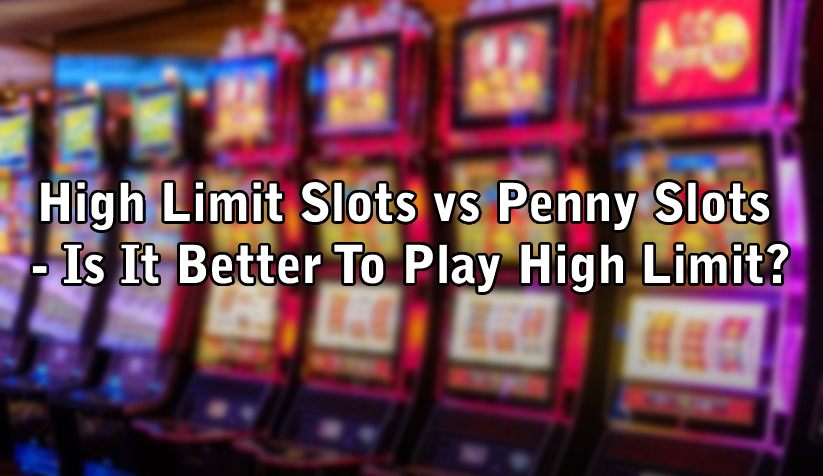 When choosing an online slot to play, you may wonder whether high-limit or penny slots are better. 
In this blog post, we'll help you come to your own conclusions about which you think is best. We'll discuss what high limit and penny slots are and go through the pros and cons of each.
Do High Limit Slots Pay Better? 
High-limit slot machines are slots that have betting limits higher than the average online slot game. High-limit slots allow players to bet hundreds per spin if they choose the maximum bet option. These slots may appeal more to players with a larger bankroll. 
Some distinguishing factors of high-limit slots include high betting limits, high payouts, high volatility and low hit frequency rates. 
If you play a high-limit slot and win, you will, of course, be able to get a higher payout from a large bet compared to a small bet since payouts are proportional. For example, a £1 bet with a 2x your stake win would pay out £2. With a £100 bet, the payout would be £200, which is significantly more.
This does not necessarily mean that high-limit slots pay better. Whether you play high-limit slots or penny slots, the outcome of a single spin will always be random. This is because of the Random Number Generator (RNG). 
All slots are games of chance, and the size of your bet does not affect your chances of winning. Your chance of winning on a slot game will always be the same regardless if you bet £0.50, £10 or £100 because slots are random.
Do High Limit Slots Have Better Odds? 
High-limit slots do not have better odds than penny slots. This is because high-limit slots tend to be highly volatile. High-volatility slots generally see wins appear less often than in lower-volatility slots, although if they do appear, they are usually larger - in theory. 
If you want to play slots with a chance for more frequent, albeit smaller, wins, then consider low-volatility slots like penny slots. However, note that nothing is guaranteed due to slot game outcomes being random and unpredictable.
High Limit Slots vs Penny Slots 
Often, the maximum betting limit for high-limit slots is £100 or more, and if you do win, the wins could be pretty significant. Another advantage of high-limit slots is that many new online slots nowadays have higher betting limits. This means there is a fantastic range of high-limit slots to choose from. 
Additionally, high-limit slots tend to have lots of special features, which can make gameplay very entertaining.
Although high-limit slots have many advantages, there are a few disadvantages. The main disadvantage is that you could potentially lose a lot of money and burn through your bankroll quicker because the bets per spin are so high. Wins are also never guaranteed, as the outcomes are always random. 
Just like high-limit slots, there are many reasons players choose penny slots. Penny slots have lower minimum betting requirements, which makes them attractive to players with smaller budgets or those that want to have their bankroll go further. They are also the perfect slots for newbies, as you're not committing to spending a lot per spin. Many penny slots also have excellent graphics, and there's a wide range of them to choose from.
If you like to place big bets, this is usually not possible with penny slots. Penny slots also tend to offer lower maximum possible wins than high-limit slots.
Are High Limit Slots Worth It? 
High-limit slots are great for players with a large bankroll and who want to play for a chance to win big prizes. Whether high limit or penny slots are better is down to personal preference. As we mentioned above, there are many pros and cons to both. 
Ultimately, it's the Return To Player (RTP) rate that affects potential wins and not the denomination. The RTP of a slot is an indicator of the proportion of the money taken in by a slot game that it pays back out over a long period. It's an average of the returns from a large sample of spins. 
So, the higher the RTP, the more the slot returns to players over time. However, it's not guaranteed due to the unpredictability of slot games, so you may win more or less than this.
*All values (Bet Levels, Maximum Wins etc.) mentioned in relation to these slot games are subject to change at any time.