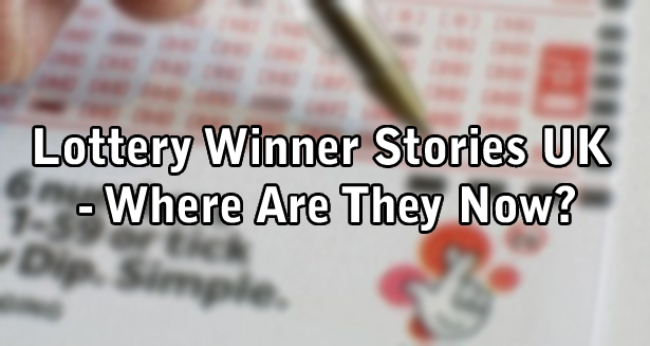 Lottery winners are well-known for being one of the most short-lived wealth holders. In fact, some studies have shown that lottery winners often end up in more financial trouble than before winning the lottery. 
According to research, about 70% of lottery winners declare bankruptcy within 2 to 5 years of winning the lotto.
However, this is not the case for all the winners. Some winners actually go on to become wealthier, making their lotto winnings work for them. 
In this Wizard Slots blog post, we will look at some of the lottery winners in the UK, those who successfully maintained their wealth and those who may have lost it along the way and where they are now.
Lottery Winner Stories
Winning the lotto is the dream of many, and only a few get to make that dream a reality. So let's have a look at who some of these winners are, how much they won, and where they are now:
Joe and Jess Thwaite Won £184 Million in May 2022
Joe and Jess Thwaite are the biggest lottery winners to date, having won £184 million in the EuroMillions jackpot. The Gloucestershire couple, adored and revered by their neighbours and coworkers, are well-known for their down-to-earth manners and frugality, which translates into their winnings. 
The couple is believed to be eyeing a Grade II-listed home and a second-hand Polo Vivo instead of buying flashy cars and going on extravagant holidays. They do, however, want to take their 9-year-old twins on their dream holiday across the world, including Hawaii and Texas. 
Adrian and Gillian Bayford Won £148 Million in May 2012
The Haverhill couple, Gillian Bayforn and her husband, Adrian Bayford, are the second biggest EuroMillions winners in the UK, having won £148 million. The Haverhill couple purchased a mansion in an estate in Cambridgeshire.
Unfortunately, they reportedly split a year later, and Adrian put the house on the market but is allegedly having trouble selling it. He also opened a shop selling Lady Gaga's memorabilia. 
Eloise Heard Won £1,346,840 in December 2011
Miss Eloise Heard was one of the youngest lottery winners when she won £1.3 million in 2011 on New Year's Eve. The Co-Op ex-employee celebrated with her boyfriend, David, at the Lexden Crown pub.
She then started a mobile beauty business, bought a car and went on a honeymoon in America. 
Frances and Patrick Connolly Won £114,969,775 in January 2019
Frances Connolly, a 55-year-old woman from Hartlepool, won almost £115 million in 2019. But, instead of spending the money on a lavish lifestyle, Frances and her husband, Patrick, decided to give the money away to family, friends and charity.
The former teacher set up two charity foundations; a Kathleen Graham Foundation named after her late mother and a PFC Trust. Mrs Connolly estimates she has given away over £60 million, claiming that being charitable is her addiction.
Neil Trotter Won £107,932,603 in March 2014
Neil Trotter is a car mechanic and a racing driver who won almost £1.8 million in March of 2014. He said that he always knew he was going to be a millionaire one day. 
Mr Trotter gave some of his lottery winnings to those in need and bought himself a big fixer-upper lake house that he believed would keep him busy.
Dave and Angela Dawes Won £101 million in 2011
Dave and Angela Dawes were the lucky couple to win the 2011 Euromillions lottery, scooping £101 million. The Cambridgeshire couple spent about £30 million on their family and closest friends, and spent the rest on charity and bought a £4 million property in East Sussex.
Colin and Chris Weir Won £161 Million in July 2011
Mr and Mrs Weir, a couple from Largs, North Ayrshire, won a whopping £161,653,000 in July 2011. That win was the biggest win at the time, broken by Joe and Jess Thwaite in 2022. The couple set up a trust called Weir Charitable Trust, a funding charity for Scotland communities. 
They also donated £1 million to the Scottish independence referendum. Unfortunately, Mr Weir died in 2019 at the age of 71.
Steve and Lenka Thomson Won £105 Million in November 2019
Steve Thomson, a dad of three and husband to Lenka Thompson, had his life change overnight when he won £105,100,701 in a lucky dip lottery draw. Despite their huge wealth, the couple decided to live their life as they did before the millions.
They drew up a budget on how to spend the money and donated a portion to charity. First, he bought himself and his wife second-hand cars and remained at his job as a builder. Then, a year after their big win, the couple bought a luxurious farmhouse in a multi-million estate in Kent. 
What Is The Biggest Mistake A Lottery Winner Can Make?
Coming into a life-changing amount of money, like the lottery, can be an altering experience, with a lot of people being ill-equipped to handle that amount of money overnight. In such cases, mistakes that can see the lucky winners go bankrupt can seem inevitable, but with enough education and financial coaching, these mistakes could be avoided.
One of the mistakes a lottery winner can make is thinking the money they won can solve all their problems and ensure generational wealth. Unfortunately, this misconception has led many lottery winners to squander their money and think it would never run out.
But, more often than not, big money often means big problems. For example, when you had to worry about fixing a 2008 Mazda 2, you find yourself worrying about finding parts for a limited edition fancy car.
Perhaps the biggest mistake a lottery winner can make is publicising their winnings right away and not remain anonymous, while planning long-term, including factoring in inflation. That may cause you to give away money impulsively without giving your newfound riches a thorough thought. 
You may also feel compelled to live a luxurious life and quit your job without thinking of the long-term implications of your expenditures. For example, buying a £4 million mansion may seem like a good idea at first, but how are you going to maintain the house 5 years down the line when you have run short of money and are out of a job?
Conclusion
In conclusion, winning the lottery can seem life-changing and an answer to all your problems. But, in reality, that is only true if you spend it wisely, think long-term, and find a way to keep a steady cash flow.
*All values (Bet Levels, Maximum Wins, etc.) mentioned in relation to this game are subject to change at any time.