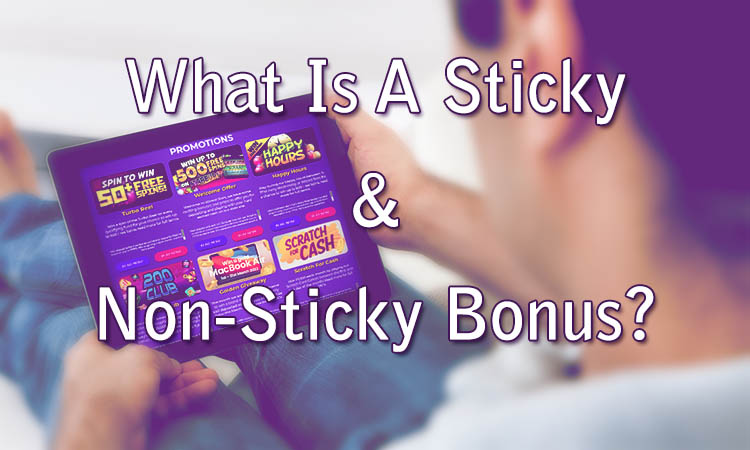 Casino bonuses are one of the excellent ways in which online casinos try to keep their existing customers engaged and loyal while also attempting to attract new ones. This can result in a variety of bonuses being offered at almost every casino, each with its own potential benefits.
All these bonuses can work differently. For example, sticky and non-sticky bonuses. In this Wizard Slots blog post, we will take a closer look at what a sticky and non-sticky bonus is and the difference between the two. So, continue reading to find out!
What Is A Sticky Bonus?
A sticky bonus is a kind of bonus that you cannot withdraw. Instead, it is added to your casino account balance to use as credits to play. You can then use this bonus to play casino games from the casino until it is depleted or you meet the wagering requirements.
Though you cannot withdraw the bonus itself, you can use it to play games and potentially win real money. For example, let's say you deposited £100 and then claimed a welcome bonus of £100, which had a wagering requirement of 30x. 
To meet the wagering requirements, you would need to wager £3,000 (30 x £100), then the bonus would be removed, and only then would you be able to cash out any potential winnings you received through wagering your bonus money.
The idea of a sticky bonus is to try and help you to play new or more games than you would have with your own money. However, these bonuses may differ between casinos, so be sure to read the terms and conditions.
What Is A Non-Sticky Bonus?
If your chosen casino offers a non-sticky bonus, this generally means that your deposit and bonus are not tied together, and you can withdraw any potential winnings once you have met the wagering requirements.
For example, let's say you deposit £100 and claim a £100 bonus. You would first start using your 'real money balance' of £100 before you start playing with your £100 bonus. If you turn the real money balance into £1,000, you would still have the £100 bonus as you haven't started playing with this yet. So, if you wanted, you could withdraw the £1,000, and the £100 would just get cancelled out.
Difference Between Sticky & Non-Sticky Bonuses
The main difference between sticky & non-sticky bonuses is that sticky bonuses are essentially tied together, and you cannot withdraw any possible winnings until the bonus money wagering requirements have been met.
On the other hand, non-sticky bonuses generally do not tie your deposit and bonus money together, and any potential winnings made from your real money may be withdrawn, which would then void the unused bonus money.
Remember, the wagering requirements are mandatory, and you must meet them before you can withdraw any winnings. Additionally, bonuses can work differently depending on the casino you are playing at, so be sure to check.
Conclusion
In summary, a sticky and a non-sticky bonus are two different types of bonuses that pay by mobile online casinos may offer. 
Although they may seem similar, essentially, a sticky bonus ties together your deposit and claimed bonus money, and any potential winnings may not be withdrawn until wagering requirements have been met.
However, non-sticky bonuses do not tie together your deposit and bonus money. This means that if you win with your real money, these possible winnings may be withdrawn. If this happens, then your unused bonus money will be cancelled out.